Halloween check. Dia de los Muertos just getting started! The Mexican holiday Day of the Dead celebrates those who have departed with sugar skulls, bouquets of marigolds, and of course, music. Its no surprise that its a favorite of the Live Music Capital of the World. With so much music and so little time, check out some of options to help you get your weekend started!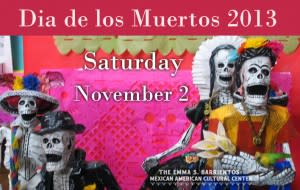 Dia de los Muertos at the Emma S. Barrientos Mexican American Cultural Center with live music by Francisco Chavez & Chinampa, Son Y No Son, and Peligrosa.
Voted Best Major Concert Venue in 2012, ACL Live at the Moody Theater celebrates Dia de los Muertos with romantic rock band, DeVotchka and special guest, Girl In A Coma.
Our friends at the Austin Chronicle have you covered with a full list of Dia de los Muertos shows for the entire weekend.
Be sure to follow us on Twitter and Instagram @MusicAustin for more Austin music info!