As a beverage and Austin enthusiast, I am sad to say that it has taken me this long to check out the 45+ year old iconic establishment, Draught House Pub & Brewery. Located on Medical Parkway just off 35th Street and MoPac, this pub is centrally located and visually appears to be the stuff German village bars are made of. Imagine old bricks, white-washed walls covered with brew paraphernalia, dim lighting, and you've got one of the best places to grab a drink in town.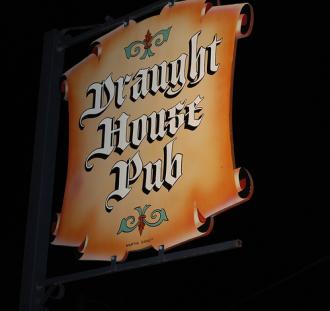 The bar has a variety of draught and bottled beer from many local and unique breweries. While I need to continue building my technique as a beer connoisseur, I started with a light Hefe Weisen, and then made my way to the challenging Austin Beerworks Black Thunder, if only for the name. My friends and I curled around a table in the corner, and sipped on our drinks while enjoying Firkin Fridays fresh casks for the pub. We also eventually got hungry, and made our way outside to visit the food truck of the day (I got lucky with East Side King). Outdoors there is also a lovely porch with twinkly lights. This is absolutely a casual and chill establishment to relax with your favorite people, which also happens to be my favorite thing to do.
Whether you're a local or coming to town to check out authentic Austin, Draught House does not disappoint if you're in the mood to sit around with great friends and strangers. To truly check out the local vibe, stop by and say hello!
Photo courtesy of Kristy Owen.