Beverage enthusiasts should be sure to check out the 50+ year-old iconic establishment, Draught House Pub & Brewery. First opened in 1969, visit this craft brewing icon just north of the University of Texas area to find more than 70 curated beers on tap. The pub is centrally located and has the appearance and ambiance of a German village bar-meets-time-tested neighborhood bar. Imagine a spacious outdoor beer garden, old bricks, white-washed walls covered with brew paraphernalia, dim lighting, and you've got one of the best places to grab a drink in town.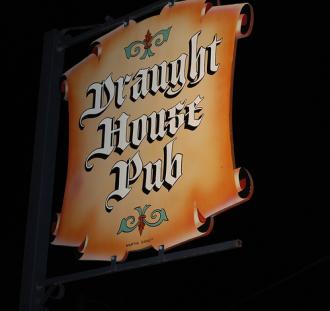 The bar has a wide variety of draught and bottled beer from many local and regional breweries. Order a beer braised brat and side of fries from the permanent, on-site food truck Little House before cozying up in the beer garden to enjoy a house-made IPA. The patio has plenty of covered tables in a casual environment, perfect for relaxing with your favorite people.
Whether you're a local or coming to town to check out authentic Austin, Draught House does not disappoint. Stop by for a beer (or three) to get a feel of true Austin!
Photo courtesy of Kristy Owen.