I found myself in one of those situations recently where I had to entertain five business guests for dinner. I wanted to unleash something new and totally Austin on them but I didn't have the time to personally visit anything new or totally Austin beforehand just to make sure. I had to roll the dice. I don't play craps so I don't know what a winning roll is technically, but I did it. The gamble paid off big.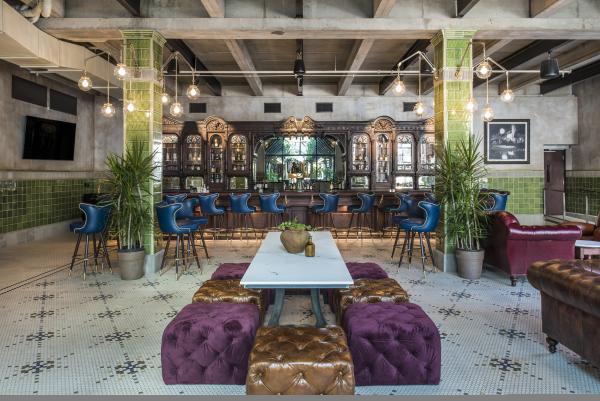 Credit Merrick Ales Photography.
That gamble was Eberly. It's not just that it's new, it's been intriguing for a while actually. Months before it opened the owners made headlines by importing the most famous part of the legendary Cedar Tavern in Greenwich Village, NYC: the fifty-foot mahogany bar. Beyond being a stunningly beautiful piece of work all by itself, it once attracted the exact kind of people I'd have to my own cocktail party: Willem de Kooning, Jackson Pollock, Mark Rothko, Allen Ginsberg, Jack Kerouac, and Bob Dylan, to name just a few. I doubt they were ever all there at once, but still. 
If nothing else, I needed to go because it was going to be the closest I'd ever get to most of those artists and authors (I say most because I once met Allen Ginsberg and we ate tortilla chips together). Besides, the bar story was a good hook when explaining my choice to my guests.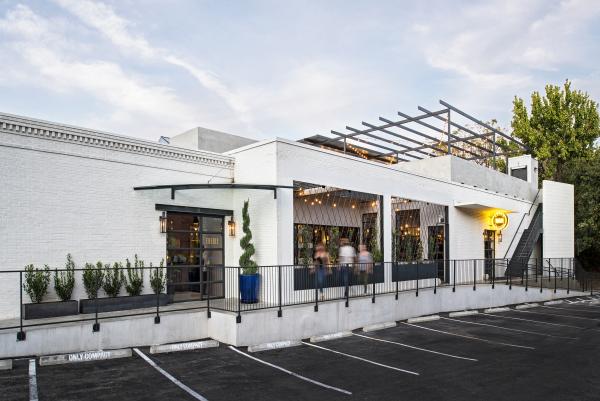 Credit Merrick Ales Photography.
The fantastic news is that the food, the atmosphere, the wait staff, and the cocktails were all worth it. The dinner menu is focused which means it's not a three-ring binder of mediocrity. Not at all. The steak, the game, and the seafood "Pot of Goodness" exceeded everyone's exacting standards. Desserts were utterly delicious even when words like "Key Lime & Avocado Cremeux" were used all together. It was the "I dare you" dessert order at our table and it turned out to be the favorite. A few of us had to eat our words, but happily.
The wait staff was superb and attentive, gliding in and out without interfering with our chattering and laughing. The wine recommendations pleased those drinkers; the cocktails worked their magic on everyone else.
The check arrived in a vintage book, of course.
Would I recommend Eberly? Without reservation (though reservations are recommended, ahem). It's one of those perfect places where special occasions work as well as a romantic dinner or a fun night with friends. It's not for the cargo shorts and t-shirt crowd and that's rather refreshing, frankly. Parking is entirely valet, so calculate that into your arrival planning.
Contributed by Coby Chase. Coby is a longtime Austin eater who often finds himself entertaining business guests.