If you're in the market for unique, exciting sporting events in Austin, we have your go-to list with seven of the best sporting events and competitions this fall. Whether you are a visitor looking for a live, thrilling event to attend or a local with a hunger for action, look no further!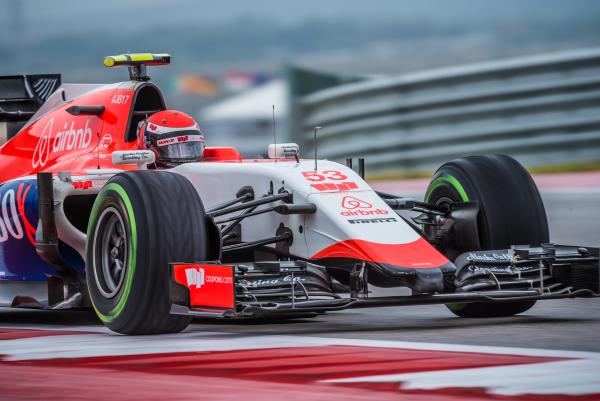 F1 USGP. Courtesy of Circuit of The Americas.
9/29/18 - 9/30/18
2018 FIA World Rallycross Championship
Circuit of The Americas
The FIA World Rallycross Championship, presented by Monster Energy, will hold its first event in Austin in 2018.  World RX will make its debut in the United States of America on the weekend of 29-30 September 2018 as part of a festival weekend featuring Supercars, RV camping and live music. Race meetings include four action-packed qualifying heats with the top 12 drivers progressing through to knock-out semi-finals and a final.
www.worldrxusa.com/fiaworld
10/19/18 - 10/21/18
Formula 1 United States Grand Prix
Circuit of The Americas
The pinnacle of motorsports is returning to Texas for a three-day celebration of speed and sound! Returning for the seventh time, the Formula 1 United States Grand Prix provides an action-packed experience that fuses world-class racing with major championship implications. There's no shortage of star power off-track in 2018 as global superstar and eleven-time Grammy award winner Bruno Mars brings his 24K Magic World Tour to the Super Stage on Saturday night and international pop icon Britney Spears closes out the weekend's celebration with a post-race performance on Sunday.
www.circuitoftheamericas.com/f1
10/21/18
Livestrong Challenge
Downtown Austin
This year again, cyclists from around the country will join the effort during a scenic race in Downtown Austin and its surrounding areas, while benefiting the LIVESTRONG Cancer Institutes of the Dell Medical School at the University of Texas at Austin. The ride offers various distances, 20, 45, 65 or 100-mile rides, to accommodate every level of rider. The challenge is a perfect opportunity to make your contribution to changing cancer care and reaching more survivors.
www.livestrongchallenge.org
11/3/18
Austin Spurs Opening Night and Championship Celebration
H-E-B Center at Cedar Park
Join one of the top NBA G-league teams, the Austin Spurs, for their opening night and championship celebration. This is the occasion to enjoy highly-skilled basketball as the Austin Spurs face their direct rival the Texas Legends, all while celebrating the return of the champions. Every fan in attendance will receive a commemorative championship ring.
www.austinspurs.com
11/4/18
Run for the Water
Downtown Austin
Run for the Water is the second largest fully charity-produced road race in Austin, Texas. The event is solely produced by and benefits the Gazelle Foundation, an Austin-based non-profit improving the lives of citizens of Burundi (Africa) through the building of water systems. It offers the choice between 5k or 10k as well as a Kids K race so everyone in the community can contribute. Thus far, the foundation has been able to change more than 6,000 lives as one registration for the race helps guarantee water for life to one more person in Burundi.
www.runforthewater.com
11/10/18 - 11/11/18
Kickball365 Championship Weekend
East Metro Park Soccer Fields
Come discover and enjoy the unique sport that combines the discipline of other sports, while providing an unforgettable experience, kickball. The National Tour of Circuit Events are held annually across the country in which registered teams compete for Official Circuit Points. The National Champions for the Co-Ed and Women's divisions will be crowned by Kickball365 in Austin at the end of an amazing weekend.
www.kickball365.com
12/9/18
Texas Basketball Sunday: Men's v Purdue & Women's v Tennessee
Frank Erwin Center
Both Longhorn Men's basketball and Women's basketball will be hosting major highly-ranked opponents back-to-back. The games are sure to offer an authentic, high-energy Austin sports experience that gives visitors and Austin-natives alike a glimpse into the Longhorn's unmatched team spirit and pride. Whether you're a die-hard Texas fan or just a basketball enthusiast looking for exciting family-friendly Sunday activity, look no further!
www.texassports.com
Looking for more Austin sports action? Keep up with the biggest events by following the Austin Sports Commission on Twitter, or explore our event calendar.
Contributed by Louise Amsili, Austin Sports Commission Intern.