The 2014 Formula 1 United States Grand Prix takes place at Circuit of The Americas this weekend (October 31-November 2)! What better way to celebrate this turbo charged event than with the free Circuit of The Americas Fan Fest 2014?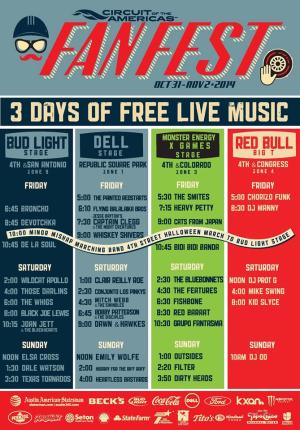 Fan Fest includes live music on three stages with 16 of Austins best musicians will be performing. The fest runs concurrently with USGP and is open and free to the public.
In between music sets, festival goers can purchase food and drinks from local vendors, an X Games-style action sports zone and tons of interactive displays and driving simulators. This event is perfect for the family and kids of all ages.
You can check out the official lineup here to plan your visit to this downtown event.Get pumped for Fan Fest 2014 by rocking out to our COTA Fan Fest 2014 Spotify Playlist featuring all of the local Austin musicians rocking out the fest. (Log in to your Spotify account or sign up for a free account to play.)
Be sure to follow @MusicAustin on Twitter for updates on when these Austin performances are happening.
Contributed by Kyndal Goza, Music and Film Intern
Poster by Circuit of The Americas.