We at Visit Austin have teamed up with Google to help visitors discover the cool, hidden and unique things around them while in Austin. We're now a local publisher for the city, and you can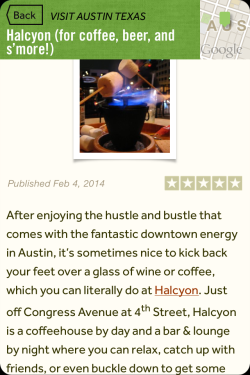 now find our Austin Insider blog posts in the Google Field Trip app!
Google Field Trip is a local discovery app that runs in the background on smartphones (available on both Android and iPhone) and notifies users and visitors when they're near interesting places such as historical buildings, restaurants, live music venues, events, museums and more. The notification shows the place on a map and shows the corresponding blog post about the point of interest. We hope you'll download Field Trip before your next exploration of Austin. Look for us in the Lifestyle category under Visit Austin
What are your favorite travel apps? Let us know in the comments or by sending us a note on Twitter!
Contributed by Katie Cook.