Free Week is an excellent opportunity for music fans to check out bands they have been meaning to catch but have not seen perform. This year, the annual event takes place during the first week of January and more than a dozen clubs host non-stop, local, live music for free.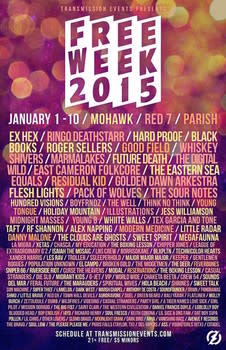 Free Week was founded by former Emo's booker and Transmission Events partner, Graham Williams, in 2004 and is now an eagerly anticipated event. Naturally, venues Transmission books lead the charge. Other clubs have followed suit recognizing the once dead week following Christmas had the potential to fill their venues with music fans if they offered no cover charge.
To learn more, Do512 highlights some shows happening the first weekend to add to your calendar. Keep in mind, many acts play more than one show during Free Week so if you miss one of the shows mentioned, check the Do512 Free Week page for more dates by the artist and the most complete Free Week listings. You can also browse the Do512 Free Week picks on their page for my top selections this year.
Contributed by Greg Ackerman, True Austin Music Insider. Originally posted at examiner.com.