The Health Alliance for Austin Musicians is hosting their 9th annual HAAM Benefit Day on September 23, 2014. This Austin event, presented by Whole Foods Market, raises over one-third of HAAMs yearly donations by having local businesses donate 5 percent of their days proceeds to support Austin musicians health.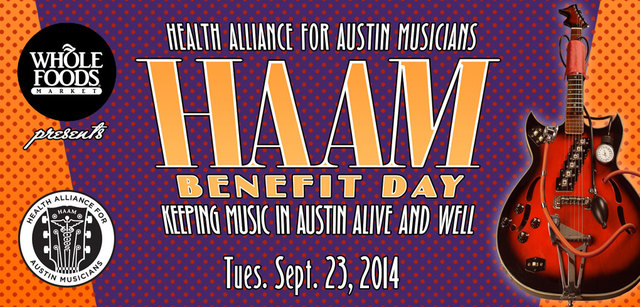 What better way to spend your day than visiting local businesses and enjoying live music that supports a good cause? Grab a friend and head to participating businesses for music all day and all night.
The Austin Visitor Center, located at 602 East 4th Street, is excited to host the Hot Nut Riveters from 2-4 p.m. on HAAM Benefit Day. Come out and jam with this awesome local band.
Check out a full list of participating businesses, proceeds and performance lineups at http://benefitday.myhaam.org/. Make sure to download the HAAM Benefit day mobile app on your smart phone or tablet and use the hashtags #MyHAAM and #HAAMBenefitDay to stay connected!
Contributed byKyndal Goza, Music and Film Intern