After enjoying the hustle and bustle that comes with the fantastic downtown energy in Austin, it's sometimes nice to kick back your feet over a glass of wine or coffee. Just off Congress Avenue at Fourth Street, Halcyon is a coffeehouse by day and a bar & lounge by night where you can relax, catch up with friends, or even buckle down to get some work done.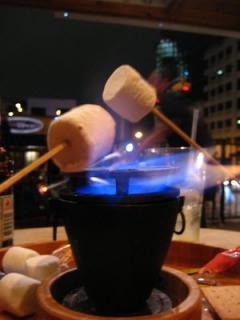 With an extensive menu, this space provides light breakfast fare (including the required Austin breakfast taco), lunch, weekend brunches, and their famous desserts along with a full bar and espresso cocktail selection. On my last visit a friend and I ordered the chocolate espresso martini, Halcyon's signature cocktail with Stoli Vanil, chocolate Godiva and a house espresso, along with the incredibly amazing s'mores! A steal at $6.50, you can have your very own miniature fire-pit brought to your table to share the makings for your perfect s'more, and roast your own marshmallows to perfection.
Located in the Warehouse District, Halcyon also stays open until a solid 3 a.m., so you're also able to hit it up after your evening for a quick late-night treat. It's guaranteed to taste twice as good after your favorite bars closing-time!
What's your favorite place to sit back and relax when you're downtown?
Contributed by Rebekah Grmela.