Ah, the holidays. A most wonderful time of year filled with visions of sugar plums and awakening perhaps to a white Christmas morning (well, maybe not so much in Austin).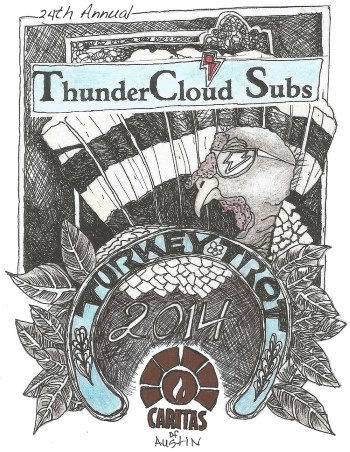 Its also a time where theres no shortage of temptations to stray from a typical workout regime or aspirational diet even for the most disciplined. But you can have your (gingerbread) cake and eat it too! Whether youre in town visiting friends or family or here for a weekend getaway, resolve to start a new holiday tradition, earn your egg-nog and warm up to these festive fun runs:
ThunderCloud Subs Turkey Trot November 27, Long Center for the Performing Arts Now in its 24th year, the ThunderCloud Subs Turkey Trot is considered an Austin Thanksgiving tradition. Nearly 20,000 participants from 48 states came out to participate in 2013, making it the largest 5-mile run in Texas. Dont be surprised if you see a turkey or pilgrim on course - costumes are encouraged!
In the serious spirit of holiday giving, ThunderCloud donates one hundred percent of event proceeds to Caritas of Austin, a local organization dedicated to helping the homeless and working poor.
Austin Trail of Lights Fun Run December 6, 7 p.m.-10 p.m., Zilker Park One of Austins favorite holiday celebrations, the Trail of Lights features 1.25 miles of lighted tunnels and displays in the heart of Zilker Park. The aptly named Ill Walk, Yule Run two mile evening event this year starts at the historic Zilker Tree and ends within the Trail of Lights. All speeds are welcome, but dont forget to slow down and take in the lights! 2014 marks the Trails 50th Anniversary.
Austin Jingle Bell 5K December 14, 8 a.m., The Domain It may (or may not) be cold outside in Austin baby but this unique, family-friendly run/walk is guaranteed to have you jingling to the finish line - literally. Each participant receives his or her own set of bells, creating a signature holiday sound heard throughout the event.
The excitement kicks off at the Domain, a perfect venue for holiday gift getting after the run (and for a much-deserved little something for yourself). Be sure to tell the kids to bring their wish list rumor has it Santa is coming to town for a visit on course.
Twelve Bars of Christmas December 13, 7 p.m., Jack & Adam's Check out the Austin Duathletes annual Red Dress Run, also known as the Twelve Bars of Christmas pub run. This event is a local must each December - fantastic for people-watching alone. Prizes awarded for the best-dressed male and female (and yes guys you get to wear a dress). Proceeds benefit the Ronald McDonald House of Austin.