Japanese cuisine is wonderfully complex, reflecting the immense region and the people, culture, and politics that have shaped both history and food. Austin's Japanese restaurants bring all of the flavors to bear - from sushi to shabu-shabu, ramen to udon.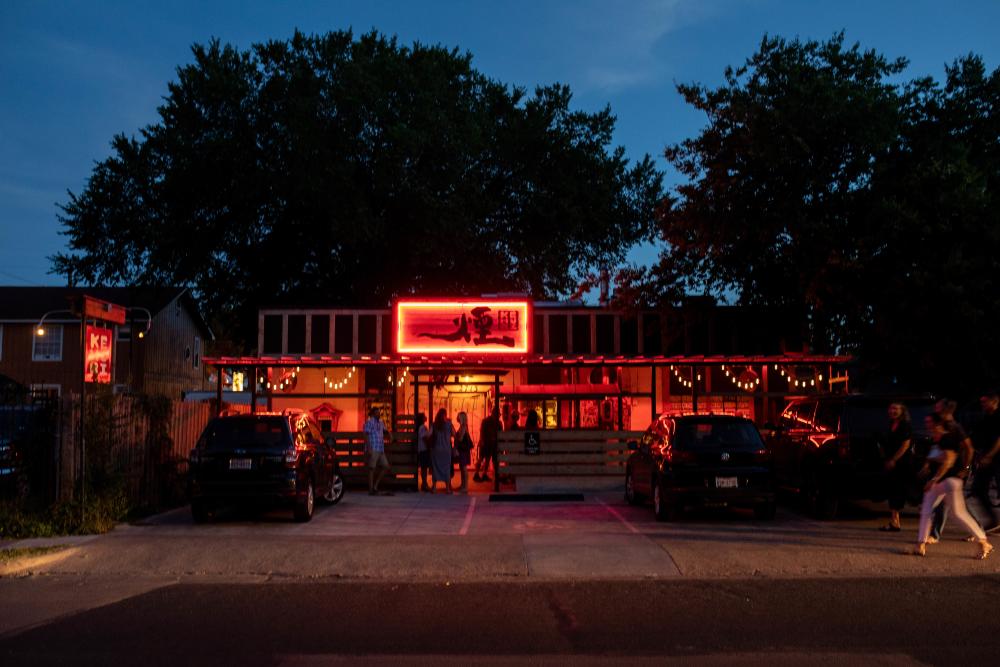 Kemuri Tatsu-ya. Credit Julia Keim.
The team behind the Tatsu-yas are particularly well-known for gracing Austin with Japanese and Japanese-inspired menus. Ramen Tatsu-ya opened a hole-in-the-wall Ramen restaurant in North Austin before anyone knew that ramen was something besides the 80 cent packets at the grocery store. Lines began forming out the door for the thick noodle soup and an empire was born. After the success of their first restaurant, the Tatsuya gang has opened additional Japanese spots that reflect their seemingly unerring sense of what will be successful. Domo Alley-Gato is like a portal into something you might imagine in a secret alley in Japan where they serve frozen beer caps and Japanese curry late at night. For fans of shabu shabu, DipDipDip Tatsu-Ya brings people together around a communal pot where you pick various proteins to dip(dipdip) at your table. And smoked meats overlap with Japanese tradition at Kemuri Tatsu-ya, Austin's first izakaya. This casual spot has a full sake and Japanese whiskey bar plus an extensive menu of "snacks'' with a Texas twist. Settle in for a glass of sake paired with salmon crudo with michelada consomme and black sesame miso powder or fried nuka pickles with panko and amazake ranch.
One of our favorite Japanese finds is Soto. With two locations (South Austin, Cedar Park) this innovative spot makes beautiful food seem effortless. Come here for rich uni pasta with a poached egg and truffle or for stone-grilled A5 Wagyu… try their house-made "potato chip" with salmon belly, lemon aioli, and micro cilantro or the conger eel with shiso, yuzu, and fleur de sel. Definitely ask for a seat at the sushi bar.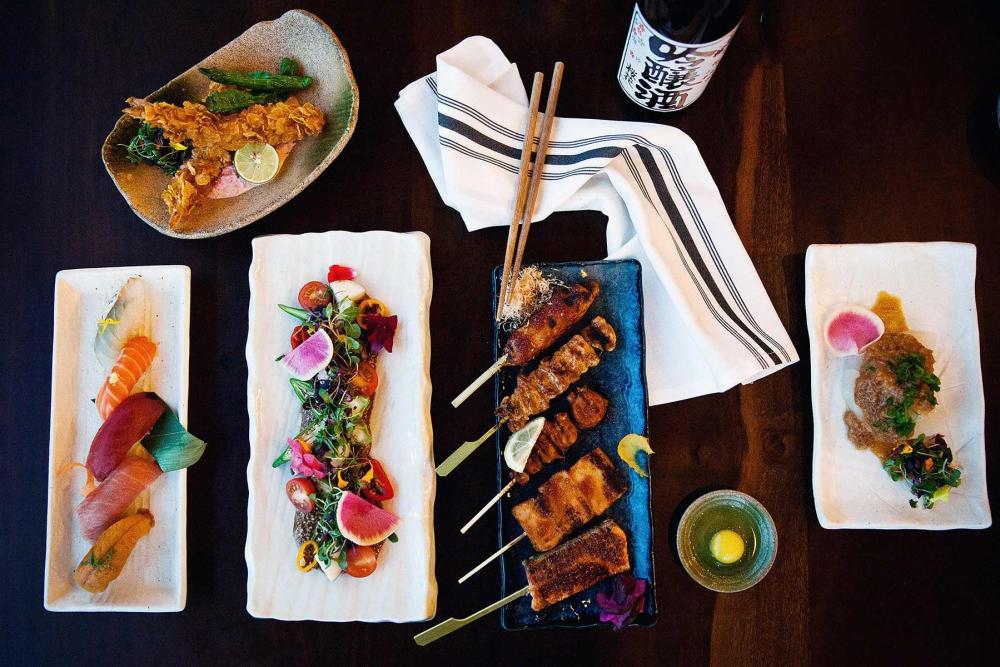 Courtesy of Fukumoto.
Another spot that pushes the boundaries is Fukumoto Sushi & Yakitori Izakaya. Crispy river crabs, nikumiso daikon radish (cooked with pork miso), ankimo kobachi (monkfish liver, ponzu, momiji, negi) and an extensive menu of yakitori (pork belly, king salmon, chicken hearts, freshwater eel).
Tyson Cole, James Beard winner and an American sushi master, has two incredible Japanese restaurants. Uchi is located in an old South Austin house and sets the bar for both hospitality and ingenious menu items. Uchiko is a little further north and has an equally amazing menu. Both concepts have expanded outside of Austin due to their success. Stop in at their sake social hour to get the bites without the price.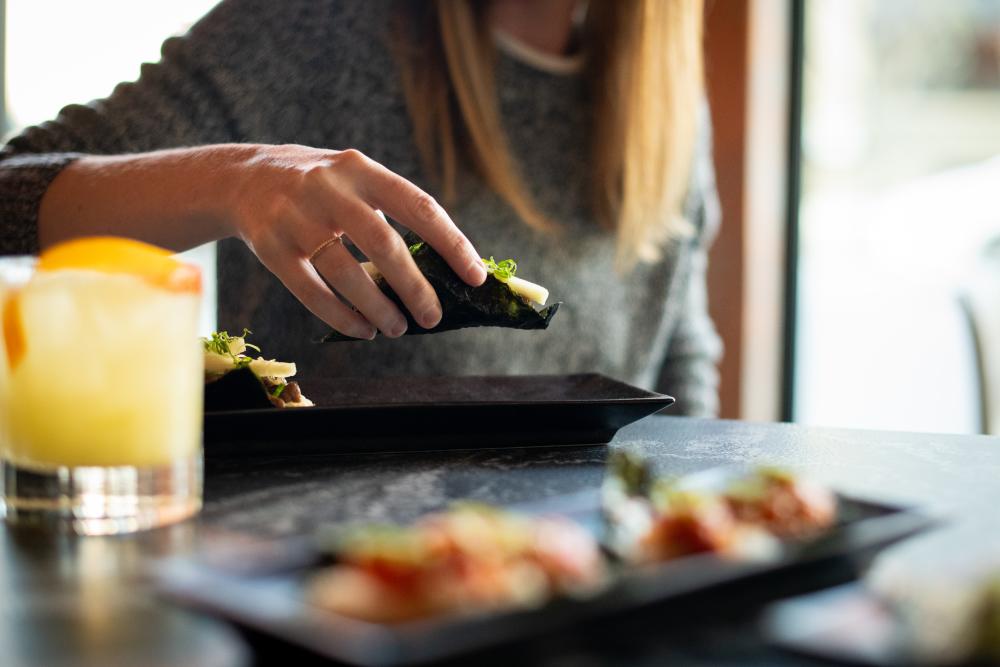 TenTen. Credit Letitia Smith.
TenTen and their swanky surrounds make for a fabulous night out on the town. Start first with the sake menu because they offer a number of sakes you won't find anywhere else, from casual cups to super high end bottles. The food is beautifully presented and on the pricey side so savor every moment. 
The majority of Austin Japanese spots have both traditional dishes and sushi on the menu. Ichiban is such a place. They've been in their Burnet location for years and inspire much devotion with their sushi, noodle dishes, teriyaki, and bento boxes. They're doing to-go now as well.
You'll find something similar at Ebisu though admittedly with a more upscale feel. Their menu has a good balance of hot and cold dishes, sushi and other Japanese classics including ramen, udon, and soba noodles, tatakis and carpaccios, along with chirashi bowls, rolls, and katsus.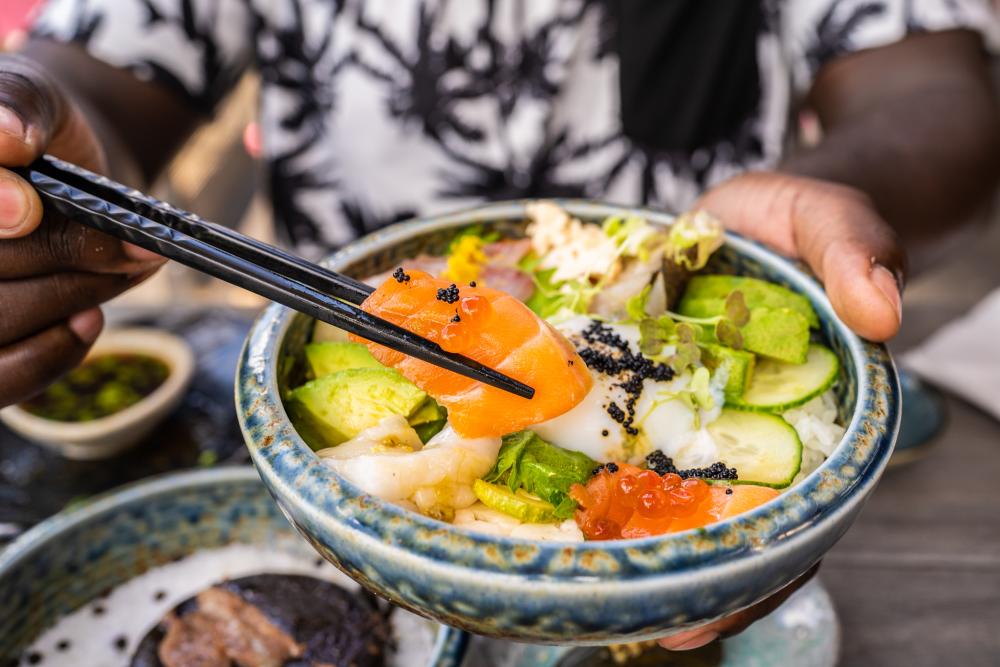 Lucky Robot. Credit Jessica Serna, My Curly Adventures
If you find yourself on South Congress Avenue, stop into Lucky Robot, the first sustainable sushi restaurant in Texas. They were recognized by the James Beard foundation and their menu changes often with a good mix of katsus, grilled meats, and hot and cold tastings. They have a fabulous brunch as well with sake punches that pack a wallop.
Hidden away inside a boba restaurant is Snowball Riceball. They specialize in onigiri, rice balls with filling, often wrapped in nori, rice rolls, and bento boxes. This is the kind of concept that is easy to get behind - a simple menu with a couple of offerings. Their shiitake egg mushroom is a crowd favorite and their grilled spicy scallop rice roll and smoked shiso salmon also get the nod.
Mushashino is a long-time Austin institution. No matter where you sit in this restaurant, it feels intimate and special. And the food is made with care and worth lingering over. Some of the things we recommend are the pressure cooked pork belly with hot mustard, the grilled unagi, and any of their incredibly fresh nigiri.
Contributed by Kelly Stocker.