South Austin's iconic Green Pastures is back on the scene with a fresh face and revived culinary team. A staple of the Bouldin Creek neighborhood, the historic Victorian home has been dishing out classic, southern comfort food in an intimate setting for nearly 75 years. Now under a new name and offering a familiar, but refreshed menu of rustic, farm-fresh fare and cocktails, Mattie's at Green Pastures is ripe for porch sitting, date nights and A+ Sunday brunching. Mattie's Executive Chef Joshua Thomas took some time to chat with us about what's on the menu at Mattie's and some of his favorite restaurants and things to do around Austin.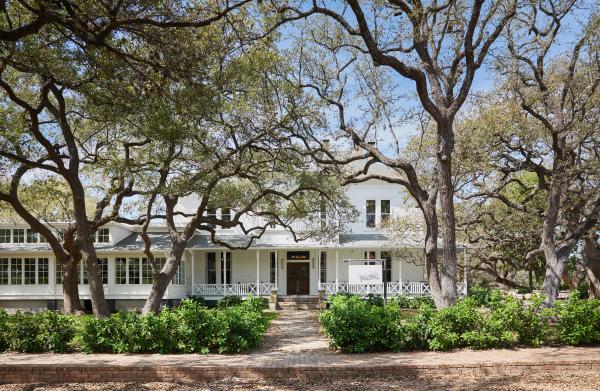 Mattie's at Green Pastures. Credit Nick Simonite.
When did you come to Austin and why?
My wife was originally from Austin and while we met in New York and had lived there for a few years, she really wanted to come back and I thought it was a great idea and would be a nice change of pace.
Tell us about the origin/idea for the new and improved menus at Mattie's at Green Pastures.
Scott Walker (VP of Operations at La Corsha Hospitality Group) and I spent a lot of time gathering ideas and looking at what cuisines really fit the look and feel of the house. What we decided was keeping things simple and approachable would be the biggest homage to Green Pastures' past and preserve it for the future. There are Southern notes and dishes that reflect some Texas regionality as well as subtle nods to my heritage.
The house represents so many elements of "home" for guests, I think, and trying to push it in a specific direction tends to create something that isn't as powerful as what it is now. The food complements this feel without being too contrived or fussy for that matter.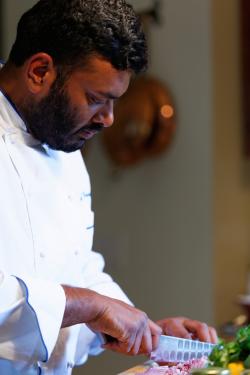 How has the food scene changed in Austin since you've been here?
It's been quite a transformation in Austin. I would say that there is a ton more restaurants that have opened and there's certainly more variety than ever before. What I've seen more now though is that restaurants are as much about the design and aesthetics as they are about the food. The really exciting scene is the bar and cocktail scene in Austin - it's continuously changing and some really interesting things are happening here. I would say the food scene continues to progress, but Austin will always still want their BBQ, tacos, pizza, and burgers.
Why do you think something like Mattie's works here now? And how is has it evolved from where it started?
I think Mattie's and Green Pastures will always represent that part of old Austin that people still cling onto. It's probably one of the only landmarks still left in town and for those that have been here for 20 or 30 years, it's a constant in town. This is especially true during the transformation that Austin has experienced and something that owner and developer Greg Porter really understood from the first day he began the extensive renovation. Scott Walker and I spent a lot of time considering this into planning and designing the menu and I think when you start the process from there, it helps to keep everything in perspective.
I think Mattie's and Green Pastures works so well because even if you've never been there before, it immediately feels special to you. It's always had that ability to give people that sense of "home" and there's an immediate emotional response. We've tried to keep the menu from going too far in a "fine dining" direction and instead focused on sustainable sourcing and offering an approachable and simple dining experience without it getting contrived.
What is your signature dish/which item you would most recommend on your menu?
I would say at this point; the fried chicken has become our signature dish.  The biscuits are definitely up there as well.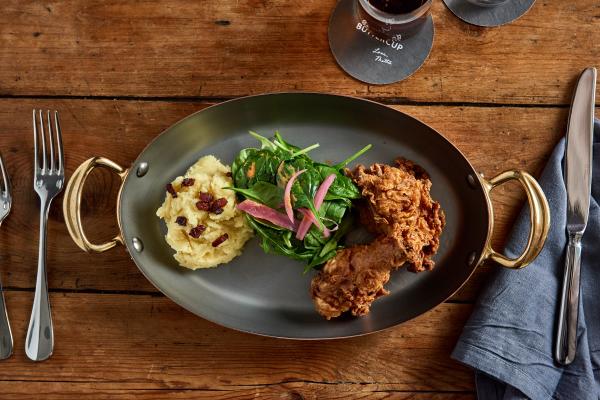 Mattie's Fried Chicken. Credit Nick Simonite.
When you're not making food, where are you eating?
Phoenicia Bakery - been in Austin forever and they've been making great pita bread daily. They also have a small take-out area; get the "za'atar special." My wife introduced me to them in 2006 and I've never stopped going back.
Via 313 - or, as my daughter calls it, "VIA 1131"… great pizzas and good for a family too.
Tacodeli - that "Dona" sauce keeps me coming back.
Gus's fried chicken.
When you're out in Austin, what are some things you like to do?
What is your favorite guilty pleasure/indulgence in ATX (food, activity, etc.)?
I work a full-time job and my wife and I have two children so our "free time" is a little limited. Our favorite activity, and especially during the heat of summer, is to grab two tickets to Alamo Drafthouse and catch a movie with a big bowl of buttery popcorn and two cokes. It's dark, cool, and the popcorn has just the right amount of butter on it…perfect.