Whether you plan to pack a picnic or grab a paddle, catch a classic or experience something new, there's something for every interest in Austin this summer. If you're looking for something to do this June, head to Austin for one of these hot events and festivals around town:
5/26/16 - 9/4/16
Summer Classic Film Series
the Paramount & Stateside Theatres
Love classic movies? The Paramount Theatre has been running the Summer Classic Film Series for more than 40 years. Visit their website for the full schedule of 100 beloved cinematic treasures that are gracing the theater's big screens.
www.austintheatre.org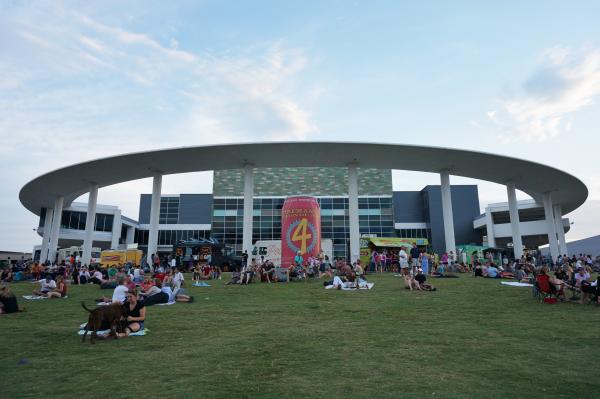 Trailer Food Tuesdays, courtesy of the Long Center.
6/7/16
Trailer Food Tuesdays
Long Center
Bring a picnic blanket and your appetite to Trailer Food Tuesdays, a monthly series that showcases some of Austin's most popular food trucks. On select Tuesdays through August, food trucks will gather on the plaza at the Long Center in the shade of the cityscape while local musicians entertain the crowd.
www.thelongcenter.org
6/9/16 - 6/12/16
ATX Television Festival
Downtown Austin
ATX Festival is the first festival devoted to Television's history and future. It functions like a traditional film festival with premieres of new series, current hits and cult favorites. ATX Television Festival also offers access to the industry's leading professionals with cast and creator Q&A's and panels focusing on innovation in both production and content delivery.
www.atxfestival.com
6/9/16 - 6/12/16
Republic of Texas Biker Rally
Travis County Exposition Center and Sixth Street
The state's largest motorcycle gathering attracts thousands of bikers for rides, parades and music.
www.rotrally.com
6/17/16 - 6/18/16
Solstice Festival
Pan Am Park and Various Locations
This annual music festival celebrates the local Austin music community. The festival is held at Pan Am Park but unofficial parties are held at various vanues around town during the weekend.
www.solsticeatx.com
6/18/16
Central Texas Juneteenth 2K, Parade & Celebration
MLK Blvd. and Rosewood Park
Juneteenth, also known as "Freedom Day" or "Emancipation Day," is the oldest known African American celebration commemorating the end of slavery. This annual event features a 2K walk/run, parade floats and entertainment and celebration at Rosewood Park.
www.juneteenthcentraltexas.com
6/22/16
Blues on the Green
Zilker Park
Pack a blanket and the family and make your way to Zilker Park for this summertime tradition. Held monthly from May to August, Austin's largest free concert series will welcome performances by local up-and-comers Wild Child and Max Frost.
www.kgsr.com
6/25/16
African American Book Festival
George Washington Carver Museum
This free, annual literary event showcases new works by and about the African American community. Notable speakers and authors will discuss their works and facilitate conversations.
www.aabookfest.com

Keep Austin Weird Fest & 5K.
6/25/16
Keep Austin Weird Fest & 5K
Downtown Austin
Anything is possible at this decade-old Austin extravaganza! Run, skip or race through the streets of downtown Austin wearing the wackiest costume. Unofficially known as "the slowest 5K you will ever run," this race is designed for amusement and fun.
www.keepaustinweirdfest.com