Things are heating up this June with plenty of big events kicking off the summer season. Check out some of our team's top picks below, and take a look at our event calendar for other great ideas!
6/4/15-6/7/15
ATX Television Festival
Downtown Austin
ATX Festival is the first festival devoted to Television's history and future. It functions like a traditional film festival with premieres of new series, current hits and cult favorites. ATX Festival also offers access to the industry's leading professionals with cast and creator Q&As and panels focusing on innovation in both production and content delivery.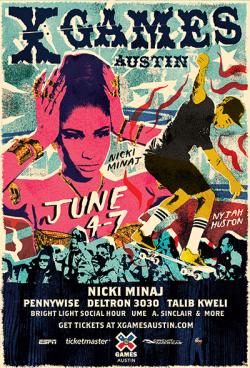 6/4/15 - 6/7/15
X Games Austin
Circuit of The Americas
A festival that highlights the intersection of sports and lifestyle that exists in action sports, with more than 250 of the best action sports athletes competing for the most coveted medals in Skateboard, BMX Freestyle, Moto X and more.
6/11/15 - 6/14/15
Republic of Texas Biker Rally
Travis County Exposition Center and Sixth Street
The state's largest motorcycle gathering attracts thousands of bikers for rides, parades and music.
6/13/15 - 1/10/16
Ladies and Gentlemen... The Beatles! Exhibit
LBJ Presidential Library
This new exhibit will celebrate the fascination America has with "Beatlemania" and the four lads from Liverpool during the past fifty years. This exhibit is curated by The GRAMMY Museum and Fab Four Exhibits that explores the impact The Beatles' arrival had on American pop culture, including fashion, art, advertising, media and music, from early 1964 through mid-1966 - when the British boy band was at its peak.
6/20/15
Central Texas Juneteenth Celebration
MLK Blvd. and other locations
Juneteenth, also known as "Freedom Day" or "Emancipation Day," is the oldest known African American celebration commemorating the end of slavery.
6/27/15
Keep Austin Weird Fest & 5K
Long Center for the Performing Arts
Anything is possible at this decade-old Austin extravaganza! Run, skip or race through the streets of downtown Austin wearing the wackiest costume. Unofficially known as "the slowest 5K you will ever run," this race is designed for amusement and fun.
Want other fun summer events? Be on the lookout for some of our great summer essentials on the blog!