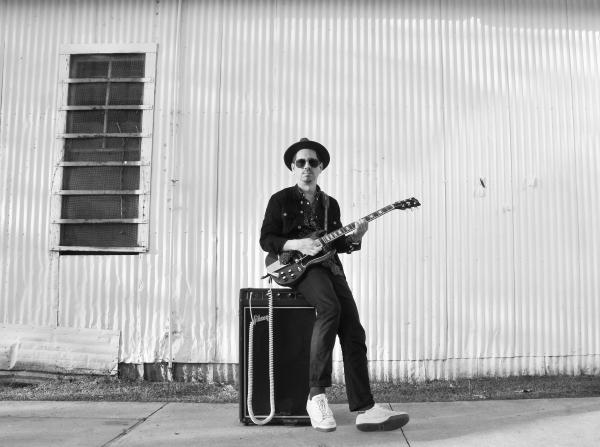 Courtesy of Stevan Alcala.
It's Latino Music Month in Austin, where the salsa and sounds are as hot as the looming summer season. Austin, though primarily known for blues and country at heart, has a vibrant history of a thriving Latino community and the deep music roots that come along with it. This lineage includes various acts like the iconic Tejano band Little Joe Y La Familia, Los Lonely Boys and Vallejo's unique take on Latino rock, as well as emerging artists like Cilantro Boombox and Peligrosa DJ Collective who are mixing Latino influences with modern electronic and hip hop styles.
We wanted to highlight an individual who has managed to take these seemingly disparate styles and influences from various generations and weave them seamlessly into a modern Latino discourse on sound. An individual whose hyper-creative output is as diverse as the pan dulce choices at Joe's Bakery. 
From nabbing a Grammy during his time with Grupo Fantasma, his Swiss Army knife-like work in the studio, to performing with backing house bands for the GZA from Wu-Tang Clan and even the late great Prince, Adrian Quesada's hustle on and off stage is nothing short of mystifying.
With a discography that can be dizzying to most listeners, here are some solid grooves that will keep your feet shuffling throughout the month of May and beyond.
Grupo Fantasma
Quesada may now be an ex-guitarist for this band, but Grupo Fantasma still holds the torch as one of Austin's best live bands to experience. Switching between the traditional styles of salsa and cumbia while blending bold funk and reggae, you'll need to check your pulse if you're not moving.
Brownout
Featuring several members from Grupo Fantasma (including John Speice & Beto Martinez), Brownout takes Latin percussion to the max and has enough funk to burn holes in dance floors.
Brown Sabbath
Black Sabbath scored with full horn section? Ozzy Osborne himself gave this one the thumbs up; best played while trying to summon ancient beasts and sorcerers.
Ocote Soul Sounds
Quesada teams up with Martín Perna from the band Antibalas to take you on a Shamanistic journey through indigenous folk rhythms and chants.
Echocentrics
A hodgepodge of psychedelic soul music served on a South American plate. Features great vocals from Thievery Corporation live vocalist Natalia Clavier.
Money Chicha
Chicha is traditionally a form of trippy Peruvian cumbia. Expect lots of fuzz guitar licks and undeniable percussion from this band which also features members from Brownout and Grupo Fantasma.
Electric Peanut Butter Company
An experiment in world psychedelic music. Quesada serves as producer, engineer, composer and instrumentalist covering unexpected gems and unearthing dusty tracks that would make record diggers flinch.
Space Ducks
A great example of Quesada's production work after being enlisted by Austin outsider folk icon Daniel Johnston to help bring a graphic novel about ducks in space to life. Keep it weird?
Spanish Gold
An indie-rock super group of sorts featuring Patrick Hallahan of My Morning Jacket, Dante Schwebel of Hacienda/City and Colour & Quesada. It's a recipe for upbeat blues rock best blared on those dusty Texas back roads.
Follow our Music Austin Spotify channel and check out our playlist of music featuring Adrian Quesada: