Calling all dedicated music lovers and foodies. Behold, Listen at Winflo. Tucked below Italian eatery Winflo Osteria, this tiny speakeasy style room opens up every Thursday evening to a handful of patrons. Winflo chef/owner John Pennington creates a three-course seasonal fare menu including handcrafted cocktails with local spirits and wine from Italy.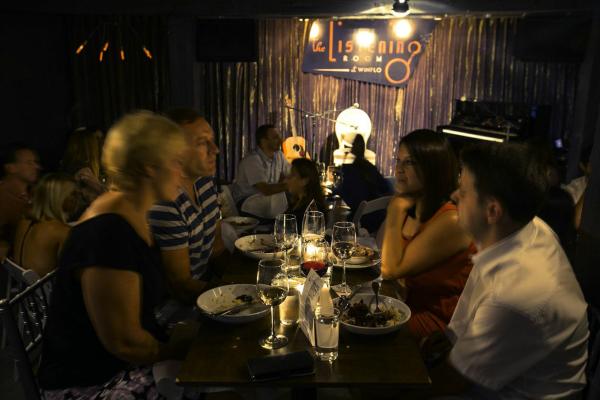 Listen at Winflo. Photo by of Winflo Osteria.
Upon arrival, scout the room and choose your table. There is no reserved seating so early arrivals get the best spot. My favorite seat is the corner table to the left of the stage, tucked away in the dark only visible because of the candle on top. Wherever you sit will be a treat, as no table is any further than 30 feet from the small stage.
The menu rotates every week but expect to see the menu reflect whatever they are growing fresh in their garden. On the cocktail front, the Solerno Margarita is hard to beat but their version of the classic French 76 is my personal favorite.
After dinner, focus your attentions to the gold gilded stage for live music featuring local and regional artists. According to Winflo's website, they also feature Special Guests on occasion artists in town playing larger shows on tour.
At this point in the evening, this is strictly a listening experience. Expect to be asked to leave if caught talking, texting or snapping pictures or video with your phone. In fact, just turn it off. I promise you won't even miss it. Each show I've been to has been intimate and interactive, with the artist sharing stories about their music and life, and asking the audience questions and answering questions in return.
Overall, one of my favorite live music experiences in town.