Austin is home to many talented creatives making fantastic handcrafted items. Our local makers know how to craft products that are sure to make jaw-dropping gifts and excellent keepsakes. If you have been looking for the perfect gift for a loved one, this list of trinkets, arrangements, and beautiful art is the perfect place to start. These aren't your average souvenirs.
Hand-Made Decor
Electric Wood — Hand Painted & Carved Decor
The artist known as Electric Wood is making some of the most unique items on the market. Get yourself a colorful and curvy new desk or a rad new mirror frame. 
Jaime Zuverza — Screen Prints
Jaime Zuverza makes stunning and surreal screen prints with colors that captivate the eye. The dark red of their "Hydra" and "Snake Steps" pieces pull you in and don't let you go. Take home one of their gorgeous prints, or make their art a part of your routine with one of their colorful calendars.
f8ke_flowers — Flower Arrangements
Despite the name, the beautiful flower arrangements by Betsy Welborn are very much real. Her unique eye for color and shape will have you bringing home arrangements that are, strictly speaking, incredibly cool. f8ke_flowers custom arrangements are sure to complement any event or wow a loved one!
Peelander-Yellow — Canvas Paintings
The well-renowned Peelander-Yellow is known for his eccentric style and beautiful murals. But you can take some of his wonderfully bizarre art home with you in the form of stunningly crafted canvas paintings.
Brian Maclaskey — Illustrations, Prints
Brian Maclaskey's charming designs are sure to bring a smile to your face. He offers stickers, sketchbooks, apparel, and great artwork for the home. Don't waste any time and get a print of a shark reading a book or a stork drinking a cup of jo, today!
Fashion & Jewelry
Anne Sorenson — Embroidery, Textiles 
Check out Anne Sorenson's shop for embroidery, textiles, and other fun stuff. Her delightful designs are guaranteed to please. Her shop even has experimental plant-dyed scrunchies!
Merci Handmade Vintage — Satchels, Jewelry
Merci Handmade Vintage is a small company featuring unique textile satchels and leather jewelry. Rock a new bag or leather bracer, and feel proud to rep a little piece of Texas!
Las Ofrendas — Wearable Art 
Artist ​​TK Tunchez handcrafts gorgeous flower crowns, earrings, and hair clips. She infuses careful attention to detail into every item she crafts. Customers are sure to walk away with a captivating and vibrant piece of art.
Annabelle & Annelise — Jewelry
Annabelle & Annelise are a pair of Austin roommates who make unique and affordable handcrafted jewelry. Their charming designs are instant conversation starters that are sure to complete any outfit. Check out their wire-wrapped rings and woodblock dangly earrings!
Functional Art
Jarvis Boards — Paddle Boards
Local maker Tony Smith creates premium handcrafted wood paddleboards. Get a custom board made to order or partake in one of their build-your-own kits. They've made it easy to hit the lake with a board you've built yourself! Kit's include plans, detailed instructions, and high-quality materials so you can bring your ideal board to life.
The Coy Collection — Ceramics
Local artist Sequoyah Johnson creates a space where ceramics meet warmth, love, and plenty of smiles. Literal smiles, that is — her ceramic wares plant smiley imagery and positive messages on well-crafted mugs to bring together functionality and joy.
Looking for other local, Austin shops and brands to support? Check out our guide to shopping local in Austin!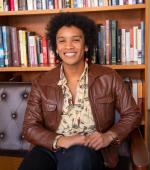 Contributed by Jade Fabello
Jade Fabello is an Austin-based writer and a recent graduate of the University of Texas, where he was a double major in the Journalism and the Communication and Leadership programs. You can find his work at JadeFabello.com. 
Instagram @Jade__Fab. Twitter: @Jade_FW
Header image credit - Celeste Boyd, ICBO Photography.