From music festivals to events showcasing the best food in Austin, here's what to do in 2015:
JANUARY
1/1/15-1/10/15 Austin Free Week Various Locations: More than a dozen clubs host non-stop, local, live music during this annual event. This is an excellent opportunity for music fans to check out bands they have been meaning to catch but have not seen perform!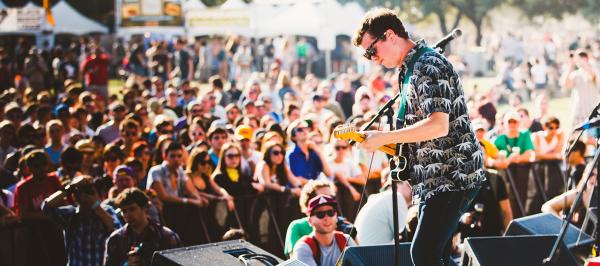 Austin Must-Attend Events in 2015. Photo by Fun Fun Fun Festival.
FEBRUARY
2/15/15 Austin Marathon & Half Marathon Downtown Austin: Event speakers, live music from more than 40 local bands and a course that winds through Austin's most scenic neighborhoods make this popular 13.1 and 26.2-mile race a must.
2/28/15 Carnaval Brasileiro Palmer Events Center: One of the biggest Brazilian Carnaval celebrations outside Brazil, Brasileiro-style samba, costumes and wild abandon can all be seen in the heart of Texas.
MARCH
3/1/15 Zilker Park Kite Festival Zilker Park: The nation's oldest kite festival features hundreds of kites and is free for all ages; complete with kite flying contests, food, games and more.
3/13/15-3/22/15 SXSW Music, Film and Interactive Conferences and Festivals Various Locations: Austin Convention Center and more than 50 venues host noted filmmakers, musicians and multimedia artists from around the world to showcase music, film and interactive media during this internationally recognized event.
3/17/15 St. Patrick's Day Festival Various Locations" A family-friendly St. Patrick's Day where families can come out and enjoy the culture of Ireland including music, dance and language.
3/27/15-3/28/15 Austin Urban Music Festival Auditorium Shores More than 15,000 music revelers converge to enjoy Austin's only music festival focused on R&B, neo-soul and hip hop music.
APRIL
4/16/15-4/19/15 Old Settler's Music Festival Salt Lick BBQ Pavilion: Central Texas' signature music event featuring Grammy-winning Americana, arts and crafts, camping, food and libations.
4/22/15-4/25/15 Moontower Comedy Festival The Paramount Theatre and other locations: Some of the funniest, wittiest and oddest world-class comics from around the globe perform in Austin.
4/24/15-4/26/15 Austin Food + Wine Festival Auditorium Shores: Now in its sixth year, the Austin Food + Wine Festival, produced by C3 Presents, will welcome top chefs from across the nation.
4/25/15-4/26/15 Art City Austin Downtown Austin: Hosted by Art City Austin, Austin's iconic outdoor art fair will sport more than 100 exhibiting artists in its 65th year.
MAY
TBD Pachanga Latino Music Festival Various Venues: The many Latino music genres are showcased during performances on the Plaza at Austin City Hall each Friday at noon. Other special events throughout the month are presented as well.
5/2/15-5/3/15 Old Pecan Street Spring Arts Festival East Sixth Street: A free, family event featuring musicians, food, artists and crafts vendors.
5/9/15-5/10/15 and 5/16/15-5/17/15 West Austin Studio Tour Across West Austin: The West Austin Studio Tour is a free, self-guided tour that invites the public to discover new artistic talent; see working studios; learn about artists' tools, techniques and inspirations; and explore galleries.
JUNE
6/4/15-6/7/15 X Games Austin Circuit of The Americas: A festival that highlights the intersection of sports and lifestyle, with more than 250 of the best action sports athletes competing.
6/19/15 Central Texas Juneteenth Celebration Various locations: Juneteenth, also known as "Freedom Day" or "Emancipation Day," is the oldest known African American celebration commemorating the end of slavery.
6/27/15 Keep Austin Weird Fest & 5K 701 W. Riverside Dr.: Anything is possible at this decade-old Austin extravaganza! Run, skip or race through the streets of downtown Austin wearing the wackiest costume.
JULY
7/4/15 Fourth of July Fireworks and Symphony Auditorium Shores: The Austin Symphony hosts an annual concert of patriotic music culminating in a spectacular firework display over Lady Bird Lake.
AUGUST
8/22/15 Bat Fest Congress Avenue Bridge: Celebrate this batty event surrounding the world's largest urban bat colony (two million Mexican Free Tail Bats which take up seasonal residence beneath the Ann Richard's Congress Street Bridge).
8/30/15 Austin Chronicle Hot Sauce Festival Fiesta Gardens: If you want to beat the heat this summer then you've got to eat the heat! Join the Austin Chronicle for one of the world's largest hot sauce festivals.
SEPTEMBER
9/7/15 TriRock Austin Triathlon Palmer Events Center: The urban setting provides a swim start at the Stevie Ray Vaughan statue, a swim course in Lady Bird Lake, a bike course over the Congress Street Bridge and a run along Auditorium Shores.
TBD Austin Pride Week Fiesta Gardens: along the shores of Lady Bird Lake Austin's LGBT community comes together with live music performances, film screenings, a 5K run, parades and more.
OCTOBER
10/2/15-10/4/15; 10/9/15-10/11/15 Austin City Limits Music Festival Zilker Park: One of the country's largest celebrations of music, this six-day festival showcases more than 130 musical acts on eight stages over two weekends.
10/23/15-10/25/15 Formula 1 United States Grand Prix Circuit of The Americas: Drivers will be in Austin competing in the Formula 1 United States Grand Prix.
NOVEMBER
TBD Fun Fun Fun Fest Auditorium Shores (pictured above): One of the most relaxed, creative and pioneering festivals in music today featuring underground and progressive musicians, comedians and more.
TBD East Austin Studio Tour Across East Austin: The East Austin Studio Tour is a free, self-guided tour occurring over two weekends in November that invites the public to discover new artistic talent; see working studios. Learn about artists' tools, techniques and inspirations, and explore galleries.
DECEMBER
TBD Trail of Lights and Zilker Tree Zilker Park: The Austin Trail of Lights, lights up the season with a celebration of community, memories and fun. Located at Zilker Park, and fun for the whole family
TBD Armadillo Christmas Bazaar Palmer Events Center: Shades of old Austin are reflected at this market with eclectic gift and local musical entertainment.
12/31/15 Austin's New Year Auditorium Shores: This alcohol-free, family-friendly event celebrates the diversity and creativity of the city with visual art installations, jugglers, storytellers, fire dancers and other festive performances.
What are your favorite things to do in Austin? Let us know in the comments below!