Planning a spring escape to Austin? March is one of our busiest months for festivals and events! Here are a few of our favorite things to add to your list:
3/4/16 - 3/6/16
Pirelli World Challenge, Circuit of The Americas™. Sports car racing enthusiasts don't want to miss this unparalleled series which kicks off the 2016 PWC season. Top racers and race cars from around the world go head to head on the track for three full days of action.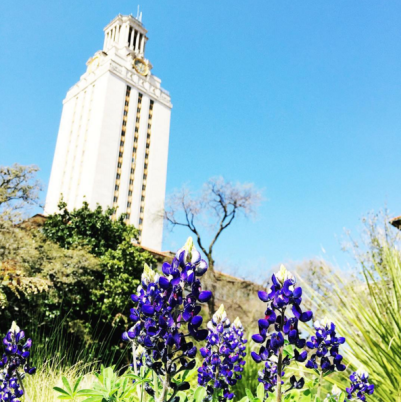 Bluebonnets blooming in front of the UT Tower. Courtesy of Krystal Mullins, @homemadeaustin.
3/5/16
Explore UT, University of Texas at Austin Campus. Each spring, the University of Texas hosts this fun and informative open house for students, parents, visitors and families. Kids can explore the campus, participate in interactive demonstrations and experiments, visit university museums and more!
3/6/16
Zilker Park Kite Festival, Zilker Park. The nation's oldest kite festival features hundreds of kites in the air and is free to attend for people of all ages; complete with kite flying contests, food, games and more.
3/10/16 – 5/5/16
Movies in the Park, Various Austin Parks. The Austin Parks Foundation will host this annual outdoor film series on Thursday nights, beginning in March. This free, fun series showcases various Austin parks and is open to all (including pups!). Bring a lawn chair, picnic blanket and snack to enjoy during "The Sandlot" (3/10), "Shrek" (3/24), or "Ferris Bueller's Day Off" (3/31).
3/11/16 – 3/20/16
SXSW® Music, Film and Interactive Conference and Festival, Various Locations. The Austin Convention Center and more than 50 venues host noted filmmakers, musicians and multimedia artists from around the world. Participants converge in Austin to showcase music, film and interactive media during this internationally-recognized event. Check out the Austin Insider Blog to learn more about Austin films and musicians at the event!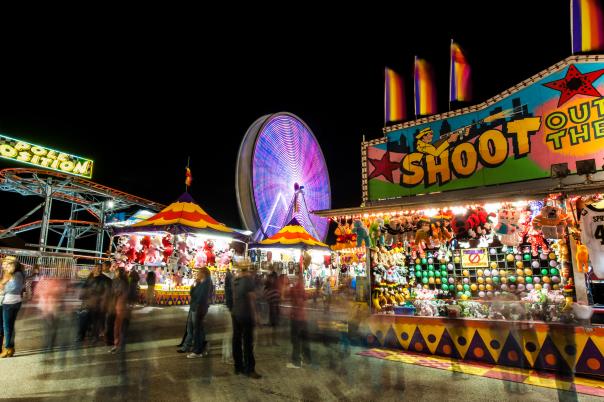 Rodeo Austin fairgrounds. Courtesy of Rodeo Austin.
3/12/16 - 3/26/16
Rodeo Austin, Travis County Exposition Center.  Since its inception in 1938, this local event has grown from a simple stock show featuring 16 animals into one of the state's premier rodeos. Over the course of two weeks, the Rodeo features 10 ProRodeo events, a family-friendly fair, the annual Cowboy Breakfast and daily concerts from legends Willie Nelson, Josh Abbott Band, Tanya Tucker and more.
3/17/16
St. Patrick's Day Festival, Jourdan-Bachman Pioneer Farms. This family-friendly St. Patrick's Day fest celebrates all things Irish. Come enjoy authentic Celtic music and dancers, Irish language workshops, the finest Irish imports and plenty of good craic!
3/25/16 - 3/27/16
Balloons Over Horseshoe Bay Resort, Horseshoe Bay Resort. More than 20 hot-air balloons from across America decorate the sky at the fourth annual Balloons over Horseshoe Bay Resort. This year's festival features tethered balloon rides, live music by local acts and the annual evening balloon glow.
3/30/16 - 4/2/16
Clyde Littlefield Texas Relays, Mike A. Myers Stadium. This premier track and field event brings together the best high school, college and professional athletes from across Texas, the U.S. and the world.