Beginning this month, the team at Austin CVB will be sharing some of our favorite Insider Picks happening each month in and around town. Check out these events and activity suggestions for April: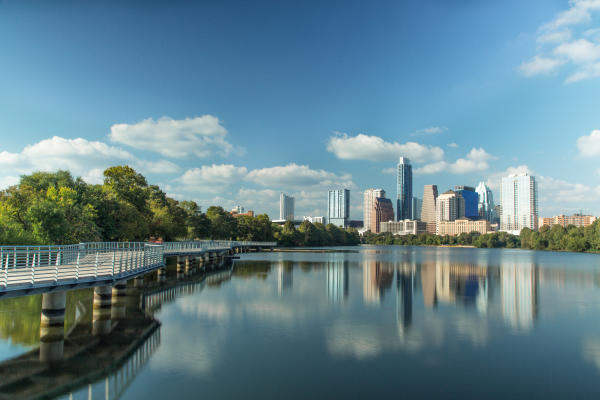 More than 200 local comedians compete to win the title of Cap City 29th Annual Funniest Person in Austin, April 1 May 19. Watch rookies and experienced jokesters present their best (and their worst) three nights a week from preliminaries beginning April 1 to finals on May 19. Also be sure to check out the Moontower Comedy Festival for more laughs, April 23-26. - Brian Gannon
Experience tastings, libations, and hands-on demos as culinary tastemakers converge on Austin at the FOOD & WINE Festival, April 25-27. Austin locals Aaron Franklin, David Bull and Bryce Gilmore share the stage with Andrew Zimmern, Rick Bayless, and Mark Oldman in the country's fastest-growing culinary city. - Jennifer Walker
The first hip hop group to win the Austin Chronicles Band of the Year, Riders Against the Storm, is a husband and wife hip-hop duo based in Austin. With performances bordering mystical, the coupe brings new sound and a change of pace to Austin. - Amanda Garcia
Amateur logophiles compete for the title of "Best Speller in Austin" at the 11th Annual Great Grown-up Spelling Bee for Literacy on April 29, all to benefit the Literacy Coalition. Grab a costume and some friends and take the stage at ZACH Theater! - Rebekah Grmela
If you want to catch a game while grabbing a bite, check out The Park located at the Domain. With starters like sirloin sliders and mini street tacos as well as pizzas, burgers, and steak, watch the game in HDTV or on the 360 degree Ring Screen. - Paige Singleton
Explore! For a more relaxed day, take advantage of Austins sunny spring weather at Zilker Park. Bring your pup for a game of fetch, or fly a kite in the breezy weather if you get too warm, you can take a dip in Barton Springs! There are also hike and bike trails, gardens, and an awesome playground and miniature train for the kids. - Katie Cook
See the bluebonnets and other wildflowers at the Lady Bird Johnson Wildflower Center! - Julie Chase
Check out the ACTION PACK series at Alamo Drafthouse Ritz in April: Purple Rain and Queen Sing-A-Long Parties are playing at multiple locations. - Susan Richardson
Austin's premiere mobile food event is back for another season! Occurring the last Tuesday of the month beginning this month through October, Trailer Food Tuesdays is an amazing place to grab a bite at your favorite food trucks during the week. Be sure to check out this growing event at The Long Center, or learn more about the mobile food scene at @FoodTrailersATX. - Kristen Maurel
What are your favorite things you're seeing when visiting Austin this month? Let us know in the comments below!