April is the perfect time to visit Austin. Plenty of gorgeous weather, friends and fun things to do, all month long. While we have a great list of major events happening around town, take a look at some of our more exclusive, insider tips on what to do this month in town:
On April 1st I visited Community Nights - Step into Spring, presented by the City of Austin. Community Night is the new and expanded Austin New Year celebration (which was canceled this year due to implement weather) and is now free, family-friendly events celebrating the arrival of spring! No joke! (see what I did there??) Community Night is from 4-8 p.m. and special programming begins at 4:30 p.m. Admission is by donation only. Entry is based on a first-come, first-served basis, and you can find out about more April and spring events here. - Kristen Maurel, Film, Music and Marketing Coordinator
Art City Austin, April 25-26, is my one of my favorite events of the year. Stroll around downtown Austin to enjoy juried art, live music and local food vendors. The festival has something for the whole family, including interactive projects and family entertainment. - Katie Cook, Director of Digital Marketing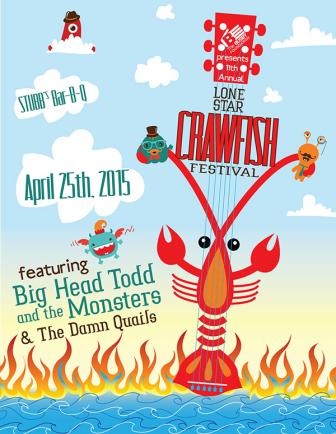 Spring is upon us and you know what that means crawfish Season! Check out this awesome Crawfish Festival at Stubbs BBQ Lone Star Crawfish Festival, with live music, cold brews, and all the crawfish you can crack into! - Chandler Jones, Sales Coordinator
Looking for an outdoor garden party to lounge at on a casual Sunday? Join the Young Women's Alliance Foundation April 19 for its Second Annual Spring Soiree. Live music, complimentary bites and beverages, fun activities and live music by bluegrass trip Weapons of Grass Destruction will take place at Vuka from 3-6 p.m. Sponsored bites include Mighty Bird, Deep Eddy Vodka, Saint Arnold Brewing Company and Do Goods Bakery. - Rebekah Grmela, Marketing and Tourism Coordinator
Get ready to get pitch-slapped. Check out the ACTION PACK series at Alamo Drafthouse Ritz in April and sing along to your favorite lady jams during the Pitch Perfect Sing-A-Long. Shows are playing at multiple locations. - Susan Richardson, Director, Partnership Development
What are you doing in April? Let us know in the comments below!