Looking for something to do this May, but don't know where to start? Check out the Austin CVB's top staff picks to see some of our favorite activities and events. P.S. Come hungry!
Savor the flavor of Austin Restaurant Week, May 11-14 and 18-21. Participating Austin restaurants offer up special 3-course menus, with choices of appetizer, entree and dessert. Dining out for a good cause? I'm in! For every meal served as part of the event, $2 is donated to Meals on Wheels. Shawna Bridgman, Partner Relations Specialist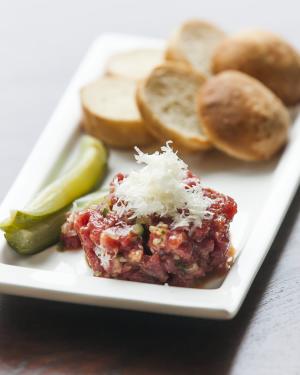 May equals Latino Music Month in Austin, and there's no better way to celebrate than at Pachanga Latino Music Festival, May 10th! Also be on the lookout for other Latino-infused music events happening all over town. Amanda Garcia, Music Industry Manager
Celebrate Austin's favorite food and drink professionals at the Third Annual CultureMap Tastemaker Awards on May 7. Sample sips and bites while benefiting the Austin Food & Wine Alliance. The awards are chosen by their peers so its truly a celebration of our local culinary scene! Christine Yang Cramer, Director of Market Analysis and Research
The wait is over and Truluck's Downtown location is now open! Do yourself and your special someone a favor - head to the bar area, grab a table, order a cocktail, enjoy the music and grab the dessert menu. Next: order a Chocolate Bag! Trust me, and you're welcome in advance. Kristen Maurel, Film, Music and Marketing Coordinator
With spring in full effect make sure to check out one of Austin's 29 disc golf courses! You can find the course closest to you by clicking here. Taylor Evans, Account Director, Austin Sports Commission
Make sure to check out more than 3,000 athletes competing on one of Austin's nationally recognized triathlon courses this Memorial Day during the 2014 Lifetime Fitness CapTexTri. Jennifer Walker, Director of Marketing Communications
Film buffs and history buffs alike will enjoy Paramount 100, an iconic film series in celebration of the historic theatre's 100th birthday next year! Check the online calendar for dates and showing times for your favorite classic films, for only $12. Get to know the charming Mr. and Mrs. Charles and their beloved sleuthing dog Asta in "The Thin Man" (May 14) or a young Katherine Hepburn in "Little Women" (May 18). Christine Felton, Marketing Communications Intern
You've heard the buzz about Austin's kick-ass craft beer scene, but don't know where to start? Join the Austin Brew Bus on their Craft Beer Tour, or stop by Rainey Street and try some local darlings while the weather's warm. Rebekah Grmela, Marketing and Tourism Coordinator
Check out Austin's longest running free live music series on Shady Grove's iconic pecan tree shaded patio. Unplugged at The Grove is every Thursday from April to September. Susan Richardson, Director, Partnership Development
It's starting to feel like summer in Austin! Head just 30 miles west of the city to Krause Springs, a spring-fed swimming hole in the beautiful Hill Country. Katie Cook, Interactive Marketing Manager
What do you like to do in Austin during the month of May? Let us know using #TrueAustin @VisitAustinTX!
Photo courtesy of NO VA Kitchen & Bar.