Sometimes happy hour can stretch into dinner time, especially when you're in good company. And there is no better spot in town to drink your dinner than at Moonshine Patio Bar & Grill.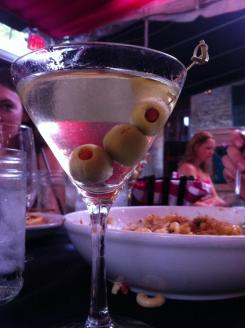 On a recent weekday night, my girlfriends and I met for happy hour at Moonshine's carriage house bar. We started with Silver Moon Margaritas to kick off our gossip session. For our second round, we classed it up with the Ruby Slipper Martini a concoction of Vodka, fresh squeezed grapefruit juice, grenadine & champagne. Taking advantage of the half price appetizers during happy hour, we ordered the corn dog shrimp with honey mustard and blueberry swirl to snack on.
When happy hour ended, we moved to the outdoor patio under the string lights for another round and a few more snacks. We split the green chile macaroni with grilled chicken, corn relish & green chile cream and southern fried chicken & waffles with maple butter, warm syrup and chipotle gravy. Unsure of what cocktail to order next, we each told our server what flavors we typically like and he came up with something unique and delicious for each of us. For me, it ended up being a perfectly simple gin martini. Something I would have never picked for myself, yet thoroughly enjoyed.
Next time you're in the mood for some American comfort food, check out Moonshine Patio Bar & Grill in downtown Austin.
Moonshine Patio Bar & Grill 303 Red River St. Austin, TX 78701. Photo of Dirty Martini at Moonshine Patio Bar & Grill.
Article contributed by Susan Richardson.