When considering Austin, a few things typically come to mind: good food, good weather and a whole lotta' live music. The live music scene is always in full swing, with some venues featuring one or two shows a night, but there's nothing like spring in Austin. As the warm weather arrives and the calendars fill up with festivals, you'll find that many Austinites like to spend their spring evenings on a nice patio with a cool refreshment and a little local entertainment. So whether you're looking for the full weekend experience or a shady place to spend an evening, we have all the best spring lineups right here: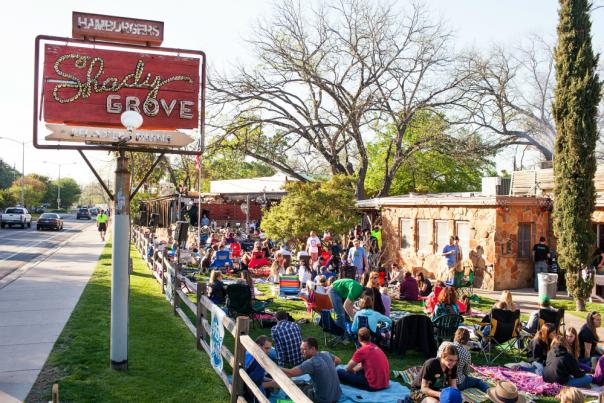 Unplugged at the Grove. Courtesy of Shady Grove.
3/26/16 – 9/17/16 Local & Live Austin Visitor Center – This month kicks off the Austin Visitor Center's annual music series, Local & Live, featuring music every other Saturday from a selection of Austin's greatest acts. And the best part is that these intimate performances are free and open to the public! For the full lineup, check out the Austin Insider Blog and follow @MusicAustin for updates.
Christine's Pick: Tomar & the FCs, August 6
3/26/16 – 6/4/16 Hill Country Galleria Saturday Night Concert Series Hill Country Galleria – Spend your Saturday nights in the Hill Country at the Hill Country Galleria's annual, outdoor live music series. Sun Radio presents this weekly series, featuring Americana, soul, rock n roll and true Texas country from local and national acts.
Christine's Pick: Blackfoot Gypsies, May 14
4/7/16 – 4/10/16 Euphoria Carson Creek Ranch – Live music, camping, yoga and a variety of mindful workshops come together at this immersive four day festival. Musical styles bridge the gaps between hip-hop, electronic, ambient, tribal and experimental.
Christine's Picks: Tycho, April 8 and Nahko & Medicine for the People, April 10
4/7/16 – 8/25/16 Unplugged at The Grove Shady Grove – Join locals under the shade of the tall pecan grove for Austin-inspired home-cooking, cocktails, sunshine and unplugged performances.
Christine's Pick: Emily Wolfe, April 14
4/14/16 – 4/17/16 Old Settler's Music Festival Salt Lick BBQ Pavilion – This signature music event has been a local favorite since its inception in 1987. Many Texas giants have taken the stage over the years and this year's lineup is no deviation from tradition. Participants can look forward to three days of Americana and roots rock, camping, family events, food and libations.
Christine's Picks: Sarah Jarosz, April 16, The Band of Heathens, April 17
4/15/16 – 4/17/16 Austin Reggae Festival Auditorium Shores – A fundraiser for the Capital Area Food Bank, Reggae Fest features three days of roots reggae performed by national and international talent. More than 50 vendors selling food and arts & crafts will be on hand at Auditorium Shores, along the bank of Lady Bird Lake.
Christine's Pick: Bunny Wailer, April 17
4/27/16 – 9/28/16 The Wine Down 3TEN – Austin City Limits Live's annual series returns this year, with a brand new home at ACL Live's brand new venue, 3TEN. This free event showcases the best of authentic Austin - local bands, bites, pop-up shops and… you guessed it, vino.
Christine's Pick: Migrant Kids + Daniel Eyes & The Vibes, May 25
4/29/16 – 5/1/16 Levitation Carson Creek Ranch – This independent, artist-run festival features on-site camping and three live music stages – the scenic, outdoors Reverberation Stage, the Levitation Tent which shows psychedelic light shows all day long and the Elevation Amphitheatre along the Colorado River.
Christine's Picks: Courtney Barnett and Bayonne, April 30
5/7/16 – 5/8/16 Pecan Street Festival Sixth Street – This bi-annual festival is an Austin tradition, celebrating local history, culture, music, food and arts. 45 local acts will take over three stages along historic Sixth Street, providing entertainment for locals, visitors, families and pups!
Christine's Picks: ZEALE, May 7 and The Gents, May 8
Ongoing Texas Radio Live Guero's Oak Garden – This weekly live music series highlights Texas musicians in an intimate setting at Guero's Oak Garden. Every Wednesday night, musicians and fans come together to celebrate the sacred traditions of Texas music and Austin tacos.
Christine's Pick: Folk Family Revival, April 13
For more music happenings around town, keep an eye on our Events Calendar and follow @MusicAustin on Twitter and Instagram. Then share your Austin music experiences with us using #MusicATX!