A must-hit for every visitor, this thoroughfare offers a glimpse into our city's vibrant social scene. Hop from bar to bar and take five for a bite on the fly.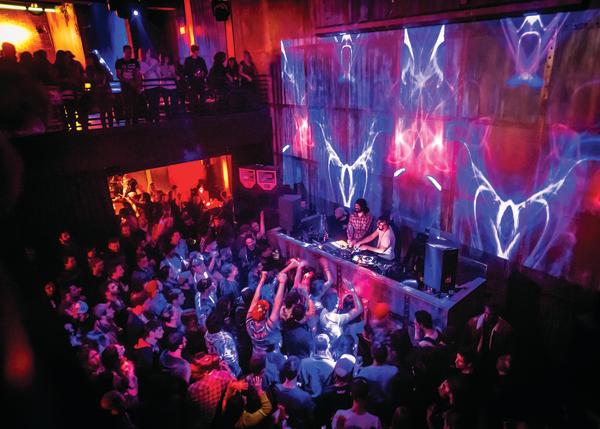 DJ Booth. Courtesy Vulcan Gas Company, Credit Bret Brookshire.
VULCAN GAS COMPANY: Call it "The Vulcan" to sound like a local; you'll love this club if dancing to DJ house music is your thing. vulcanatx.com
EASY TIGER BAKE SHOP & BEER GARDEN: This laid-back, creekside beer garden with an in-house bakery serves up artisan pretzels with your craft brew. easytigeraustin.com
THE PARISH: Climb the stairway to this musical heaven to catch a local or national act after hitting the bars along the street below. theparishaustin.com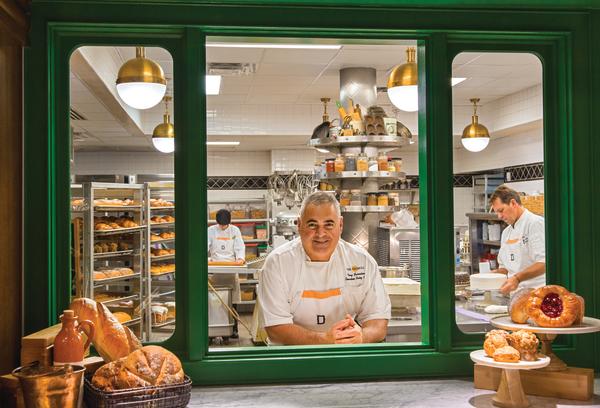 1886 Cafe and Bakery, Window with Chef. Courtesy The Driskill.
THE DRISKILL: Dating back to 1886, stay here for the historic Texas ambiance, imbibe on a Bluebonnet Cocktail at the bar and indulge in a piece of signature chocolate cake in the 1886 Cafe and Bakery. driskillhotel.com
*Insider Tip: Ask nicely and the hospitable staff will even give you the cake recipe to take home.
PARKSIDE: Amidst the rowdy bar scene on this lively street lives a step-above-the-rest gastropub. Grab an oyster platter half-off during happy hour. parkside-austin.com
MAJESTIC: A two-story dance club where the ambiance (and the lighting) is red hot. facebook.com/majestic-austin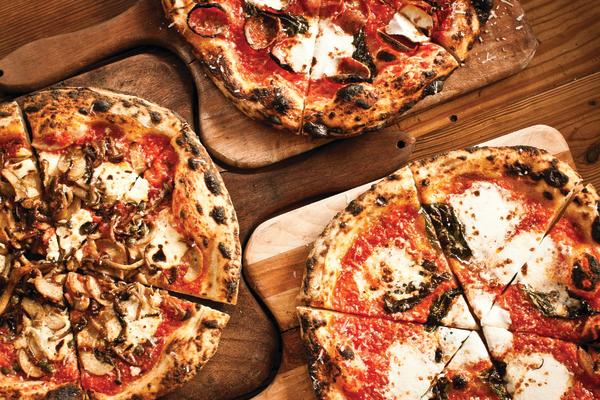 The Backspace. Credit Carrie Ryan.
THE BACKSPACE: Have a hankering for Italian? The Backspace, sister restaurant to Parkside, is located just behind in the same building and serves up delicious Neapolitan-style pies in a cozy setting. thebackspace-austin.com
FLAMINGO CANTINA: Get your good vibe reggae headbob going at this nighttime concert venue and bar. flamingocantina.com
BEST WURST: Lesser-known fact: the official start of the Austin food truck trend actually happened more than 20 years ago with this little nosh station's bratwurst sandwiches. thebestwurst.com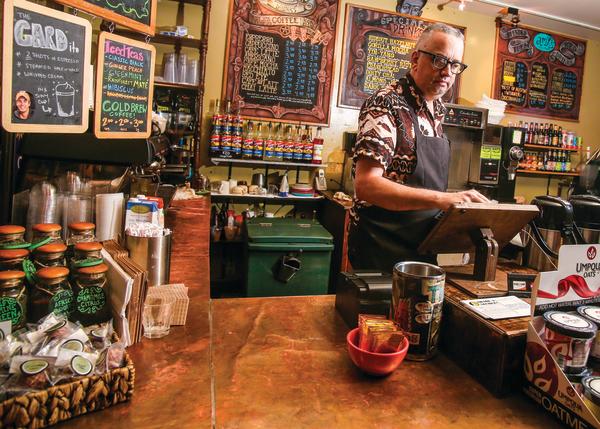 The Hideout Theatre and Coffeehouse. Courtesy of The Hideout Theatre and Coffeehouse.
THE HIDEOUT THEATRE: Improv comedy and plays reign supreme on this stage. Before the entertainment, grab a Gorilla Mocha specialty coffee from the inside java bar. hideouttheatre.com
VOODOO DOUGHNUT: If your sweet tooth desregards the time of day, this 24-hour sugar haven will cater to it with zany concoctions like the cayenne and cinnamon dusted Mexican Hot Chocolate. voodoodoughnut.com
MAGGIE MAE'S: Watch the action below from the rooftop bar at this historic pub and live music venue. Stop in for happy hour deals or relax in the intimate Gibson Lounge. maggiemaesaustin.com
Share your favorite spots and neighborhood snapshots with us using #TrueAustin on Twitter and Instagram for a chance to be featured!