From the opening comments by Austin City Limits show-runner Terry Lacona, the audience at 310 Willie Nelson Blvd. knew they were in for nothing short of a historic performance.
There is a right time and place to appear under the Austin skyline and Trent Reznor has reached that place. Nine Inch Nails have matured; they bring a fresh sound to the industrial rock genre they pioneered. The 19-song set proved Nine Inch Nails aren't a nostalgia act as they played through the majority of their new album Hesitation Marks. The older tracks were more obscure fan favorites like an altered more organic version of "Sanctified" from "Pretty Hate Machine," which really started the show with a bang. They kept the pace going through out with hyper renditions of "Copy of A" and "Survivalism."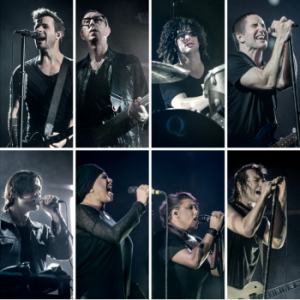 The classically trained Reznor shied away from playing any instruments with the exception of manning the piano on some of the more subtle numbers, like The Frail from 1999's "The Fragile." Instead he aggressively wailed into the microphone, leading his band on a full-on musical assault of the senses. The rhythm section was tight and heavy with Ilan Rubin on drums and sought after session player Pino Palladino keeping the thick bass-lines pulsing forth.
Palladino is a legend in his own righthaving filled John Entwistle's spot with The Who as well as playing bass for Peter Gabriel and Paul Simon in the past. Guitarist Robin Finck, who has been an on-and-off musical associate of Reznors since performing with the band at Woodstock '94, kept the audiences eyes as his stalked from one side of the stage to another like a long-framed acrobat. Finck's guitar roared through distorted choruses and cut songs to their minimal coreletting only the reparative beauty of the melody ring clear.
As is standard with NIN, the lush synth textures would jump with little notice into abrasive house-infused beats. But the refreshing surprise of the night was the soulful backup singers that completely changed the stage dynamic. Led by Lisa Fishcher, who previously backed The Rolling Stones and Tina Turner, the additional female voices added a welcome new layer to the Reznor's own voice. One could even hear the Stop Making Sense-era Talking Heads influence on the band.
This show will go down with past performances by giants like Leonard Cohen or Pearl Jam, Nine Inch Nails at Austin City Limits was something special and Reznor knew it, praising his band and even mentioning they restructured setlist for the taping. Maybe it was age or recognition or the five-year break but Reznor stood proud. By the last notes of their encore, Hurta's song made famous by the emotional Johnny Cash cover, the crowd knew they had witnessed greatness. And with a wave from a now sweat soaked Reznor it was over.