Welcome to fall in Austin, where live music, pumpkin pancakes, spooky movies on the silver screen, seasonal brews and locally roasted coffee reign. Here are our top events & festivals this month: 
10/1/16-10/31/16 Texas Wine Month Texas Hill Country
Take a day trip just west of Austin into the Hill Country and venture onto the Texas Wine Trail. Throughout the month of October, many Austin-area vineyards will be celebrating with special events and tastings. Try top Texas wines direct from the makers while enjoying live music, food truck offerings, pairings and more (details dependent on date & location).
www.texaswinetrail.com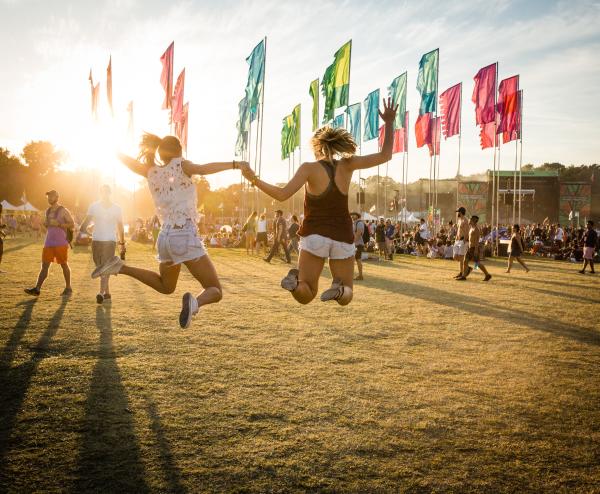 ACL Music Festival. Photo credit Greg Noire, courtesy of ACL Music Festival.
9/30/16-10/2/16 & 10/7/16-10/9/16 Austin City Limits Music Festival Zilker Park
One of the country's largest celebrations of live music, this two weekend, six day festival brings the magic of the famed public TV series "Austin City Limits" outside the studio and into Austin's most beloved park. More than 150 musical acts will take over eight stages along with local food vendors, brewers, artists and pop up shops and artists.
www.aclfestival.com
10/13/16-10/16/16 Austin Polish Film Festival AFS Cinema
Celebrate Austin's Polish heritage and creativity at the 11th Austin Polish Film Fest. Attend screenings and Q&As, view the Polish Film Poster exhibit at the Austin Film Society and enjoy food from local Polish cooks, Apolonia Catering.
www.austinpolishfilm.com
10/13/16-10/16/16 Banger's Oktoberfest Banger's Sausage House & Beer Garden
This is one of the biggest Oktoberfest celebrations in town, spanning three days (and nights). Eat, drink, dance and play to your heart's desire at this all-out party on Rainey Street.
www.bangersaustin.com
10/13/16-10/20/16 Austin Film Festival Paramount Theatre & Various Locations
Recognized as one of the top film festivals in the country, this cinematic event shines the spotlight on both top-billed films and indies alike. 
www.austinfilmfestival.com
10/13/16-10/16/16 POP Austin International Art Show Fair Market
POP Austin showcases some of the world's most talented artists, creating an experience that transcends art to become that of a conversation-starting social movement. This year, four days of meticulously curated programming will entertain art enthusiasts and inspire attendees.
www.popaustin.com
10/15/16 Oktoberfest German Free School
The German-Texan Heritage Society holds this annual festival, featuring live music, food, a biergarten, kid's activities and more at the German Free School.
www.germantexans.org
10/15/16 Dia de los Muertos Music Festival Fiesta Gardens
The cultural celebration will feature renowned recording artists in the Latin and Texas music industries. The family-friendly festival will offer local food and beverages, cultural performances, Kids Zone activities and more.
www.austindiadelosmuertos.com 
10/21/16-10/23/16 FORMULA 1 United States Grand Prix Circuit of The AmericasTM
International drivers will return to Austin this October to compete in the Formula 1 United States Grand Prix at the renowned Circuit of The Americas track. This event promises three days of racing, camping, live music events and more - including a headlining performance by Taylor Swift for ticketholders. 
www.circuitoftheamericas.com
10/21/16-10/30/16 AnniverSCARY! Film Series The Paramount Theatre
Get your spooks at the historic Paramount's Theatre's AnniverSCARY! series. Stop in to see restored versions of your favorite classic horror films like "The Evil Dead," "Carrie" and "Dracula" the way they were meant to be seen.
www.austintheatre.org
10/22/16 AustOberfest Scholz Garten
This year, the Austin Saengerrunde will celebrate the 4th annual AustOberfest in conjunction with the 150th anniversary of Scholz Garten, the oldest continuously operating tavern in the state. This culinary festival celebrates German heritage in Texas with beer, sausage, live music and bowling!
www.austoberfest.com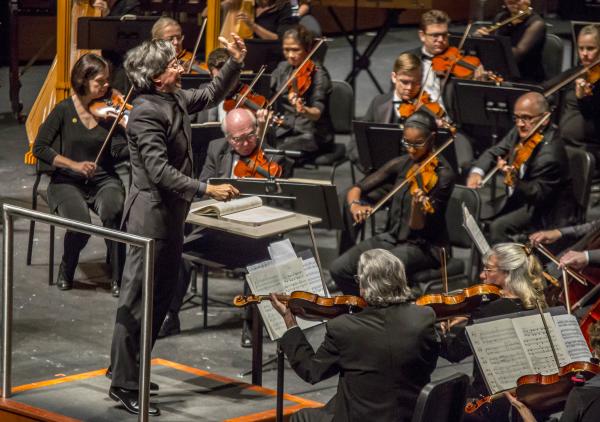 Austin Symphony Orchesta. Credit John Gutierrez.
10/23/16 Austin Symphony Orchestra Presents: Halloween Children's Concert Long Center for the Performing Arts - Dell Hall
This concert is a wonderful chance for you to introduce your children to the wonders of live orchestral music and also a great opportunity to wear costumes and have tons of fun. The concert hall will be decorated top to bottom to enhance your little one's concert experience.
www.austinsymphony.org
10/30/16 Texas Monthly BBQ Festival Long Center
Now in its fourth year, this tasty festival only has four rules: muster as many of Texas' best BBQ joints as possible; have them serve up their specialties, side-by-side; let smoke and sauce fly for five intoxicating hours; and finally, let The People decide who made the best goods.
www.tmbbq.com
10/30/16 Ironman 70.3 Austin Various Locations
Race in Texas's capital of cool with one of the only indoor finishes on the Ironman circuit. The swim will begin in Lake Walter E. Long, the bike ride will loop through rolling Texas farmlands, and the final run will end inside Luedecke Arena.
www.ironman.com 
10/31/16 Texas Fireworks Dia de los Muertos Celebration Kreig Baseball Field
Light up your Halloween night with pyrotechnics at Kreig Softball Fields, presented by Planet K.
www.planetktexasfireworks.com
Looking for more things to do in Austin this month? Check out our guide to Oktoberfest in Austin and don't miss out on these 8 Fall Essentials! #TrueAustin