If you are a music lover looking for a unique Austin music experience in a one of a kind venue, then you should head over to One World Theatre. Located west of Austin, the short drive to the hill country can quickly take you to experience this somewhat quaint European Italian-esque villa nestled in the hills of Westlake.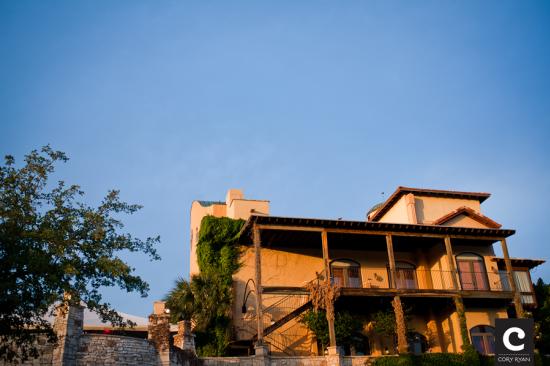 Austin One World Theatre. Photo by Cory Ryan.
One World Theatre is also a perfect place for an intimate concert with your favorite artist. The theater only seats 299 people, so there isn't a bad seat in the house. The acoustics are amazing because of this small, setting and the theater feature acts from A-list performers of classic rock, pop, jazz, flamenco, etc.
This space also serves as a gorgeous venue for private events like corporate parties or wedding receptions. You will definitely be impressed by the lavish indoor and outdoor tented space, complete with twinkle lights, flowering vines and sweeping hill country views at sunset.
This past fall, I was lucky enough to experience an A-M-A-Z-I-N-G show by Arrival From Sweden, the world's greatest ABBA show ever, with ABBA original musicians. #nojudgement because, honestly, who doesn't love the opportunity to be a Dancing Queen? I'm also looking forward to their entire summer lineup, but especially Red Riding Hood.
Before a show, you can choose to enjoy a delicious sit-down catered dinner under a clear top tent, in addition to your ticket price (the cheesecake at the dessert table is almost worth the price by itself- trust me). If you choose to forgo the food option, you are free to arrive early and partake in the cocktail hour(s) before your event. I was lucky enough to get to enjoy the sounds of Austin's own James Speer during the cocktail hour - a huge bonus to the amazing show that night!
Parking is easy and valet parking is available for free - but be warned that they do not have a paved, flat lot and it can get a little dusty. Wear heels if you dare; most ladies (like yours truly) needed assistance traversing the rocky terrain and going up the hills to the venue.
One World Theatre: 7701 Bee Caves Road Austin, TX 78746