For over 25 years, the Austin Marathon and Half Marathon has been an Austin staple for athletes and spectators alike. For 26.2 miles, the course navigates some of Austin's most iconic regions including Downtown, South Congress, Lake Austin Boulevard, Hyde Park, the University of Texas, and finishing on Congress Avenue in front of the State Capitol. Due to the length of the course, it may seem a little overwhelming to decide where to cheer on your friends and family. To help, we've put together a list of our favorite spots where you can encourage everyone you know (and even people you don't know!):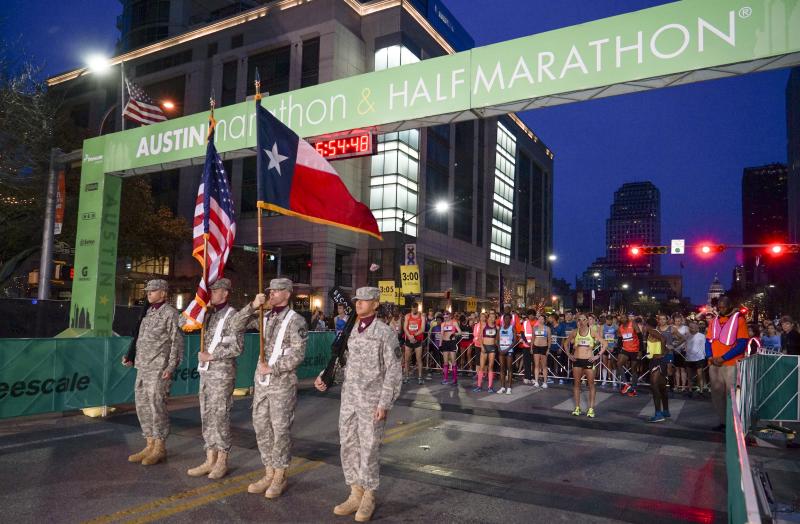 South Congress Avenue:
The first three miles of the course are a steady climb on South Congress Avenue. There are tons of great spots along this stretch to cheer on the runners on as they start their journey.
Fuel: Jo's Coffee (1300 S. Congress Ave.)
South First Street:
The runners have just finished the three-mile climb up South Congress and now pick up some speed with the downhill portion on South First Street.
Fuel: Once Over Coffee Bar (2009 S. First St.), Bouldin Creek Cafe (1900 S. First St.)
Austin City Hall:
This year's course creates a great viewing opportunity at Austin City Hall as the runners turn west onto Cesar Chavez Street.
Fuel: Jo's Coffee (242 W. Second St.), Austin Java (301 W. Second St.)
Pfluger Pedestrian Bridge:
On the north side of the river, the beautiful Pfluger Pedestrian Bridge extension passes over the course, offering an overhead view of the runners as they move west on Cesar Chavez just before mile 7.
Fuel: Whole Foods (550 Bowie St.)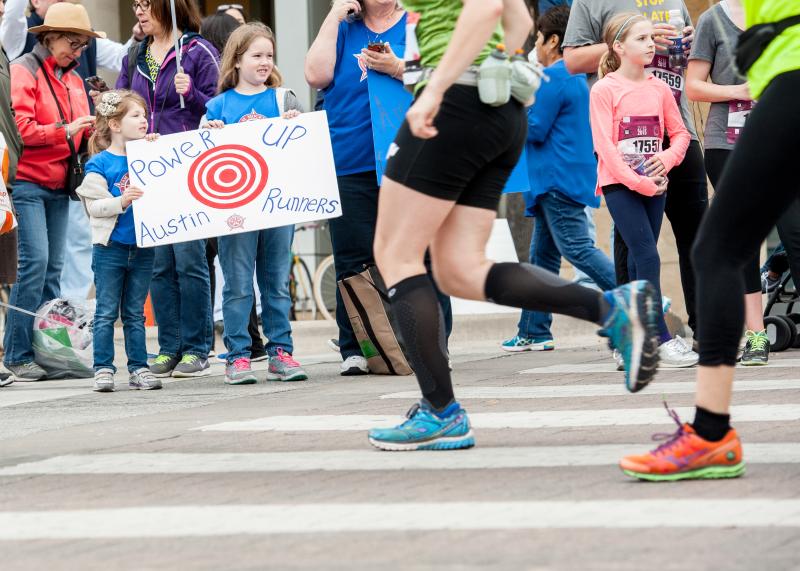 University of Texas:
At mile 13, the marathoners pass alongside University of Texas campus, on Guadalupe Street. This makes for the perfect spot to cheer louder than at any Longhorn football game!
Fuel: Lucky Lab Coffee Co. (2421 San Antonio St.), Kerbey Lane Cafe (2606 Guadalupe St.)
East Cesar Chavez:
From mile 23-25, the runners are on the home stretch, navigating east Austin towards downtown. This long, straight stretch provides plenty of opportunities for spectators to cheer.
Fuel: Flat Track Coffee (1619 E. Cesar Chavez St.), Quickie Pickie (2027 E. Cesar Chavez St.)
The Finish:
Once you've shared the love out on the race route, it's worth coming down to the finish area on Congress, just south of the Capitol. Enjoy live music, food trailers and two jumbotrons at the Finish Line, where you can witness 17,000 runners converge.
Fuel: Caffe Medici (800 Congress Ave.), Biderman's Deli (800 Brazos St.)
The Austin Marathon and Half Marathon takes place on February 17, 2019. For more information, including runner information, course maps and street closure information go to  youraustinmarathon.com or download the official race app.
Contributed by Stacey Conley. Stacey brings over 20 years of event planning, sports marketing and race management experience to her role as President of ConleySports Productions, LLC. She has worked at the Austin Marathon full-time since 2002. Photos courtesy of the Austin Marathon and Half Marathon.