For over 25 years, the Austin Marathon and Half Marathon has been an Austin staple for athletes and spectators alike. For 26.2 miles, the course navigates some of Austin's most iconic regions including Downtown, South Congress, Lake Austin Boulevard, Hyde Park, the University of Texas, and finishing on Congress Avenue in front of the State Capitol. Due to the length of the course, it may seem a little overwhelming to decide where to cheer on your friends and family. To help, we've put together a list of our favorite spots where you can encourage everyone you know (and even people you don't know!):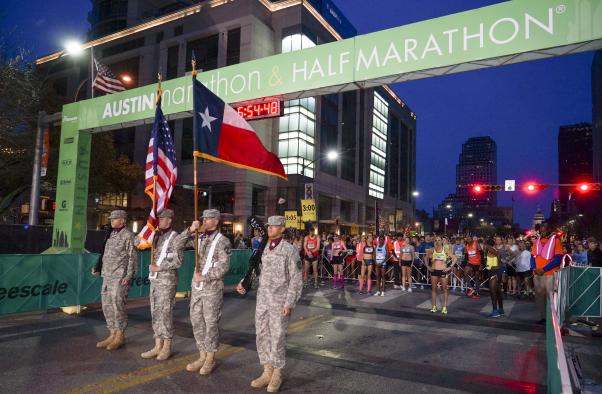 South Congress Avenue (miles 1-3): The first three miles of the course are a steady climb on South Congress Avenue. There are tons of great spots along this stretch to cheer on the runners on as they start their journey.
Fuel: Dominican Joe Coffee Shop (515 S. Congress Ave.), Jo's Coffee (1300 S. Congress Ave.)
South First Street (miles 4-6): The runners have just finished the three-mile climb up South Congress and now pick up some speed with the downhill portion on South First Street.
Fuel: Summermoon Coffee (3115 S. First St.), Torchy's Tacos (2809 S. First St.), Fair Bean Coffee (2210 S. First St.), Once Over Coffee Bar (2009 S. First St.), Bouldin Creek Cafe (1900 S. First St.)
Austin City Hall (mile 6): This year's course creates a great viewing opportunity at Austin City Hall as the runners turn west onto Cesar Chavez Street.
Fuel: Jo's Coffee (242 W. Second St.), Austin Java (301 W. Second St.), Caffé Medici (200 Congress Ave.)
Pfluger Pedestrian Bridge (mile 7): On the north side of the river, the beautiful Pfluger Pedestrian Bridge extension passes over the course, offering an overhead view of the runners as they move west on Cesar Chavez just before mile 7.
Fuel: Whole Foods (550 Bowie St.)
The (Really) Big One at 15th Street & West Avenue (mile 12): This spot sits atop the toughest hill on either course. Tell runners to keep their heads up, to keep their hips under them, and to move those arms. Remind them that they've come too far to let up! The lululemon athletica family will be here throwing down an energy zone at the top of the hill.
Fuel: Austin Java (1206 Parkway)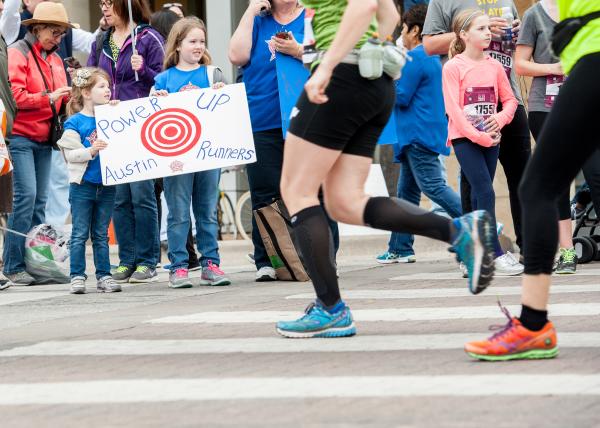 The (Other) Big One at Exposition & Westover (mile 12): At Westover, the marathoners have crested a fairly massive hill and have nearly closed out what is, in terms of hills, the toughest portion of the course. But they now have what most consider the more difficult mental task of grinding out the "middle miles" of the race. This spot is easy to access from Mopac (Loop 1) via Westover.
Fuel: Starbucks (2727 Exposition Blvd.)
Northernmost Point of the Course at Rockwood & Anderson Lane (mile 17): The marathoners have now reached the northernmost point of the course just after mile 17 and will now be headed back towards downtown, getting closer and closer to the finish.
Fuel: Epoch Coffee (2700 W. Anderson Ln. #409)
Breaking Through the Wall at Koenig & Woodrow (mile 20): Most runners are now going further than they have run in their training. Bodies are low on fuel and most runners have found the infamous "wall". There's a large aid station and music that will join you to up the noise and positive energy levels. The best access is from Lamar or Burnet Road.
Fuel: Thunderbird Coffee (1401 W. Koenig Lane)
The Home Stretch (miles 24-25): At mile 24, the marathoners are in the middle of two miles of fast, downhill course into the University of Texas campus and they're just two miles from the finish. Here is the perfect spot to cheer louder than at any Longhorn football game!
Fuel: The Flightpath Coffee House (5011 Duval St.), Dolce Vita (4222 Duval Rd.), Quack's 43rd Street Bakery (42 & Duval)
The Finish at 10th Street & Congress Avenue (mile 26): Once you've shared the love out on the race route, it's definitely worth coming down to the finish area on Congress, just south of the Capitol. There's live music, trailer food and of course, the finish itself, where you will witness 15,000 runners converge at the finish line. They'll love to see you there!                      
Fuel: Caffe Medici (800 Congress Ave.), or check out some of Austin's famous food trailers on Congress and Fifth Street.
The Austin Marathon and Half Marathon takes place on February 19, 2017. For more information, including runner information, course maps and street closure information go to youraustinmarathon.com or download the official race app.
Contributed by Stacey Conley. Stacey brings over 20 years of event planning, sports marketing and race management experience to her role as President of ConleySports Productions, LLC. She has worked at the Austin Marathon full-time since 2002. Photos courtesy of the Austin Marathon and Half Marathon.