Sunday Brunch is the perfect excuse to sleep in, skip a healthy breakfast and start the day with a cocktail and/or buffet of bacon and french toast. Take your pick from any of these brunch options in Austin and you won't be disappointed. For more delicious ideas, see the full list of Brunch Spots in Austin from Do512.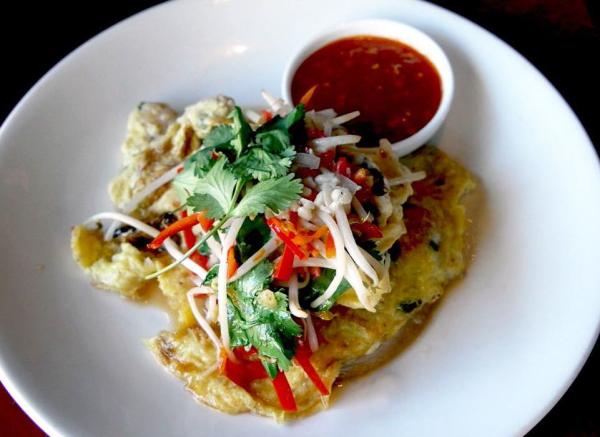 Photo of Sway Courtesy of Do512 / Sway.
Sway 1417 S. First St.: What a way to rise and shine. Now you can have brunch at this award-winning modern Thai restaurant, named one of the "50 Best New Restaurants in America" by Bon Appétit Magazine. This weekend Sway's Executive Chef Martin Wilda will introduce a Thai take on brunch classics like a Basil Chicken and Waffle, Mussel Omelette and Mapow Biscuit + Gravy. The menu also features Brioche French Toast and other favorites from the lunch & dinner menu.
Saturday & Sunday: 11:00 AM - 3:00 PM
SEE THE FULL MENU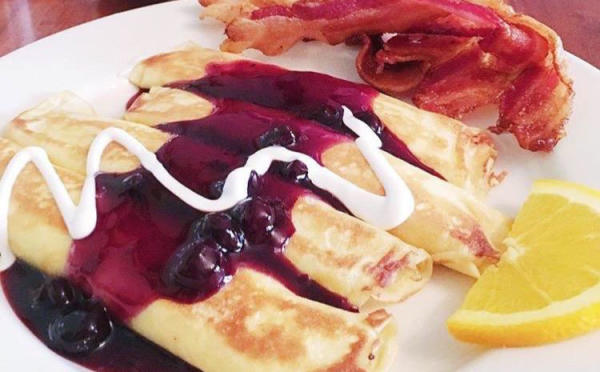 Photo courtesy of Do512 / Eastside Cafe.
Eastside Cafe 2113 Manor Rd.: An Austin tradition since 1988, this charming little house on Manor Road serves up homemade brunch from 10 a.m. - 3 p.m. on Saturday and Sunday. Start with baked brie topped with toasted almonds, pecans, and apple chutney, then make your way right into smoked salmon Benedict, blueberry blintzes or a Belgian waffle topped with homemade whipped cream, toasted almonds and sautéed apples. 
Saturday-Sunday: 10:00 AM - 3:00 PM
SEE THE FULL MENU
South Congress Cafe 1600 S Congress Ave.: Want to get brunch on a Tuesday? Or a Thursday? Or any other day for that matter? Then visit South Congress Cafe, where brunch is served Monday - Friday from 10 a.m. - 4 p.m. and on Saturday and Sunday starting at 9 a.m. You can't go wrong with a goat cheese & bacon omelet or carrot cake french toast.  
Monday-Friday: 10:00AM - 4:00PM
Saturday-Sunday: 9:00AM - 4:00PM
SEE THE FULL MENU
Frank 407 Colorado St.: Hot dogs, cold beer, and brunch? You betcha. Every Sunday from 10 a.m. - 3 p.m. Frank serves up hangover cures such as chicken & waffles, steak & eggs, and pork belly breakfast tacos. Wanting to sleep in? Brunch For Drunks starts at 3 p.m. with a limited brunch menu until 5 p.m., with great hair-of-the-dog options.
Sunday: 10:00 AM - 3:00 PM
Limited brunch menu from 3:00 PM - 5:00 PM
SEE THE FULL MENU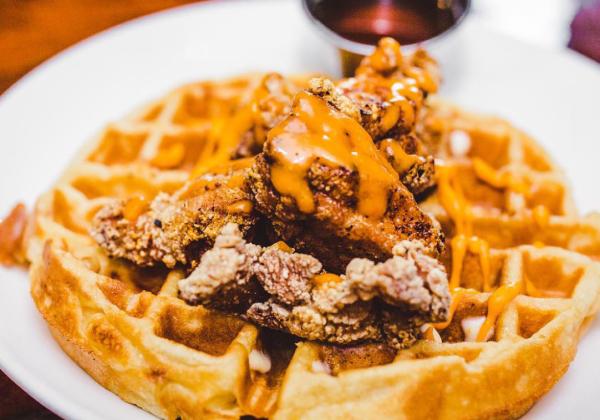 Photo courtesy Do512 / The Hightower.
The Hightower 1209 E. Seventh St.: You can sleep in and still have an awesome brunch because The Hightower serves it up until 3 p.m. Sit indoors or out and enjoy their signature frozen caipirinha or Italian fizz with Lone Star, 1835 vodka, blood orange soda and Campari. Try the Brussels sprout salad, ceviche, carnitas, and grit waffles with blackberry syrup, whip cream, and banana brûlée.
Saturday-Sunday: 11:00 AM - 2:30 PM
SEE THE FULL MENU
Texas French Bread 2900 Rio Grande St. : Visit this café at 29th and Rio Grande to wake up with locally roasted coffee and pastries made from scratch. Their full brunch menu features everything needed for a wholesome breakfast, including steel cut oats, granola, yogurt and fresh fruit, plus good stuff like Grand Marnier French toast, and Southern fried quail with biscuits and gravy. 
Saturday-Sunday: 10:00 AM - 3:00 PM
SEE THE FULL MENU
Jacoby's 3235 E. Cesar Chavez St.: Enjoy one of the best new brunches in Austin. Jacoby's is featuring chicken fried steak fingers (with house gravy and syrup), shrimp and cheddar grits (with Cajun butter and green onion) and a spicy smoked brisket hash. Meals include an awesome side, perhaps mac and cheese or homemade biscuits and gravy, and starters made with fresh, seasonal fruits and veggies.
Sunday: 10:30 AM - 2:00 PM
SEE THE FULL MENU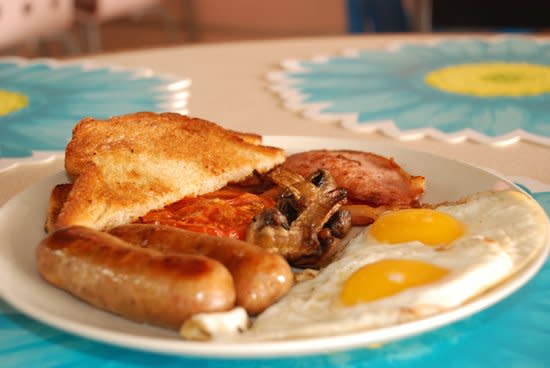 Photo courtesy of Do512 / Full English Cafe.
Full English Cafe 2000 Southern Oaks Dr.: Family owned and run since 2010, the Full English is a genuine British cafe in south Austin. Go for High Tea and pastries or a big breakfast of free-range, local farm eggs, British-style bacon, proper bangers, pancakes and more.
Saturday: 9:00am - 5:00pm
Sunday: 10:00am - 5:00pm
SEE THE FULL MENU
Moonshine 303 Red River St.: Enjoy some Southern comfort in downtown Austin. Order the chicken & waffles and you'll get three gigantic, Southern fried chicken strips on top of light and fluffy waffles, served with chipotle cream gravy, warm maple syrup and whipped butter.
Sunday: 9:00 AM - 2:00 PM
SEE THE FULL MENU
Hillside Farmacy 1209 E. 11th St.: This antique eatery and grocery store has a plethora of choices for brunch. Grab a fountain soda (virgin or with booze) to go with a big brekkie, seasonal omelette, ham steak and parmesan cheese grits or even fresh oysters.
Saturday-Sunday: 9:00 AM - 3:00 PM
SEE THE FULL MENU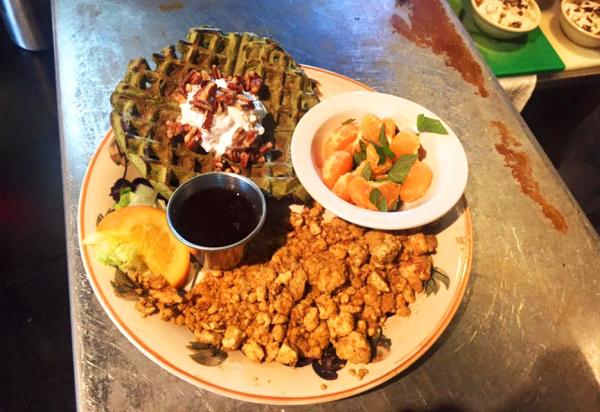 Photo courtesy of Do512 / Bouldin Creek Cafe.
Bouldin Creek Cafe 1900 S. First St.: In a land where vegetarianism and veganism are not swear words but lifestyles; there lives a little cafe called Bouldin Creek. Home to hippies and hipsters alike, this community mecca serves up a bountiful brunch all day every day of the week. Featuring fresh vegetarian cuisine with hearty servings and the best sake lemonade in town, Bouldin Creek provides a welcoming atmosphere to all.
Sunday-Monday: 7:00 AM - 12:00 AM
SEE THE FULL MENU
Yellow Jacket Social Club 1704 E. Fifth St.: Complete with bearded bartenders, taxidermy galore and picnic tables adorned with punk poetry, Yellow Jacket Social Club is often stated as one of the best dive bars on the east side. Lo and behold they are also home to one of the best brunch menus in Austin. Specializing in deluxe meats and fine cheeses, when dining at Yellow Jacket one can find themselves pairing their Bud Light with delectable poached egg sandwiches and custard-infused French toast.
Saturday-Sunday: 11:00 AM - 3:00 PM
SEE THE FULL MENU
Blue Dahlia 1115 E. 11th St.: Très chic, this petite French bistro is nestled into the up and coming East 11th Street area. Not only does Blue Dahlia inspire the palate with fresh, local ingredients and a mission devoted to environmental responsibility, but a simple menu featuring freshly baked goods topped with delectable fruit compotes and house-made jams will have you believing that you're enjoying petit dejeuner on the Champs-Élysées... until that grackle swoops down.
Monday-Sunday: All Day Long
SEE THE FULL MENU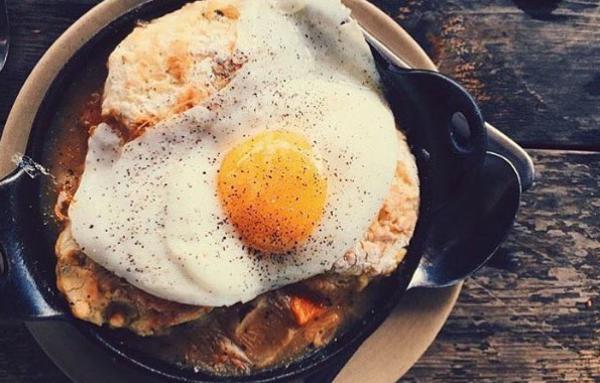 Photo courtesy of Do512 / Contigo.
Contigo 2027 Anchor Ln.: A long-time favorite for dinner and cocktails, Contigo also offers a brunch menu that is sure to delight. Offering a huge selection of fresh baked goods as well as one of the best Bloody Marys in the city, Contigo's relaxed atmosphere, and sprawling picnic tables are a welcoming invite to even the most hungover soul.
Sunday: 10:30 AM –2:30 PM
SEE THE FULL MENU
Banger's Sausage House & Beer Garden 79 Rainey St.: Home not only to stuffed sausages, cured meats and a truly amazing selection of beer on tap, Banger's is also home to an equally delightful brunch every Sunday morning. Keeping with the theme of meat and manliness, Banger's brunch menu features twists on American classics including the "bang a ranchero" and "the Kitchen Sink," with nearly every breakfast item on their menu but (you guessed it) the kitchen sink.
Sunday: 12:00 AM - 3:00 PM
SEE THE FULL MENU
Drink.Well. 207 E. 53rd St.: This North Loop hangout is popular not just for their craft cocktails, but for their brunch as well. On Saturday and Sunday from noon 'till 4 p.m. you can pair brunch cocktails and local beer with delicious food from the kitchen. Wake up with a bourbon milk punch (bourbon, fresh cream, cinnamon syrup, grated nutmeg) paired with their peanut butter, banana, bacon and chef's jam sandwich.
Sunday: 11:00 AM - 4:00 PM
SEE THE FULL MENU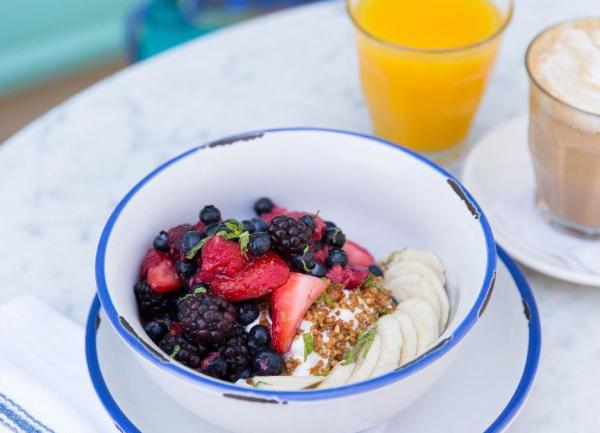 Photo courtesy of Do512 / Elizabeth Street Cafe.
Elizabeth Street Cafe 1501 S. First St.: Want banh mi for brunch? This French-Vietnamese cafe located at 1501 S. First St. serves brunch on Sunday from 8 a.m. - 2:30 p.m. with menu items including brioche French toast, breakfast banh mi and a roasted pork and mushroom.
Sunday: 8:00 AM - 2:30 PM
SEE THE FULL MENU 
Odd Duck 1201 S. Lamar Blvd.: Order up a mimosa or frozen orange margarita to pair with a dish of andouille sausage with fried egg, pancakes, and coffee mayo. Other highlights are tater tot hash with poached egg and brown butter hollandaise, and fried quail with beans, biscuit, buttermilk dressing and soft egg.
Sunday: 10:30 AM - 2:30 PM
SEE THE FULL MENU
Discover more of the Best Spots for Brunch in Austin at Do512.com!
Contributed by Do512.