Created using repurposed materials, Hurlyburly (2016) by internationally renowned artist Orly Genger, was unveiled to the public at the mouth of Waller Creek, adjacent to the Waller Creek Boathouse (74 Trinity) last week.
Blending large-scale sculpture techniques with an expanded notion of craft and textile, Genger creates organic forms and site-specific installations from painted swaths of woven rope. The Waller Creek installation comes from this series of works created using re-purposed lobster rope; in this case, much of the material has been re-purposed once again, as it has been produced using the same expanses of rope that had previously been woven and knotted for the installation Current (2014) at The Contemporary Austin's Betty and Edward Marcus Sculpture Park.
Giving these recycled materials new life, Hurlyburly is a massive outdoor piece of painted and hand-knotted rope that stretches across an area directly adjacent to the mouth of Waller Creek. Recalling the languid flow of the river, the undulating, woven structure is expected to become a focal point in downtown Austin, inviting visitors to interact with each other, with the work, and with the surrounding parkland.
Hurlyburly will be on view through February 2017.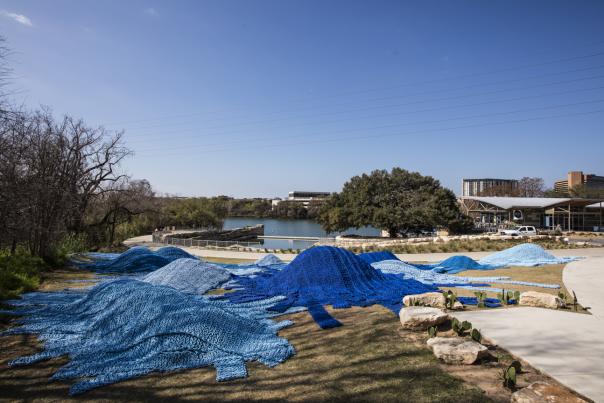 Photos courtesy of Brian Fitzsimmons.