In an attempt to consume as many noodles as possible in 2014, I made a point to check out the hidden gem that is Ramen Tatsu-Ya in North Austin on a recent fall day, and got my seasonal eating in at the city's first brick-and-mortar Japanese Ramen shop.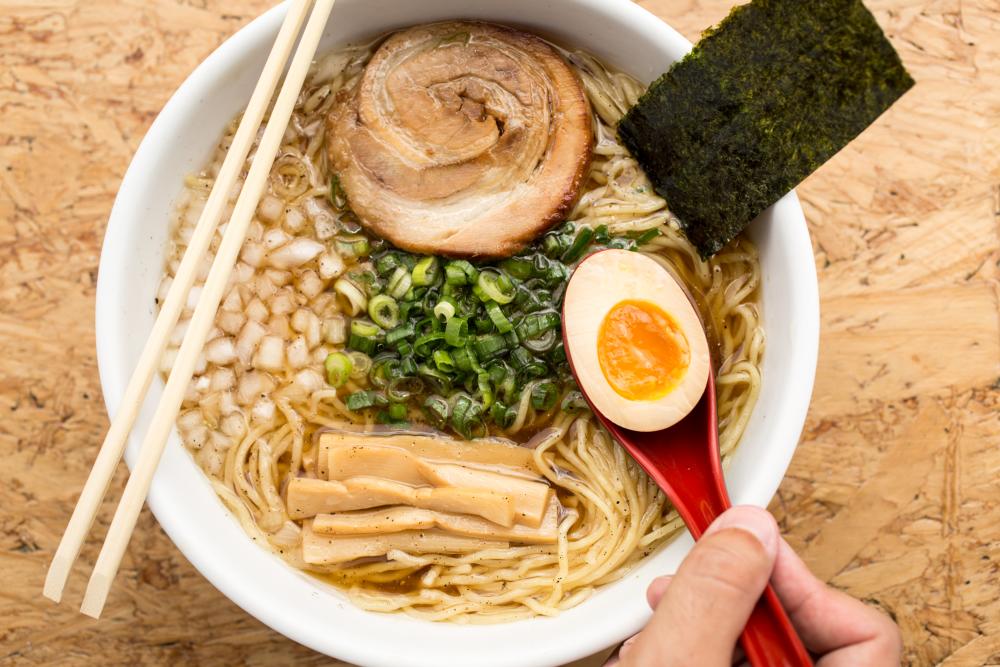 The Ol' Skool bowl at Ramen Tatsu-Ya. Photo Credit Lobosucio Creative.
About a ten-minute drive north of downtown, Ramen Tatsu-Ya serves some of the best Japanese soul food in the heart of Texas. The restaurant is committed to being healthy and eco-friendly with a dine-in only policy to preserve food integrity and help the environment. Vegan-friendly ramen is served every Sunday night, and custom options that are gluten-friendly (substitute the white rice and remove the toppings- the noodles are made from wheat and alkaline only!) at any time during dinner hours. This spot is hidden, toward the back of a local Asian shopping market, but look for the line growing out the front door and prep for the decor transformation that you witness once you walk into the 38-seat restaurant. With vibrant decor, shared-table seating and Japanese-themed art, you'll feel like the cool friend as you sip some of the best broth you've had (at least that was my experience) in town.
I went with a friend and we shared the spicy edamame consisting of soy beans tossed with citrus, jalapeno, sea salt, shichimi spice, and lemon soy while we waited for our meal. To keep things simple I started with the Ol' Skool, a Tokyo-style chicken based shoyu ramen with cashu, ajitama, nori, menma, and some white and green onions. As a novice ramen eater the differences between my bowl and my friends were subtle, but I was told this was their most popular dish, and Im happy to join the masses. If you can't manage to finish up your broth, Ramen Tatsu-Ya encourages you to bring some Tupperware to store your food and remain eco-friendly. To note, this shop is open Tuesday-Sunday for lunch and dinner.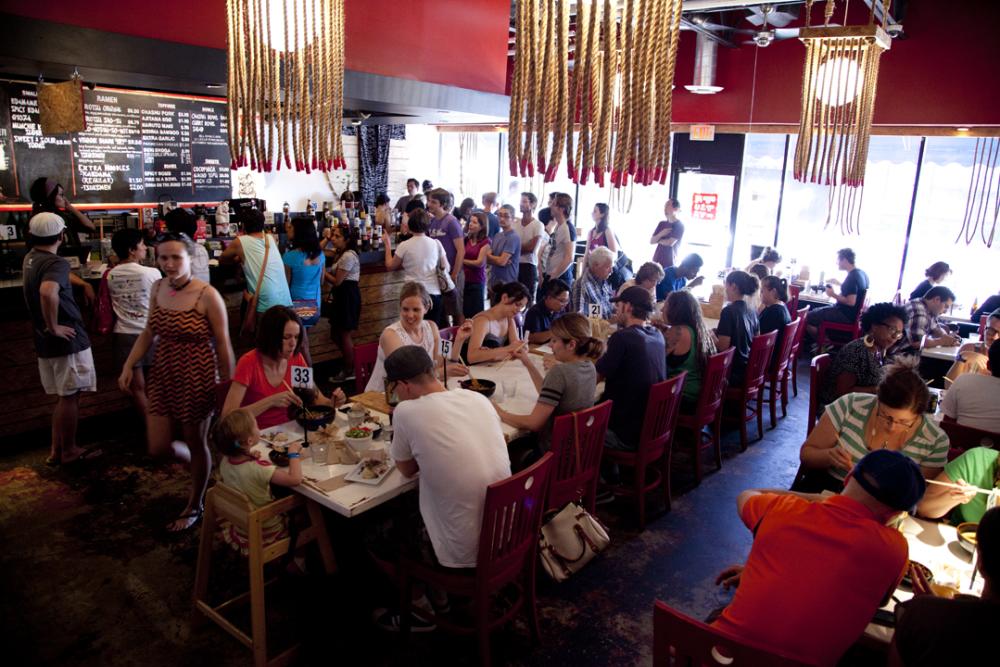 Ramen Tatsu-Ya interior. Photo Credit Lobosucio Creative.
If you're into Japanese cuisine, or just want to see what the fuss is all about, check out this Austin-darling and you will be pleased with the extra effort required to get in the door. What's your favorite Ramen spot in town?
Ramen Tatsu-Ya | 8557 Research Blvd., #126 Austin, Texas 78757