Nicole Zinn and John Dawson wanted to show people around Austin from the perspective of a local. They agreed there's no better way to do that than on a bicycle. So they opened Rocket Electrics, Austin's only all-electric bike shop, in 2011 and offer rentals, sales and tours focused on food, music and Lady Bird Lake.
Rocket Electrics' Austin Foodie Tour departs from the Rocket Electrics shop on East Riverside Drive in the retail section of the AMLI SouthShore apartments at 4 p.m. daily. Tours last about four hours. All food tours include an electric bike (eBike) rental, a tour guide and four courses from a diverse selection of Austin eateries. Food tours are led by local foodies, and are interactive to cater to the interests and needs of each particular group. They take steps to ensure tours stop at delicious off-the-beaten path spots while avoiding lines at some of the more popular Austin spots. When guests arrive for tours, which range from two to 35 riders, the folks at Rocket Electrics fit each person to an eBike, go through eBike operation and take a test lap around the parking lot. They talk about what kind of food guests want to sample and preferences they have, if any.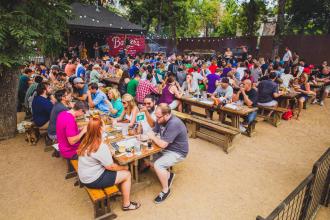 Since Rocket Electrics is just off the shores of Lady Bird Lake, many of the Foodie Tours spend their first leg on the trail, away from cars, allowing guests to get comfortable with their eBikes. While each tour is different, stops may include: Russian House for a bowl of hot borscht, Blue Ox BBQ for espresso-rubbed pork tenderloin and brisket, Via 313 for Detroit-style square pizza (Insider Tip: try the Detroiter with cheese and double pepperoni), Casino El Camino for their famous Buffalo Burger grilled with hot wing sauce and smothered with bleu cheese, Licha's Cantina, Banger's or Gourdough's for a sweet treat to end the evenings tastings.
Total tour mileage averages around six to eight miles round-trip. At the end of the tours, participants often ask owner Nicole Zinn for recommendations on other favorite Austin spots. "Dolce Neve (for the goat cheese pecan and dark chocolate cayenne gelato), Winebelly and Henri's because they serve delicious food but are a bit lower key, making it easier to have a conversation and relax with friends. Another out-of-the-way place with amazing food in a casual atmosphere is Gourmands," Zinn said.
Be sure to check out the other Rocket Electrics tours, featuring live music and Lady Bird Lake!