September in Austin is all about festival season - from comedy to film to music and more. Relax like a local by hitting the lake for an afternoon of paddle boarding before posting up on a patio with a refreshing local beer in one hand and the sound of a local artist in the background. If you're looking for a little more action as the days and nights cool off, check out these late-summer events & festivals: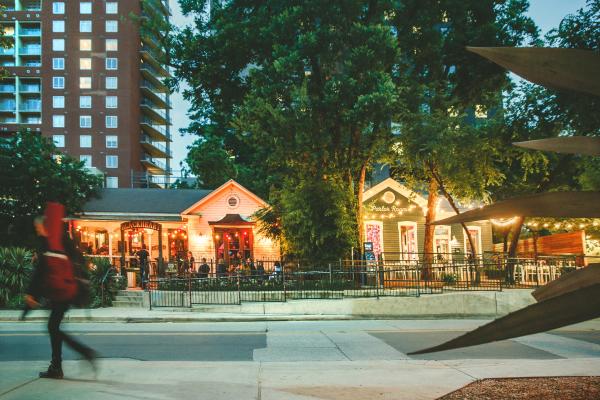 Through 9/4/16 Summer Classic Film Series the Paramount & Stateside Theatres
Love classic movies? The Paramount Theatre has been running the Summer Classic Film Series for more than 40 years. Visit their website for the full schedule of 100 beloved cinematic treasures that are gracing the theater's big screens through early September.
www.austintheatre.org
Through 9/17/16 Local & Live Austin Visitor Center
Stop by the Austin Visitor Center to experience the annual music series, Local & Live, featuring music every other Saturday from a selection of Austin's greatest acts. And the best part is that these intimate performances totally are free and open to the public!
www.austintexas.org
Through 9/22/16 Unplugged at The Grove Shady Grove
Join locals under the shade of the tall pecan grove for Austin-inspired home-cooking, cocktails, sunshine and unplugged performances by some of Austin's hottest live acts.
theshadygrove.com
9/5/16 Tri-Rock Austin Triathlon Palmer Events Center 
The urban setting provides a swim start at the Stevie Ray Vaughan statue, a swim course in Lady Bird Lake, a bike course over the Congress Street Bridge and a run along Auditorium Shores. This event has a triathlon scene that rocks like no other! 
www.trirock.competitor.com
9/5/16 Free Day of Yoga Various Locations 
All day long, participating studios across the Austin area offer free classes as an opportunity for every age and fitness level. Stop by the Whole Foods flagship store for a sunrise kickoff class at 7 a.m. or visit a new studio and try a new style!
www.freedayofyoga.com
9/7/16-9/10/16 Austin Music Video Festival Various Locations
Now in its second year, the Austin Music Video Fest celebrates Austin's longstanding music video heritage with screenings, awards, parties, panels and workshops around town.
www.austinmusicvideofestival.com
9/8/16-9/11/16 Austin Gay and Lesbian International Film Festival Various Locations
aGLIFF is the oldest and largest gay and lesbian film fest in the Southwest and the largest LGBTQ cultural event in Austin. Experience the festival in September and watch for monthly screenings around town.
www.agliff.org
9/9/16 Zilker Relays Zilker Park 
The Zilker Relays is a 10-mile team race. Each participant runs a 2.5 mile loop from one central festival/transition area. The team concept of the Zilker Relays is not unique, but the combination of a relay, festival home base, drinks and music, make this experience a favorite for runners of all calibers and ages. 
www.zilkerrelays.com
9/15/16 - 9/17/16 Lone Star Le Mans Circuit of The Americas 
This three-day event is COTA's unique twist on the world's greatest sports car endurance race, the 24 Hours of Le Mans. The weekend features live music, interactive displays, an open paddock and nearly nine hours of racing, finishing under the stars - all topped off with a dazzling fireworks show.
www.circuitoftheamericas.com 
9/17/16 - 9/18/16 Voyager Music Festival Spider House Cafe and Ballroom
This interactive two day festival is a celebration of experimental and progressive music. Enjoy live performances, workshops, interactive art, food trucks and more.
www.voyagerfest.org 
9/18/16 Austin Museum Day Museums Across Austin 
Organized by the Austin Museum Partnership, this special day features free exhibitions and activities at participating Austin-area museums and cultural sites.
www.austinmuseums.org
9/22/16-9/29/16 Fantastic Fest Alamo Drafthouse Cinemas 
Fantastic Fest is the largest genre film festival in the U.S., specializing in horror, fantasy, sci-fi, action and just plain fantastic movies from around the world. 
www.fantasticfest.com
9/23/16-9/25/16 The Texas Tribune Festival University of Texas at Austin
This annual event brings students, educators, journalists, politicians, policy makers and other political junkies to the Capital of Texas for three days of informative and engaging sessions.
www.texastribune.org
9/24/16 Texas Craft Brewers Festival Fiesta Gardens 
The Texas Craft Brewers Fest is the largest beer festival for and by Texas Brewers. This annual event features the best of Texas craft beer and displays the thriving beer community across the Lone Star State.
www.texascraftbrewersfestival.org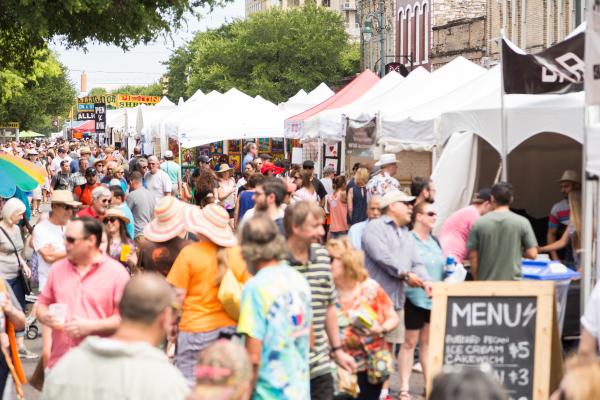 Pecan Street Festival, Spring 2016. Credit Manya Pandya Photography.
9/24/16-9/25/16 Fall 2016 Pecan Street Festival Sixth Street Austin 
The Pecan Street Festival is a free, bi-annual juried music, arts and crafts festival held on historic Sixth Street. The show proudly features over 300 artisan vendors from all over the world who display and sell homemade art and craft work.
www.pecanstreetfestival.org
9/30/16-10/2/16 Austin City Limits Music Festival - Weekend One Zilker Park
One of the country's largest celebrations of music, six-day festival brings the magic of the famed public television series Austin City Limits from the studio to Austin's most beloved park. The festival features more than 130 musical acts on eight stages over two weekends (September and October).
www.aclfestival.com