Summer may be over and kids are headed back to school, but that doesn't mean the live music fun has to stop. Austin Parks & Recreation will be hosting the first annual #SoLongSummer Fest, a music festival and more for teens ages 13-18 years old. The inaugural event, September 13, 2014, from 12-6 p.m., takes place at the Austin Recreation Center.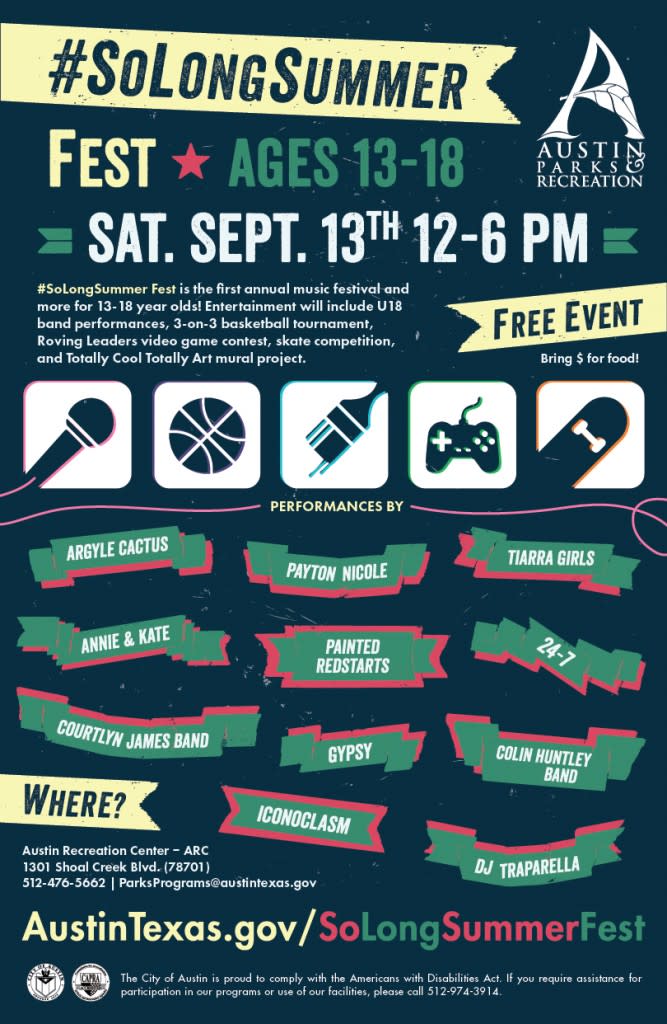 Musicians for #SoLongSummer Fest were selected from a local band call, where bands were encouraged to submit an MP3 to the Austin Parks & Recreation Department in early August.This is the perfect event to hang out with the family, play some games, and hear music from great up and coming local teen bands.
Entertainment at #SoLongSummer Fest not only includes teen band performances, but also a family-friendly 3-on-3 basketball tournament, Roving Leaders video game contest, Austin BMX and Skate Park competition, and a Totally Cool Totally Art mural project.
This is a perfect opportunity to take your family and enjoy what live music in Austin has to offer. For more information about #SoLongSummer Fest, call Austin Recreation Center at 512-476-5662 or email ParksPrograms@austintexas.gov.
Contributed by Kyndal Goza, Music and Film Intern