What makes a good speakeasy? A feeling of discovery? A strong sense of place? Great drinks? Yes, yes, and yes. Inside a great speakeasy, the outside world seems to stop. Windowless and timeless, there's just you and the few people with whom you get to share the experience. Get in on the secret at these thrilling speakeasies in Austin! But sssh…don't tell anyone.
Firehouse Lounge
How much do we love a secret door? A lot. At the Firehouse Hostel, slide a bookshelf aside to reveal the entrance to Fireside Lounge, a laid-back speakeasy. It's Prohibition-meets-modern inside, with classic cocktails done right, local beers, and DJs on the weekends. No reservations are necessary here, so Firehouse Lounge can easily become your neighborhood spot. 
Here Nor There
Stepping into the dim, eclectic basement bar of Here Nor There is a bit like stepping off the map. But instead of monsters, you'll find some of the most carefully crafted cocktails in Austin. These aren't drinks you toss back. They're made for savoring and discussing. To access this haven, request a reservation through their mobile app. Only then will you get the gate code that lets you in to the small bar, seating 55 guests. They also offer memberships by invitation. 
Milonga Room
Below the beloved Argentinian restaurant Buenos Aires Café on Austin's East Side, The Milonga Room lays in wait. This spot is reservation-only, with a secret password you must provide to access the 1920s Argentinian space below. Sip a Latin-inspired cocktail, balanced by bitter amaro. Snack on fresh empanadas from the restaurant upstairs. Listen to live tango music and be transported.
Red-Headed Stepchild
A quick Google search will usually tell you how to access one of these "secret" spots. Not so with Red-Headed Stepchild. Located under the Floppy Disk Repair Co. sign next to El Cockfight, you'll need the secret door code to get in. And it changes every month. Cozy up to the bartender at El Cockfight, and you may get it. Once you're in, you'll find a dark bar with classic cocktails…a spot truly worthy of the "speakeasy" moniker.
Midnight Cowboy
Hidden on one of the busiest stretches of the Historic Sixth Street bar district, you'll find Midnight Cowboy. Amid the crowds, a sign for "Midnight Cowboy Modeling" marks the entrance. Ring the bell next to the name "Harry Craddock" to be let in. The narrow brick space is lined with handsome leather booths, reminiscent of the space's brothel past. The cocktails here are true originals, with flavors like chai tea infused rum and smoked salt and pepper tincture. Reservations required!  
The Cloak Room
Austin's spate of speakeasies is relatively new. But The Cloak Room near the Texas State Capitol has been the site of political intrigue and clandestine conversations since the 1970s. A sign for the bar points visitors down an exterior staircase into the basement space. Inside, they'll find a very dark room with a fantastic jukebox. Sip on a bourbon and keep your eyes peeled—there's rumored to be a ghost wandering about.
Garage
When does a parking garage become more than car storage? When it's the site of a secret cocktail bar, of course. The industrial space at Garage is concrete-chic, with a round bar in the center of the room. Candlelit tables for two provide the perfect place for an intimate catch-up, while seasonally changing cocktails and an extensive whiskey selection give you plenty to sip.
Small Victory
The entrance to Small Victory is easy to miss. At the corner of a parking garage, a glass door marked S.V. leads you to a spiral staircase and into the bar. Take a seat at the bartop, or at the long cozy banquette along one wall. While the menu includes a range of classic cocktails, their tiki drinks are some of the best in town. Made with housemade ingredients, a wide selection of rums, and their own ultra-pure ice, these drinks are must-tries. 
The Treasury
Hidden inside dive bar Shangri-La in East Austin, The Treasury is…a treasure. If the green light outside Shangri-La is on, go straight through the bar and up to the deck out back. Then turn around and take the back staircase down to reach The Treasury. Settle into the midcentury modern bar stools for a classic cocktail with zero pretension. And if you get hungry, grab a burger from the Golden Castle food truck upstairs.
While these Austin speakeasies may be a little harder to find, live music is not. Find a "nightcap" concert in Austin at a music venue near your secret bar with our live music venue guide.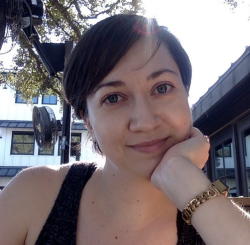 Contributed by Kate McDermott.
Kate McDermott is a local copywriter, content writer, and cocktail enthusiast. She writes about and for restaurants, hotels, event companies, and more from her home in Way South Austin.
Website: eatdrinkandwritecopy.com
Instagram: @eat.drink.writecopy