Sports in Austin usually revolve around the Texas Longhorns, but with an ever-growing transplant population there are fans of every sport and team in the capital city. While there's no major professional sports team in Austin (yet), there are plenty of places to catch big games around the city. Here are a few of our suggestions for every kind of sports fan.
College Football
The only place to watch sports on Rainey Street is Bar 96. On Saturdays it's ground zero for college football and you can find your game on any one of the TVs inside or on those that surround the outside of the building. After you grab a beer and some food from the Bomb Tacos trailer out back you can bar hop down the street for the rest of the night.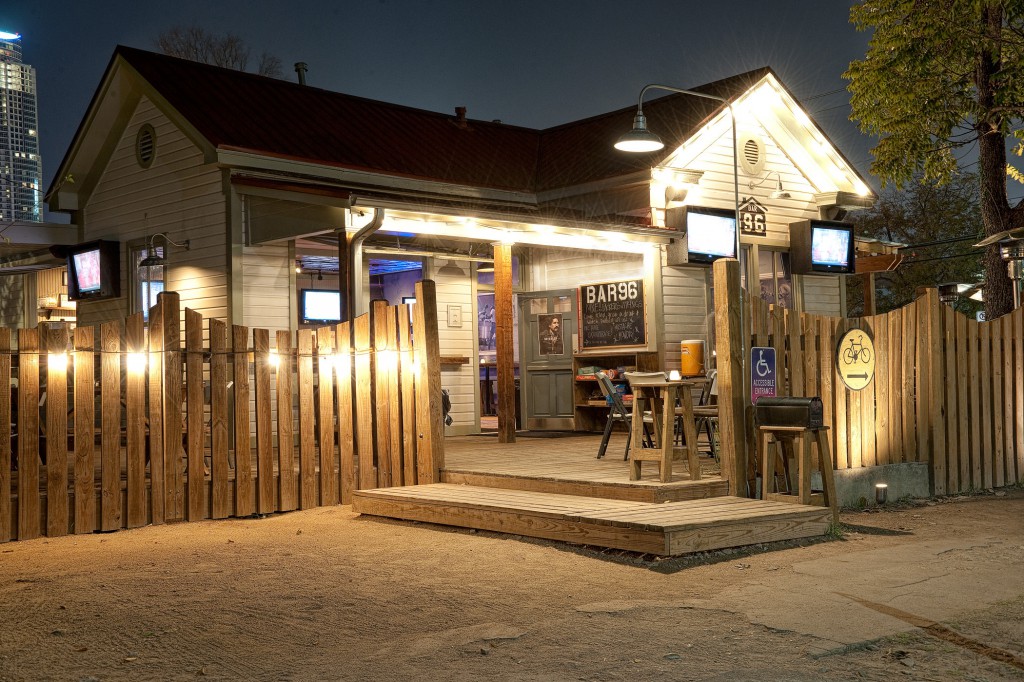 Bar 96 on Rainey Street. Photo by Dunlap Properties.
NFL
The option are endless! The NFL is the most popular league in the country and you'll find every game on screens all over the city. The Park is always a great spot for brunch, drinks and football, and they now have locations in The Domain and on South Lamar. Cover 3 has you covered if you like your ganes a little more upscale and they've also just added a new location downtown on West 6th Street. If you want to watch the game but also like staying active, work on your game at Top Golf with a TV right in your bay.
Soccer
Mister Tramps is in an odd spot off Research Boulevard but it has cheap drinks, a friendly bar staff and its one of the best soccer bars around. The bar opens early on weekends for Premier League (especially Tottenham Hotspur) games and it's always buzzing when the US Soccer team plays. Haymaker is a bar off Manor in East Austin and it is the home to fans of Chelsea and Manchester City. The bar has a huge selection of beer and great bar food.
The Best of the Rest
Lavaca Street Bar is in downtown Austin and it has a giant projection screen and TVs all around, as well as po' boys from Turf n Surf.
Contributed by Evan Knopp, Marketing and Tourism Intern.