For young travelers (fellow Millennials, I'm looking at you) wanting to take a spring break trip with friends, Austin delivers an incredible nightlife, dining and outdoor scene you will definitely want to tweet about! Or Instagram. We like to keep our options open.
Austin is known for diverse live music and contemporary bars, but it also has a proud Texas-country background that is best experienced through a night of dancing or bar crawling at some of our favorite honky-tonks. Interested in a the more traditional bar scene or in search of a more upscale atmosphere? Check out this guide to Austin's thriving and energetic nightlife, and you're sure to find something that suits your fancy between Sixth Street, East Sixth, the Warehouse District and more.
Rainey Street is one of the hottest bar scenes in the city, and is an in-house favorite at the office. This old residential neighborhood has been transformed into a bustling collection of wine bars, restaurants and cocktail lounges, all of which feature amazing outdoor patios perfect for relaxing and mingling. This is also the perfect place to sip many of Austin's best craft beers at locations such as Banger's which boasts the largest tap and sausage eatery in town.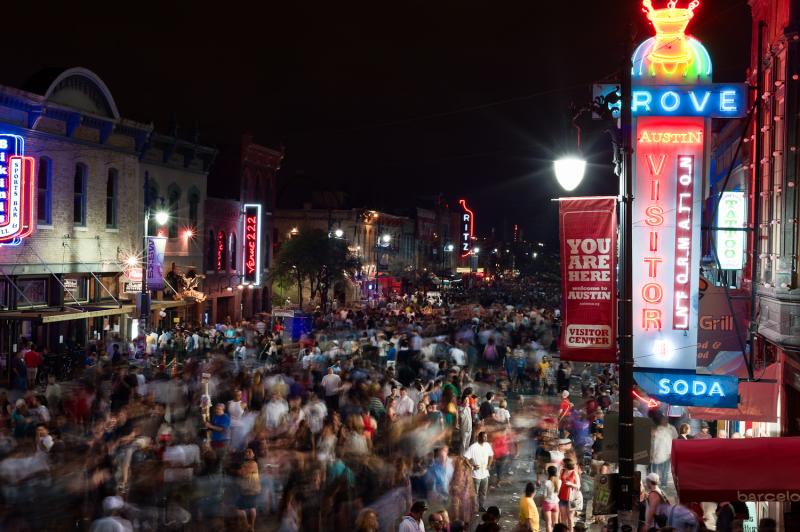 Downtown Sixth Street
While there is a variety of nightlife for all ages and styles, Austin is also home to some great activities to enjoy during the day. Explore more than 10 miles of hiking and biking trails around Lady Bird Lake, or get out on the water for some kayaking, canoeing, rowing, or get into the trees with Lake Travis Zipline Adventures. This outdoor excursion features five zip lines, including the longest line in Texas and the 9th longest in the world. Tours take three hours and include a full day pass at the private lake front park where you can swim, play game and relax.
If you're worn out from exploring the city's best outdoor and beverage locations (or if a more low-key approach is your thing), take some time to explore some of Austin's best shopping on South Congress, South First Street, the Second Street District, or keep things a little more eccentric on South Lamar or the North Loop. I also enjoy a great spa getaway when I'm looking to relax- check out Milk + Honey or Lake Austin Spa Resort if you like to feel pampered.
Lastly, you will be absolutely famished after spending so much time having fun around the city. Be like the locals and be sure to hit up some downtown food trucks or hot spots for a taste of Austintific BBQ, tex-mex, or any cuisine genre your heart desires. This is a growing town for foodies, after all.
What's your favorite way to spend spring break? Look for Part Three of our Austin spring break series, and see how to spend your time in town checking out Iconic Austin!