The live music scene is always in full swing in Austin, with some venues featuring one or two shows a night, but there's nothing like spring in the Live Music Capital of the World®. As the warm weather arrives and the calendars fill up with festivals, you'll find that many Austinites like to spend their spring evenings on a nice patio with a cool refreshment and a little local entertainment. So, whether you're looking for the full weekend experience or just a shady place to spend an evening, we have all the best spring lineups right here:
Ongoing
Texas Radio Live
Guero's Oak Garden
This weekly live music series, presented by Sun Radio, highlights Texas musicians in an intimate setting at Guero's Oak Garden. Every Wednesday night, musicians and fans come together to celebrate the sacred traditions of Texas music and Austin tacos.
sunradio.com/trl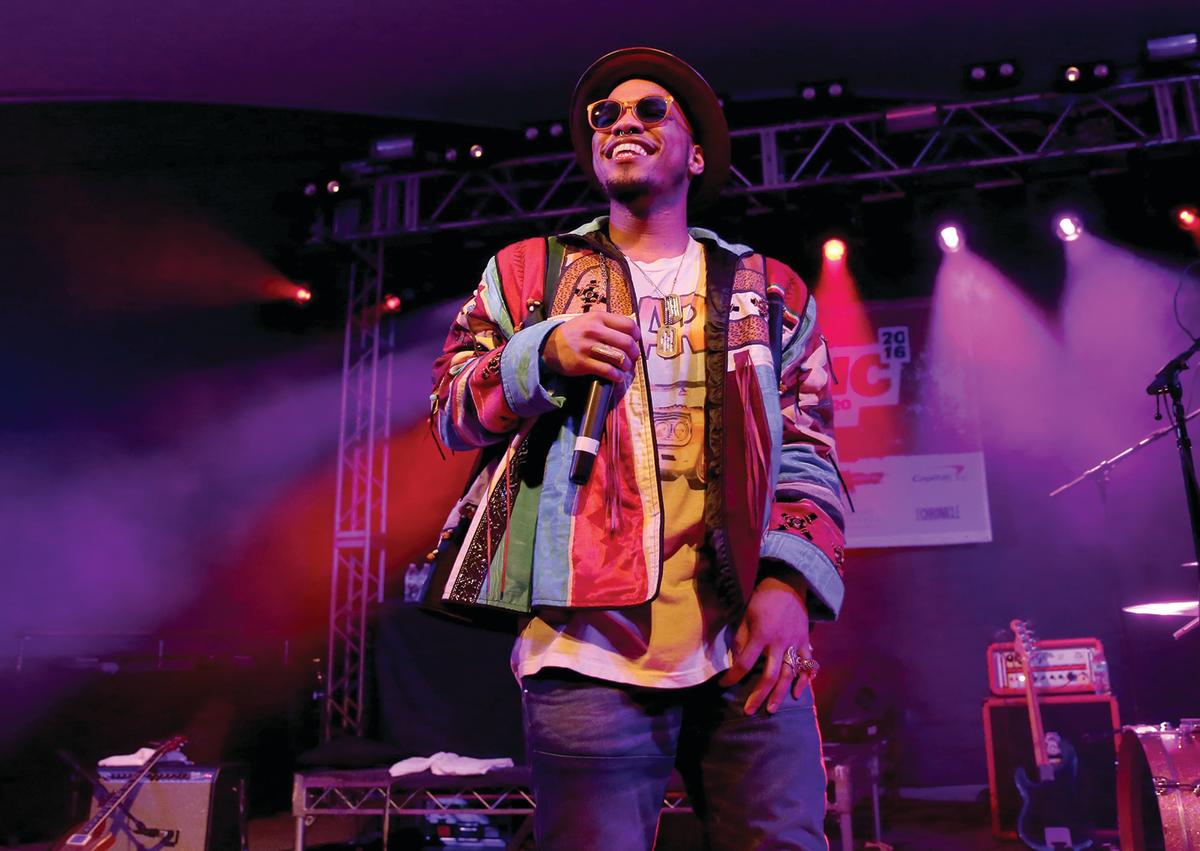 Photo by Waytao Shing, Getty Images for SXSW.
3/8/19 - 3/17/19
SXSW Conference & Festivals
Various Locations
The Austin Convention Center and more than 50 venues host noted filmmakers, musicians and multimedia artists from around the world converge to showcase music, film and interactive media during this internationally-recognized event.
sxsw.com
3/16/19 - 3/30/19
Rodeo Austin
Travis County Expo Center
Rodeo Austin is sure to have something for everyone in their 15-day showcase. This Austin tradition offers daily ProRodeo events along with more than 100 live music acts from dance hall bands to daytime concerts on the outdoor stage.
rodeoaustin.com
3/17/19
St. Patrick's Day Festival
Pioneer Farms
This annual family-friendly festival celebrates all things Irish. Come enjoy authentic Celtic music and dancers, Irish language workshops, the finest Irish imports and plenty of good craic!
stpatricksdayaustin.com
4/17/19 - 4/21/19
Fusebox Festival
Various Locations
Fusebox is a hybrid arts festival that champions adventurous works of art in theater, dance, film, music, literature, visual and culinary arts. The festival takes place over 5 days in venues and locations all over the city. 
fuseboxfestival.com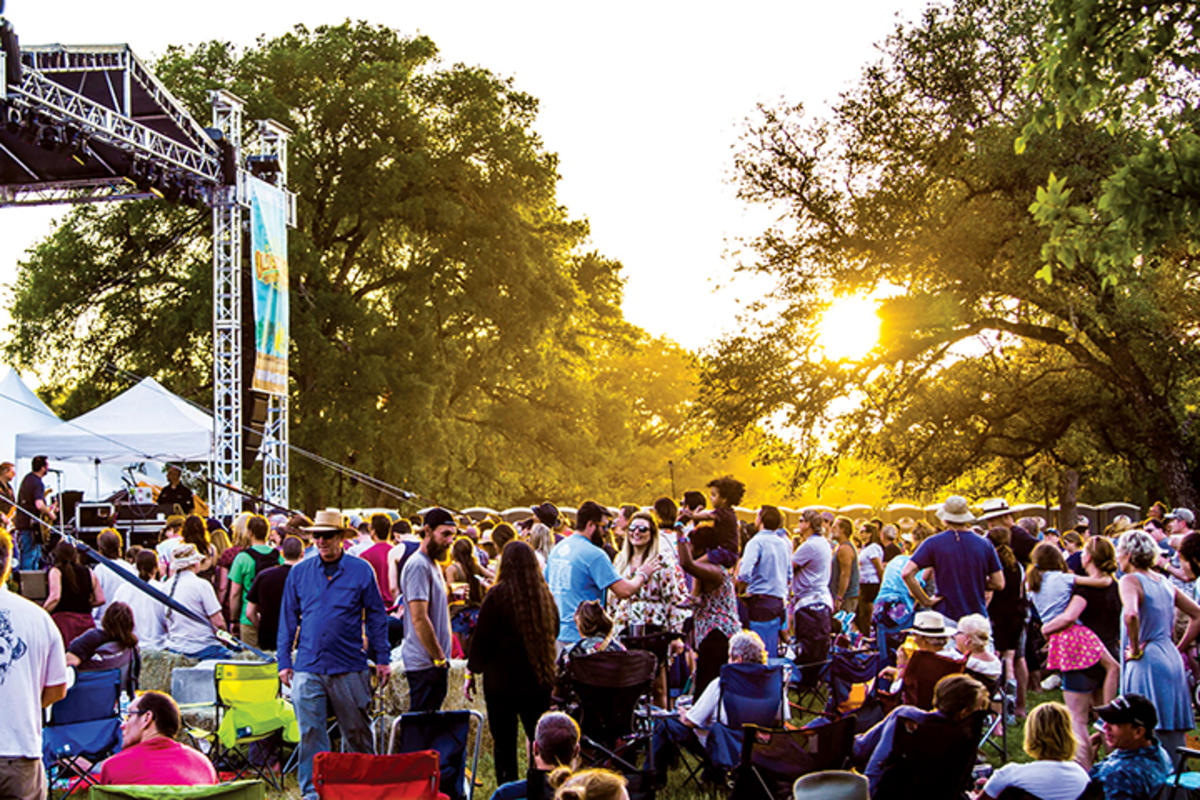 Old Settler's Music Festival. Credit Sigi Gonzalez.
3/29/19 - 3/30/19
Urban Music Fest
Auditorium Shores
Each year, more than 9,000 attendees head to Auditorium Shores for Austin's only music festival focused on R&B, neo-soul and hip hop music. The festival boasts a variety of food vendors and a family-friendly environment.
urbanmusicfest.com
3/29/19 - 3/31/19
Honk! TX Festival
Various Locations
Honk! Is a weekend event full of street and brass bands from around the country bringing free, family-friendly fun to public spaces around Austin. This a chance to get outdoors and experience the many genres of brass.
honktx.org
3/31/19, 4/28/19 & 5/26/19
Eberly Sunset Sessions
Eberly
Hosting exclusive performances by some of Austin's top local musicians, Eberly Sunset Sessions are highly anticipated events for this spring. Enjoy complimentary cocktails inspired by the featured performer as the sun sets over the city. See Tameca Jones on March 31, A Giant Dog on April 28 and White Denim on May 26.
eberlyaustin.com
4/11/19 - 4/14/19
Old Settler's Music Festival
Tilmon, Texas
The festival features roots and Americana music, arts and crafts, camping, food and libations. Acoustic jazz, blues and bluegrass are all performed by old-time local favorites and award-winning artists from around the world. This year's lineup includes Austin favorites like Wood & Wire, Robert Ellis, Shinyribs, Wild Child, Calliope Musicals and more.
oldsettlersmusicfest.org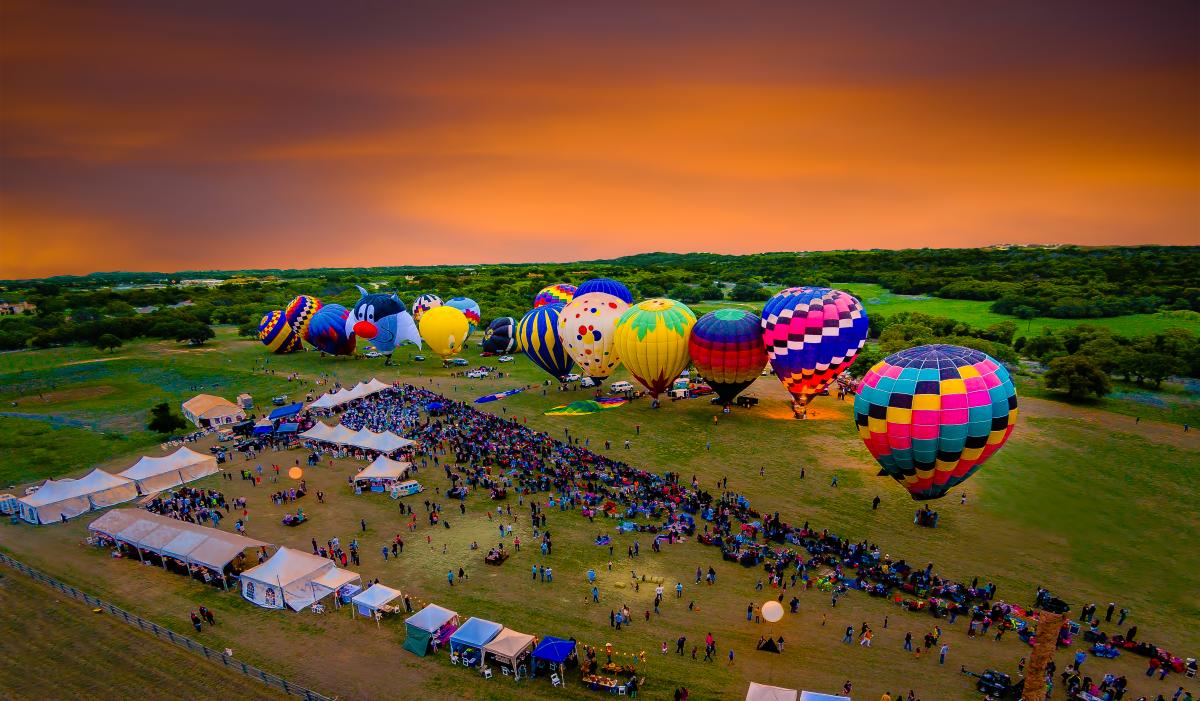 Balloons Over Horseshoe Bay Resort. Courtesy of Joe Purvis.
4/12/19 - 4/13/10
Lonestar Round Up
Travis County Expo Center
Lonestar Round Up is a family-friendly car show where guests can enjoy live music from artists around the world, across the country, and local to Austin.
lonestarroundup.com
4/13/19 - 4/14/19
Art City Austin
Republic Square
Attendees can admire the local art of all mediums, shop the wares of over 80 visual artists, and enjoy live music in the park. From culinary demonstrations to interactive experiences for the whole family, Art City Austin is a favorite among many.
artcityaustin.org
4/19/19 - 4/21/19
Austin Reggae Festival
Auditorium Shores
Austin Reggae Festival has been hosting notable dub, roots and ska acts for 30+ years. This festival not only offers a weekend full of diverse reggae talent, but also international food options and craft vendors. The proceeds of this festival benefit the Central Texas Food Bank.
austinreggaefest.com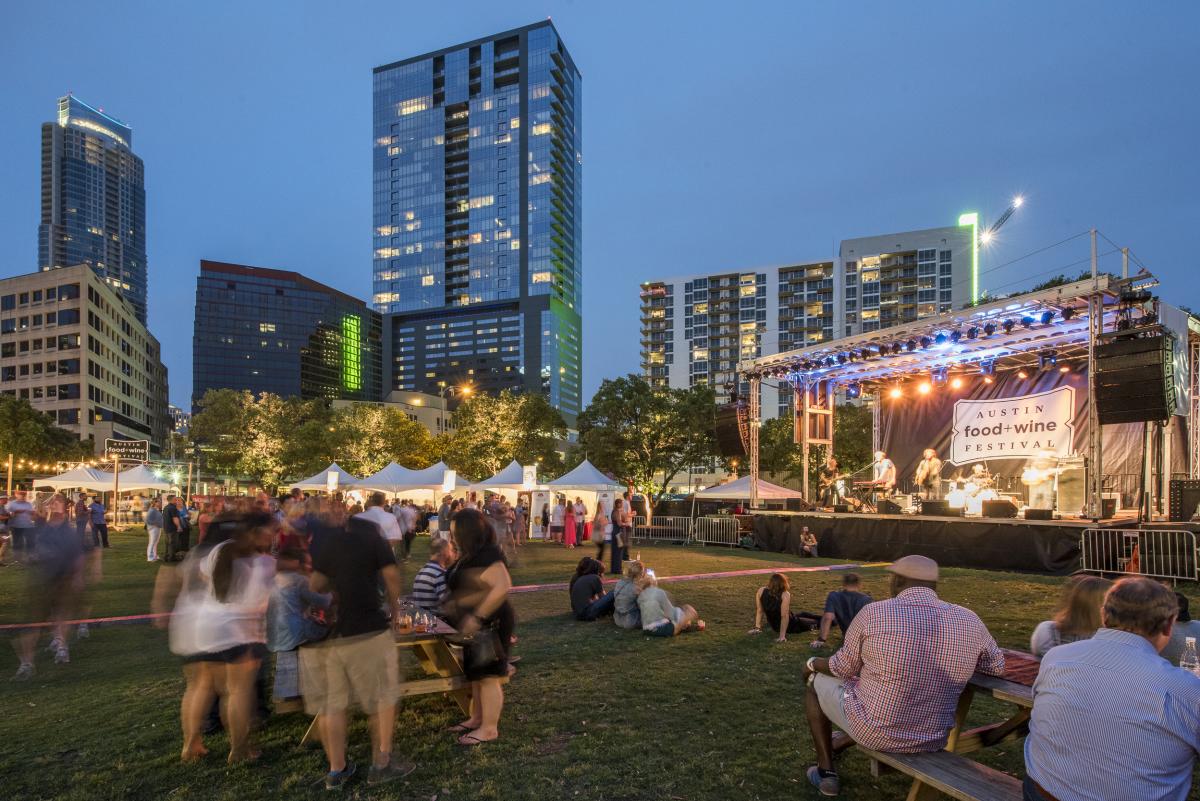 Courtesy of Austin Food + Wine Festival.
4/26/19 - 4/28/19
Austin Food + Wine Festival
Auditorium Shores and Republic Square Park
Experience some of the best things about Austin all in one weekend: its top restaurants, live musical performances, and wide variety of spirits. Austin Food + Wine Festival offers a three-day event full of tasting sessions and culinary demonstrations from top chefs, restaurants and winemakers.
austinfoodandwinefestival.com
5/4/19
iHeartCountry Festival
Frank Erwin Center
Austin will showcase some of the biggest names in country music for its sixth year hosting the iHeartCountry Festival. This year's performers will include Tim McGraw, Florida Georgia Line, Little Big Town and more!
iheart.com
5/4/19
JMBLYA
Circuit of The Americas
This two-day, two-city traveling festival makes its stop in Austin this May. The festival showcases some of the most sought-after talent in hip-hop music, including Travis Scott, Lil Wayne, Kevin Gates, Gunna and more.
jmblya.com
5/4/19 - 5/5/19
Pecan Street Festival
Sixth Street
As the one of the longest-running festivals in Central Texas, Pecan Street Arts Festival prides itself on providing a free admission event, with profits going towards bettering the downtown area. This family event hosts food vendors, artisans, small businesses and local musicians all along Historic Sixth Street.
pecanstreetfestival.org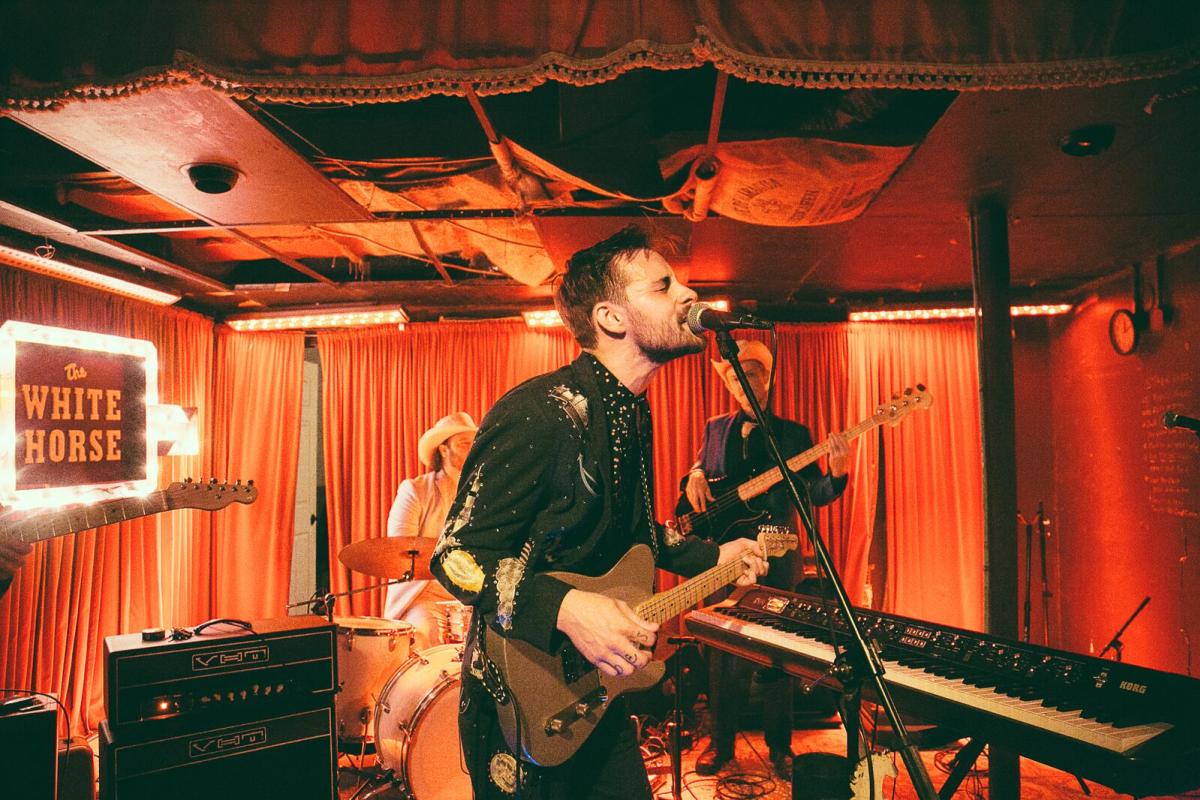 Hot Luck Fest. Credit Jackie Lee Young.
5/10/19 - 5/11/19
KVRX Fest
Cheer Up Charlies & Symphony Square
Set to launch this year, KVRX fest is already gaining coverage for launching the nation's largest college radio festival to be entirely student-run. This event created by UT's college radio station will showcase numerous Austin favorites like Abhi the Nomad and Blushing as well as a wider range of artists.
kvrxfest.org
5/23/19 - 5/26/19
Hot Luck Festival
Around Town
The Hot Luck: Live Food & Music Festival returns to honor the soul, sweat and DIY diversity of the food and music world. The festival is a picnic and party experience that highlights open-pit feats of culinary know how, and music in your ears that is as thoughtfully created as the food on your plate.
hotluckfest.com
TBA
Blues on the Green
Zilker Park
Join in on the Austin summer tradition of Austin City Limits Radio's Blues on the Green (BOTG), featuring numerous Austin musicians, food trucks and vendors. All are welcome to join the lively event as it is both family- and pet-friendly. Make it a tradition for all summer long; BOTG occurs once a month until the end of summer.
acl-radio.com/blues
Contributed by Mara Techam, Visit Austin Music Marketing Intern.