The live music scene is always in full swing in Austin, with some venues featuring one or two shows a night, but there's nothing like spring in the Live Music Capital of the World®. As the warm weather arrives and the calendars fill up with festivals, you'll find that many Austinites like to spend their spring evenings on a nice patio with a cool refreshment and a little local entertainment. So whether you're looking for the full weekend experience or just a shady place to spend an evening, we have all the best spring lineups right here:
Ongoing
Texas Radio Live
Guero's Oak Garden
This weekly live music series, presented by Sun Radio, highlights Texas musicians in an intimate setting at Guero's Oak Garden. Every Wednesday night, musicians and fans come together to celebrate the sacred traditions of Texas music and Austin tacos.
sunradio.com/trl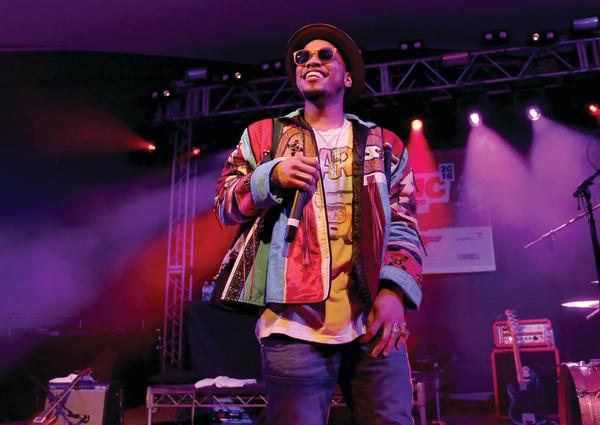 Anderson .Paak at SXSW Music 2016. Photo by Waytao Shing, Getty Images for SXSW.
3/10/17 - 3/19/17
SXSW® Music, Film and Interactive Conference and Festival
Various Locations
Austin Convention Center and more than 50 venues host noted filmmakers, musicians and multimedia artists from around the world converge to showcase music, film and interactive media during this internationally-recognized event.
www.sxsw.com
3/17/17
St. Patrick's Day Festival
Jourdan-Bachman Pioneer Farms
This annual family-friendly festival celebrates all things Irish. Come enjoy authentic Celtic music and dancers, Irish language workshops, the finest Irish imports and plenty of good craic!
www.stpatricksdayaustin.com
3/31/17 - 4/1/17
Austin Urban Music Festival
Auditorium Shores
More than 15,000 music revelers converge on Auditorium Shores at Lady Bird Lake to enjoy Austin's only music festival focused on R&B, neo-soul and hip hop music.
www.urbanmusicfest.com
3/31/17 - 4/2/17
Art City Austin Festival 
Palmer Event Center
Nearly 200 national artists, top local restaurants, two music stages and hands-on art activities make this one of the city's favorite festivals. 
www.artallianceaustin.org
4/6/17 - 4/9/17
Euphoria Fest
Carson Creek Ranch
Live music, camping, yoga and a variety of mindful workshops come together at this immersive four day festival. Musical styles bridge the gaps between hip-hop, electronic, ambient, tribal and experimental. 2017 artists include Alesso, Chromeo, Wiz Khalifa, Magna Carda and more.
www.euphoriafest.com
4/7/17
The Darrell K. Royal Homecoming Show, Honoring Guy Clark and Tamara Saviano
Paramount Theatre
The Texas Heritage Songwriters' Association will honor the life and legacy of famed Texas songwriter Guy Clark and his longtime manager Tamara Saviano at this once in a lifetime event. Expect guest appearances and performances from Rodney Crowell, Joe Ely, Bruce Robison, Lee Roy Parnell, Jack Ingram, Verlon Thompson, Terry Allen, Brennen Leigh, Shawn Camp, The Trishas and Noel McKay.
www.texasheritagesongwriters.com
4/14/17 - 4/16/17
Balloons Over Horseshoe Bay Resort
Horseshoe Bay Resort
More than 20 hot-air balloons from across America will converge at the annual Balloons over Horseshoe Bay Resort. This year's festival will feature local live music, tethered balloon rides and the annual evening balloon glow.
balloonsoverhsbresort.com
4/14/17 - 4/16/17
Austin Reggae Fest
Auditorium Shores
A fundraiser for the Capital Area Food Bank, Reggae Fest features three days of reggae, world and dub talent, along with more than 50 vendors selling food and arts & crafts. 
www.austinreggaefest.com
4/20/17 - 4/23/17
Old Settler's Music Festival 
Salt Lick BBQ Pavilion
Central Texas' signature music event featuring Grammy-winning Americana, arts and crafts, camping, food and libations. Acoustic jazz, blues and bluegrass are all performed by old-time local favorites and award-winning artists from around the world. 
www.oldsettlersmusicfest.org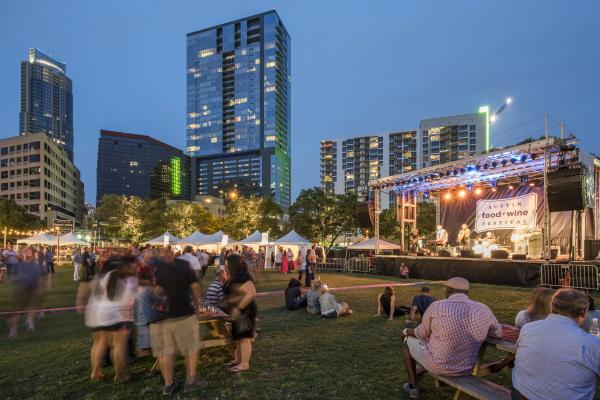 Taste of Texas 2015. Courtesy of Austin Food + Wine Festival.
4/28/17 - 4/30/17
Austin Food + Wine Festival 
Auditorium Shores and Republic Square Park
Pamper your palate in one of the hippest cities in the country at the Austin Food + Wine Festival. Join top chef talent, sommeliers and winemakers from across the nation and Austin's own acclaimed gourmet scene for an indulgent, three-day epicurean adventure unlike any other, topped off with live musical performances.
www.austinfoodandwinefestival.com
5/6/17
Derby in the City
Austin American-Statesman
This fabulous annual music festival fuses the tradition of the Kentucky Derby (hats, bowties and all) with Austin's vibrant live music scene. Come out to see the Derby on the jumbotron while enjoying tons of food and drink vendors and raffles to the tune of Americana, indie and roots rockers such as Citizen Cope, Black Pistol Fire, Sweet Spirit and more.
www.derbyinthecity.com
5/6/17 - 5/7/17
Pecan Street Spring Arts Festival
East Sixth Street
A free, family event, the Pecan Street Festival is the oldest and largest art festival in Central Texas. Local musicians, food vendors, artists and crafts people turn Sixth Street - historically called Pecan Street - into a lively street fair where there is something for people of all ages. 
www.pecanstreetfestival.org
TBD
Blues on the Green
Zilker Park
Don't miss the 2017 kickoff for Blues on the Green, featuring a legendary lineup of musicians, restaurants and vendors. This annual outdoor music series is one of Austin's favorite summer traditions. Bring your kids, teens, pups and friends for this massive community party. And if you're not in town in the spring, don't worry - BOTG takes place once a month through late summer!
www.kgsr.com