While much of the country is still thawing out from winter's chill, sunny and mild spring weather has come to Austin, making this the perfect time of year to explore our great outdoors. Austin is home to diverse terrain and more than 251 parks, trails and green spaces, boasting activities for all types of nature lovers - from the leisurely to the adventurous.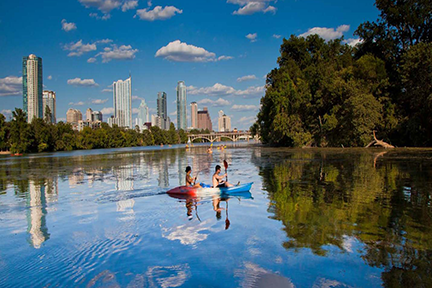 A great place to hit the trails is the Barton Creek Greenbelt, offering more than 800 acres of natural landscape and seven miles of trails that encompass towering rock walls, beautiful forest views and a refreshing swimming hole. For the easiest access, start your explorations from the Loop 360 access, where you can get right to biking, running, rock climbing, hiking and swimming.
In the heart of the city, discover the tranquil portion of the Colorado River known as Lady Bird Lake. Flowing through the heart of downtown Austin, the wide, gentle-flowing waterway is ideal for kayaking and canoeing, and you can even try your luck at stand-up paddleboarding. Kayaks, canoes and paddleboards are available for rent. As you paddle, you'll be rewarded with a unique vantage point combining vistas of downtown Austin and a closer look at the lake's birds and turtles.
Alongside the water, the Lady Bird Lake Hike and Bike Trail is another favorite gathering spot. Bike, run or stroll alongside the river and enjoy equally rewarding downtown and waterfront views. For more on Austin's wide range of outdoor fun, discover Austin's outdoors.
Have you captured photos of Austin's beauty? Share them with us by tagging them with #TrueAustin on Instagram or Twitter.