Looking for some live action events while you're in and around Austin? We have you covered with a selection of the top spring sports events to fit any budget that are perfect for the whole family!
2/10/18 – 9/29/18 (select dates)
Texas Roller Derby
Palmer Event Center
Austin is the home of two of the most entertaining Roller Derby leagues in the nation. Austin's original banked track league, Texas Roller Derby is the perfect blend of the "Keep Austin Weird" attitude and a free ­wheeling pursuit of fun and competition. Skaters range from ages 21­-45 and come from all walks of life to form the league's five teams -­ Holy Rollers, Hellcats, Putas del Fuego, Cherry Bombs and Rhinestone Cowgirls.
txrd.com

Austin Marathon 2017 winners Allison Macsas (female marathon champ) and Joe Thorne (male marathon champ) and with Austin Marathon Race Ambassador and Olympic silver medalist Leo Manzano. Credit Ed Sparks.
2/18/18
Austin Marathon, Half Marathon and 5K
Downtown Austin
This Febraury, more than 17,000 runners will fill Austin's streets for the 27th Anniversary of The Austin Marathon, Half Marathon, and 5K. The race weekend will bring together more than 75,000 visitors to kick off the weekend at the Health & Fitness Expo, followed by race morning, winding through the best of Austin, and concluding with an Austin-style Finish Line Festival featuring a recovery zone, finisher medal ceremony, food trucks and vendors, rocking bands and a beer garden with local craft beers. Click here to register now!
youraustinmarathon.com
2/17/18 - 8/11/18 (select dates)
Texas Rollergirls Roller Derby
Austin Sports Center
The Texas Rollergirls was a game changer in the roller derby movement, launching the Flat Track Derby movement which now has more than 300 Flat Track Derby Leagues worldwide. The league is composed of four home teams supported by a loyal, enthusiastic fan base: Hell Marys, Hotrod Honeys, Honky Tonk Heartbreakers, and Hustlers.
texasrollergirls.org
3/10/18 - 3/24/18
Rodeo Austin
9100 Decker Lake Road​
Over the years, Rodeo Austin has grown from a stock show featuring 16 animals into one of Austin's premier events, featuring one of America's top 10 ProRodeos, daily concerts, a family friendly fairground, a world class livestock show and more. In addition, the Rodeo Austin Scholarship Program has impacted the lives of thousands of Texas youth, donating millions of dollars to their education. This year's concerts feature a range of musical guests including Ludacris, Chris Janson, Gladys Knight, Turnpike Troubadours and many more!
rodeoaustin.com
3/21/18 - 3/25/18
World Golf Championships - Dell Technologies Match Play
Austin Country Club
The World Golf Championships - Dell Technologies Match Play returns to the historic Austin Country Club in March, bringing in the top 64 golfers in the world - including last year's winner Dustin Johnson and Texas native Jordan Spieth. The Championship Event will feature 16 groups of four players playing round-robin matches. Keep up to date on the Official World Golf Rankings here.
dellmatchplay.com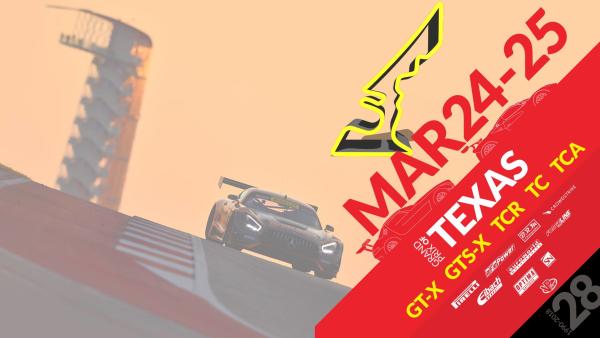 3/24/18 - 3/25/18
2018 Pirelli World Challenge
Circuit of The Americas
Watch two full days of impressive sports car racing at COTA. The Pirelli World Challenge offers unparalleled access to more makes and models than any other racing series. This series features more than 100 production-based cars (like the ones you drive) that have been prepped specially for racing. There will even be access to the paddock to see the cars up close, hear the engines roar and speak with the drivers.
circuitoftheamericas.com/2018-pwc
3/28/18 - 3/31/18
Clyde Littlefield Texas Relays
Mike A. Myers Stadium​
The 91st running of the Clyde Littlefield Texas Relays will take place March 28 - 31, featuring more than 7,500 high school, collegiate and professional athletes. Last year's Texas Relays saw 14 meet records broken, and two world records broken.
texassports.com
3/28/18 - 4/19/18
The Spring League
Circuit of The Americas
The Spring League is an elite scouting event for professional football talent to showcase their abilities in front of NFL and CFL scouts, GMs, and player personnel directors. The Spring League consists of six games, three per team, over the course of three weeks. The 2018 Spring League season will be played in Austin, from March 28 - April 19.
thespringleague.com
4/2/18 - 4/6/18
ABA Elite Eight Tournament
Lehman High School
Come see the American Basketball Association (ABA) in action at the Elite Eight tournament in Kyle, Texas. The top 8 teams in the league, including Austin's own Austin Bats, will compete for the championship title. Buy your tickets today!
abaliveaction.com
4/8/18
Statesman Cap10K
Downtown Austin
Join 10,000+ runners in the largest 10K race in Texas! Take a virtual course tour to familiarize yourself with the race route before running the 41st bout of this iconic rite of spring. The weekend will feature a Health & Fitness Expo which is open to the general public, plus course entertainment and a finish line festival featuring local musicians.
cap10k.com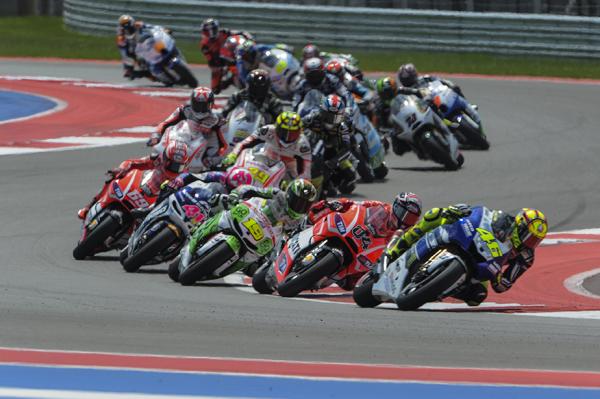 MotoGP at COTA. Credit JP Rice.
4/20/18 - 4/22/18
MotoGP Red Bull Grand Prix of The Americas
Circuit of The Americas
Austin's long-standing motorcycle heritage coupled with COTA's cutting edge racing facility ensures that audiences can expect a jam-packed weekend of world class excitement, both on-track alongside an incredible schedule of off-track entertainment. In addition to the Moto2 and Moto3 classes, MotoAmerica will bring its signature brand of star-spangled motorcycle racing to the track, filling out a stacked lineup of the world's greatest motorcycle riders. Kids 12 and under get in free with a ticketed adult.
circuitoftheamericas.com/motogp
5/17/18 - 5/20/18
AVP Beach Volleyball Austin Open
Krieg Fields
The AVP stops in Austin during the 2018 Tour, bringing high level beach volleyball and the country's top pro beach volleyball athletes to the city. The weekend is sure to be one of the "biggest and best" on the slate and the events are open to the public and free to attend (VIP tickets available)
avp.com
Contributed by Sarah Brittenham, Visit Austin Sales & Sports Coordinator