Austin isn't just the Live Music Capital of the World®; it's also increasingly becoming a leading city for the SUP community (stand up paddle-boarding) that's been sweeping the nation for several years now. This is not only thanks to the wealth of waterways in Central Texas, but also because the world's largest SUP board manufacturer, SUP ATX, has made Austin its home.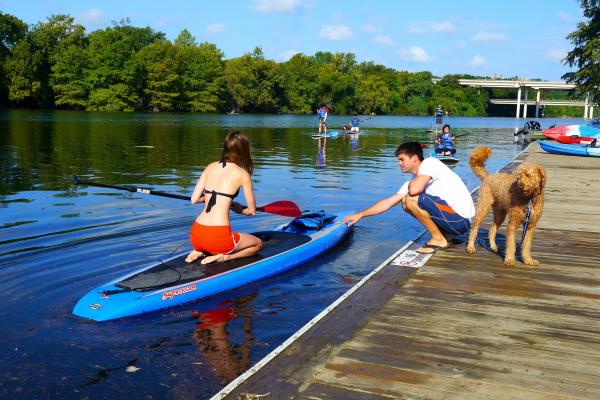 Giving SUP ATX a try. Courtesy of Dave Brown.
Founded by Nick Matzorkis, SUP ATX originated with Nick SUP-ing in the waves of Malibu before moving to its permanent home in Austin in 2009.
When some surfers caught on to the advantages of standing on an over-sized surfboard with a paddle to catch waves that other surfers couldn't, people like Nick Matzorkis soon foresaw the incredible growth potential of the sport and eventually moved his business to less-crowded inland flat waters like those in Austin.
Now, everywhere from Lake Travis, Quarry Lake and Lake Austin to Lady Bird Lake and anywhere else on the Colorado River, you will see many people on SUPs, and most of those boards will be sporting the SUP ATX logo. Everyone is either already in tune with the SUP craze or on their way to trying it out soon enough at one of the free demos, frequently held at the Texas Rowing Center dock or one of the several other SUP renters throughout the city.
To make the most of SUP-ing in the Austin area, here are some suggestions from Dale Rogers, the SUP ATX General Manager on where to go:
Board rentals: There are places all around Austin from which to rent SUP boards, but, according to Dale, they have the most boards available at Texas Rowing Center, about 180 of them in fact. Plus, they're open sun-up to sundown.
Contributed by Dave Brown, Roots Rated Austin