It's time for ACL Festival Weekend 2. In case you weren't ready for the festival the first go-around, here's what you need to survive this weekend's live music event:
The Basics
Sun protection: If you are not familiar with Texas sun, we suggest coming ready with all of your skin-protection needs. We suggest sunscreen, sunglasses and a rockin' hat.
Hydration: Hydrating throughout the day is essential to a successful ACL experience. Bring two factory sealed bottles of water, and refill them throughout the day at the free filling stations throughout the park.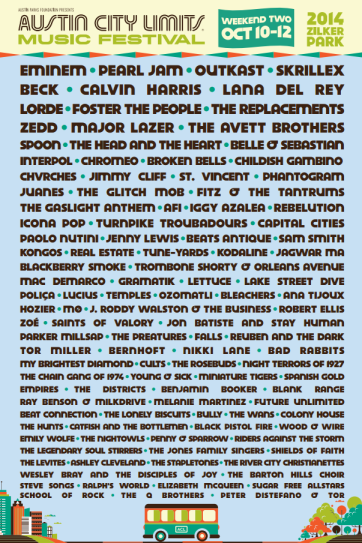 Parking: Parking around the fest can be tricky. We suggest parking downtown and taking the free festival shuttle service to and from the centrally-located loading location at Republic Square on 4th and Guadalupe.
Money: Although some of the fest vendors accept credit cards, we would suggest having cash tucked away in a safe place to use throughout the day. There are ATMs at several locations throughout the festival grounds. Another cool feature is ACL Cashless. You can activate your wristband online and with the tap of your wrist grab some gear at the ACL Art Market or a cool beverage at Austin Eats.
The Mobile App: The Official Mobile App Presented by AT&T for Android and iPhone is a great tool to have right at your fingertips. The App allows you to create your own custom schedule as well as updates you on crucial fest information. Make sure to download before you get to the festival since service can get somewhat spotty onsite.
Footwear: As cute as your new fall boots are, ACL fest is not the time to break them in. You are walking around majority of the day and you will want a comfy pair of shoes to get around in. Audiences at shows can be packed and you will want to protect your feet with closed toe shoes. Feel free to slip them off during downtime and feel the grass with your bare feet!
What Not to Bring
Big Bags: Come equipped with everything you need, but keep in mind whatever you bring you will have to carry throughout the day. Consolidate as much as possible and put your belongings in a small bag or backpack to keep yourself hands-free for the fest.
Coolers: The fest has done a great job with providing filling stations for your water bottles as well as an awesome setup of Austin Eats, so these are not needed. Enjoy the local treats that Austin has to offer!
Valuables: Who wants to worry about losing their valuables while enjoying their favorite bands? Bring your phone for emergencies and a camera to capture all of the memories. We suggest not bringing anything that cannot be replaced.
What else can I do to prepare for the fest?
Get to know the bands: We have put together the ultimate ACL fest playlist of some of the songs you may hear from the local Austin bands playing. You can listen to the #ATXmusic ACL FEST playlist below or download Spotify on your computer and follow @MusicAustin.
Also, be sure to check out the Festival FAQs for any questions you may have about the upcoming ACL fest. You will not regret coming to the festival prepared!
Contributed by Kyndal Goza, ACVB Music and Film Intern