Everyone knows that Austin is a bit…different…from the rest of Texas. But that doesn't mean you can't get the full Lone Star State experience in the capital! We've got great food, proud history, and natural beauty galore, right here in the city limits. Add these activities to your Austin bucket list for the true Texas Experience.
Pick Up a Pair of Cowboy Boots
Before you start working through your list of Texas things to do…do you look the part? Gear up for an adventure with a pair of authentic cowboy boots. Allens Boots on South Congress may be the best-known boot shop in town. While the city has changed dramatically since it first opened in 1977, this shop is still family-owned and packed floor-to-ceiling with footwear. For an original pair handmade just for you, head to Texas Custom Boots on South First! They've been constructing and stitching boots since 1980.
Take in Some Texas History
Tour the Texas State Capitol, a grand bit of Texas history in downtown Austin. Visitors can head inside or wander the grounds, finding 19 different monuments commemorating important events in our state's past. 
At the Bob Bullock Texas State History Museum, visitors can explore rotating exhibits that unravel the long history of the land now known as Texas. From prehistoric times to colonization by French and Spanish explorers to the creation of the 28th state in the Union, the exhibits at the Bob Bullock Museum show us how we got to today.
Go Horseback Riding
You're much more likely to find a Texan in a car than on a horse—especially in the summer heat! But horseback riding still holds romance as a remnant of the Old West, and it's a lovely way to spend a sunny day. There are plenty of horseback riding options in the Austin area, including Texas Trail Rides around Onion Creek in Southeast Austin and the woods of Tristar Farm in Round Rock. 
Sample Texas Beef Ribs
Many states have their own signature barbecue style. In Kansas City, you'll find a variety of meats drizzled with a bit of sweet BBQ sauce, while South Carolina's pork BBQ will have a spicy, vinegar-based sauce.
In Texas, the barbecue is dry-rubbed instead of sauced. And while we're well-known for some wonderful brisket, you have to try some Texas beef ribs! These large, hearty ribs are less common than their pork cousins, but certainly worth the hunt! You can find them in Austin at Franklin Barbecue, but only on Saturdays. Try local favorites Micklethwaite Craft Meats, Stiles Swtich or la Barbecue for beef ribs any day.
Look for Texas Wildflowers
Each spring, the fields of Texas turn a stunning purplish-blue when the bluebonnets are in bloom. This natural display is only a few weeks long and occurs sometime between late February and mid-April. You don't have to look hard to find bluebonnets around Texas—the Texas Highway Department has planted thousands of bluebonnet seeds alongside our highways each year since the 1930s. Highway 360 has a particularly pretty patch near the Pennybacker Bridge. There are also beautiful displays at St. Edward's University and at parks like McKinney Falls State Park.
Not bluebonnet season? Stop by the Lady Bird Johnson Wildflower Center to see hundreds of native Texas plant species!
Cool Off in a Natural Swimming Area
Beating the Texas heat in a pond, swimming hole, or spring is a rite of passage in the Lone Star State. Fortunately, the Austin area has a wealth of natural swimming spots.  Most well-known is certainly Barton Springs Pool. Located inside Zilker Park just outside downtown Austin, this public pool is fed by underground springs that keep the water cool year round. Along the Barton Creek Greenbelt, you'll find pockets of slow-moving creek water at Twin Falls and Sculpture Falls for wading and splashing. Just outside of Wimberley to the south, visit Blue Hole, so named for the arresting color of the spring-fed water! All natural water areas are subject to environmental conditions, so always check their websites before planning a visit.
Head Down to the Rodeo
Is there anything more quintessentially Texas than the rodeo? Rodeo Austin brings the "official sport of Texas" to the city each spring. Events include bareback riding, steer wrestling, bull riding, and more. There's also a large carnival with action-packed rides, and, of course, fair food. We're talking smoked turkey legs, corn dogs, and deep-fried cheesecake, y'all.
Get Some Tex-Mex
There's great Mexican food all across Mexico and the American Southwest. But Tex-Mex is the local favorite, developed over the years by Tejanos combining Mexican cuisine with ranching culture. 
You can't throw a stick in Austin without hitting a Tex-Mex joint, and some of the best are hole-in-the-wall, family-owned neighborhood spots. Try Enchiladas y Mas in North Loop for hefty enchiladas, sizzling fajitas, and of course, margaritas. At East Austin's Mi Madres, dig into simply delicious tacos and burritos, plus house-made horchata.
Spot Some Texas Longhorns
Eye-catching Longhorn cattle are about as Texan as Whataburger and Dr. Pepper—although they're not quite as easy to find! Texas Longhorns need plenty of grazing room, which means they're not as common within the city limits. But if you know where to look, you can still find a few. The Austin Zoo has three Longhorns in its menagerie. And you may be able to spot some just outside the Fast Park & Relax parking lot, across from the Austin-Bergstrom International Airport.
Sip a Texas Beer
Craft beer is BIG in Texas! There are over 300 craft breweries in the state, according to the executive director of the Texas Craft Brewer's Guild. We've got your lagers, IPAs, APAs, ambers, lambics, farmhouse ales, kölsches, saisons, sours, stouts, pilsners, hefeweizens, witbiers…you get the picture. Stop by a local brewery like Austin Beerworks, Jester King Brewery, or Hold Out Brewing to sample the suds.
All this Texas talk having you ready to plan your trip? Grab a visitor guide today to get inspired and start planning.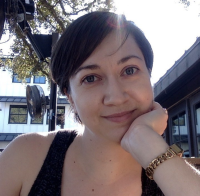 Contributed by Kate McDermott.
Kate McDermott is a local copywriter, content writer, and cocktail enthusiast. She writes about and for restaurants, hotels, event companies, and more from her home in Way South Austin.
Website: eatdrinkandwritecopy.com
Instagram: @eat.drink.writecopy