Want to get a taste of the authentic Austin film scene? Local bars, theaters and unique venues around town celebrate unique cinematic experiences year-round, including the latest tribute to Ennio Morricone.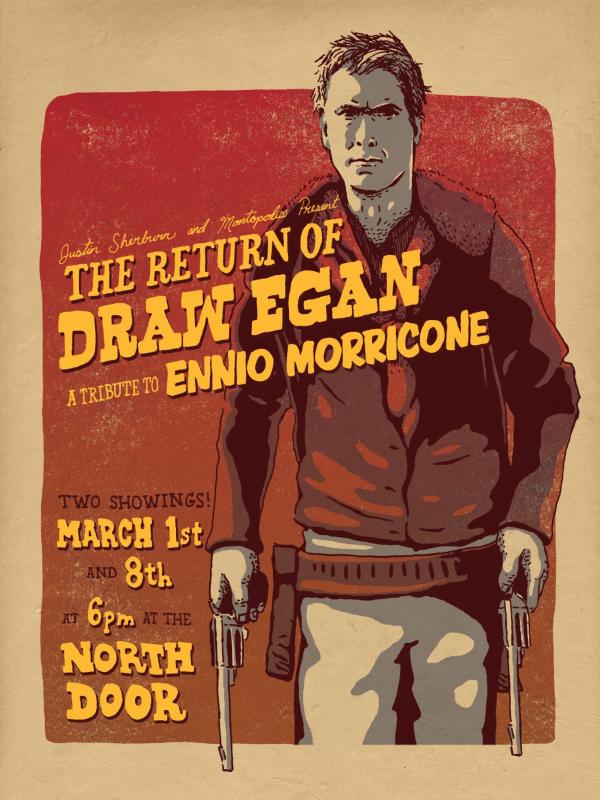 After selling out the North Door in November with "Yakona," Okkervil River keyboardistJ ustin Sherburn and his group Montopolis are back again with a new show, "The Return of Draw Egan: An Ennio Morricone Tribute."
This silent western film has been rewritten by novelist Elizabeth Jackson and Chad Nichols (Foleyvision) Mystery Science Theater style, replacing the old dialogue cards with an updated version that is gut-bustingly hilarious. Sherburn's rock and roll chamber orchestra will accompany the film, playing excerpts from Ennio Morricone's classic spaghetti western soundtracks. Before the movie, video artist Stephen Fishman will screen a montage of all things Italian, western, spaghetti, and '60s while Montopolis rocks the Morricone hits with guitar wizard Landis Armstrong (McLemore Avenue).
EVENT: "The Return of Draw Egan" film screening with live score
WHEN: Sunday March 1 and Sunday March 8, 2015 at 6 p.m.
WHERE: The North Door, 502 Brushy St., Austin, TX 78702
TICKETS: $12
For more information visit Montopolismusic.com. This project is supported in part by the Cultural Arts Division of the City of Austin Economic Development Department.