Running or planning on watching the Austin Marathon this February? Follow these last-minute tips to help make for a successful race experience: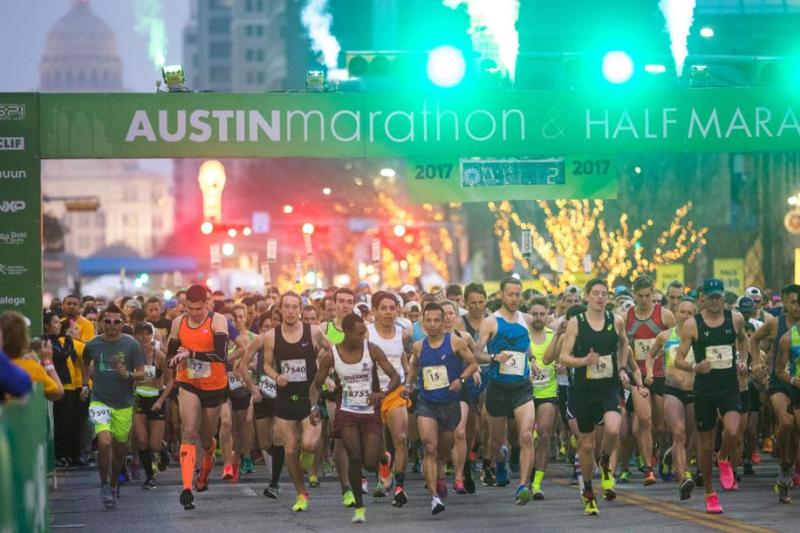 Runners
Have a race day plan. Lay out your clothes, morning and on-course nutrition and bib/race belt the night before (this will prevent scrambling in the morning or potentially forgetting a critical item). If you have friends or loved ones supporting you on-course, agree on a spot and rough time-frame prior to the race to meet them once you cross the finish line. With hundreds of runners who all look the same, crowded finisher chutes and various street closures, it can be difficult to reunite if a plan hasn't been made beforehand.
Pace yourself. It can be tempting to get caught up in the excitement and go out too hard, too fast. With the adrenaline sure to be flowing, and hopefully some much-deserved tapering/rest, you'll naturally feel more energized. But unless you're an elite runner, don't seed yourself with the 6:00/mile pace group. Trust me. Save your speed for the end if you're feeling good halfway through or during the last few miles, pick up the pace and finish strong.
Don't do anything new on race day. See tip #1. Though tempting to wear new gear, or try out new nutrition on-course, don't. New shoes or clothing can mean blisters or chafing and different nutrition (like energy chews or Coca-Cola), if not used during your training, can have a less than ideal effect.
Smile and have fun! Seems to go without saying but you'd be surprised how many runners forget this simple rule of thumb. Trust your training - you've put in the hard work this is your time to shine and soak it all in! Not to mention you'll want to smile big for those on-course photographers to commemorate the experience.
Spectators
Come early. Getting there early to see the event come together, listen to updates and fun facts from the announcer and of course, the countdown to the start is all part of the experience. Plus this will allow you to get your bearings and map out key parts the course to see your favorite runner pass by or finish!
Be loud! I've hit the proverbial wall more than once during a race. And I can't tell you how much the support and encouraging cheers of a stranger or two have helped me get through those rough spots. Signs, clappers, cowbells and horns all count as well. And, even if we don't look good, tell us so anyways please.
Stay late. This is where some of the most inspiring stories can unfold. These are the people who aren't there to win, or have a personal best they're simply there to finish. From cancer survivors to survivors of other emotional trials and tribulations in life, I've shed many a tear watching some of these heroes come across a finish line. And who knows? These finishers may inspire you to sign up for next year's Austin Marathon.