Here for a meeting or business trip, or just tagging along with the family or a friend? During your downtime, check off some of these items so you can brag about your Austin trip to your friends back home: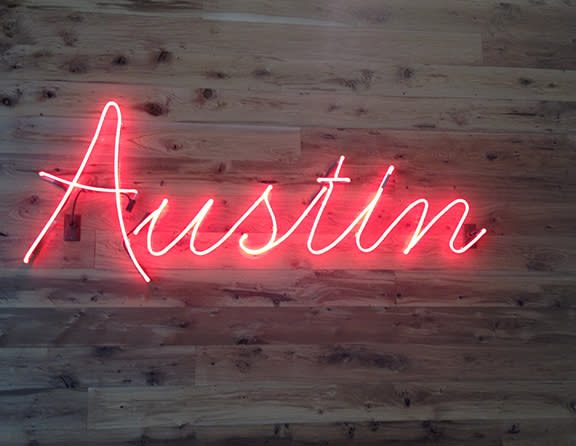 1. Eat barbecue and Tex-Mex. You shouldn't visit Austin without trying what were most known for - barbecue and Tex-Mex. There are too many spots to name for just one visit, but here are some of our favorites to get you started. If you don't eat meat, consider these instead. But, remember, vegetarians can eat queso too! We're also known for our unique food trucks, which can be found all over town. If you leave hungry, you're just not doing it right.
2. Get outdoors. The Lady Bird Lake hike & bike trail is just across Cesar Chavez from the Austin Convention Center and is a great way to run off those breakfast tacos while seeing Austin's skyline. Have a little more time? Head to Zilker Park and Barton Springs Pool, a natural spring-fed oasis just minutes from downtown, or play 18 holes at one of Austin's many scenic golf courses.
3. Listen to live music. Austin's celebrated live music scene includes more than 250 live music venues with just about every style represented; this is the Live Music Capital of the World after all! We recommend checking out one of Austin's iconic music venues. Nearby favorites include The Saxon Pub, Volstead Lounge, Continental Club and The Elephant Room.
4. Go bat watching. Yes. Bats! Austin has the largest urban bat colony in North America. Park yourself near the Congress Avenue Bridge at dusk from April to October to witness more than 1.5 million bats spiral into the summer sunset.
5. Keep it weird. Austin is known for being a bit weird. Visit the Cathedral of Junk or stop by Little Longhorn Saloon on Sunday for Chicken Bingo to experience the weird side of our city for yourself.
6. Visit a film location. Austin was recently named by Moviemaker magazine as the #1 Place to Live and Work as a Moviemaker. Film buffs should visit locations from movies and shows filmed in Austin including Slacker, Dazed and Confused and Friday Night Lights. Keep an eye out, you may even spot a big name filming while in town!
7. Enjoy one of Austin's many bars for cocktails, Texas wine or craft beer. Make a new friend in town and get to know each other over a margarita or locally distilled Tito's craft cocktail. From grapevines to hops, Austin serves up local, craft libations sure to please every palate. Whether you're a sommelier or a beer aficionado, there's a place for you in Austin.
8. Explore Texas history. Texas is getting a lot of national attention as a place to visit, and it also has a pretty cool back-story to boot. Why not take a quick walk up Congress Avenue to see the Texas State Capitol (which offers free tours) and the Bullock Texas State History Museum? Looking for Texas and Austin souvenirs? Our new Visitor Center, 602 E. 4th Street, has plenty of local and state-made merch.
Need more recommendations? Ask us through our Twitter account, @VisitAustinTX.
Contributed by Katie Cook.