Updated 12/2/20
Headed to Austin this January? Get your fill of live music, outdoor activities, cultural events and exhibits you won't find anywhere else! Here are our top events and exhibits this month: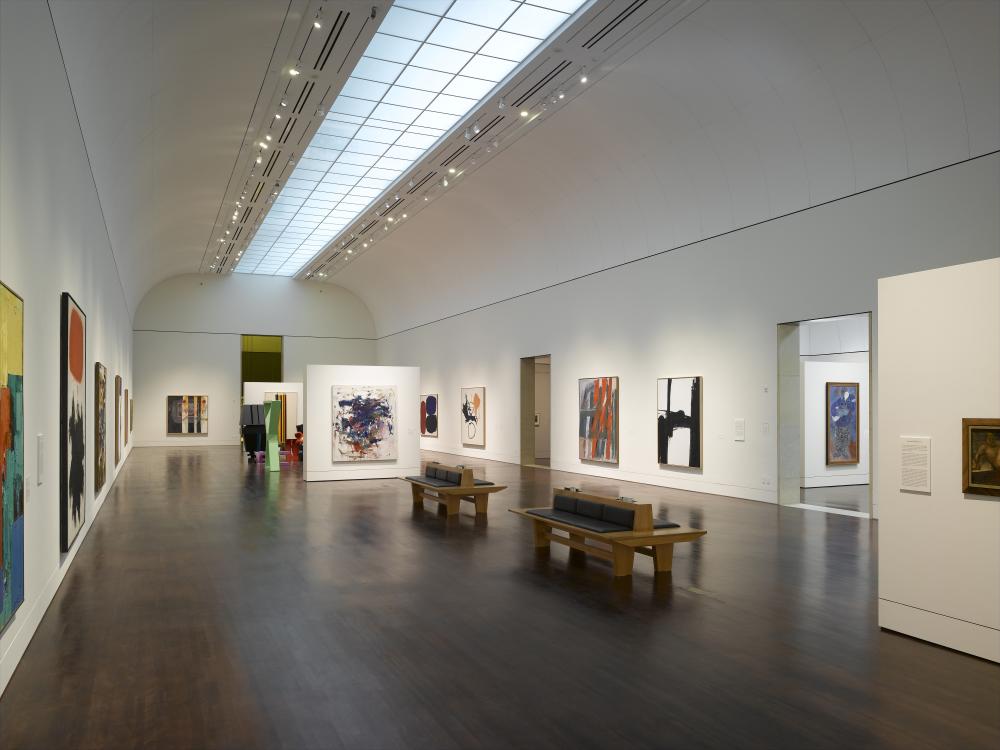 Credit Blanton Museum.
Throughout January
"Diedrick Brackens: Darling Divined"
Blanton Museum of Art
Diedrick Brackens constructs intricately woven textiles that speak to the complexities of Black and queer identity in the United States. Interlacing diverse traditions, including West African weaving, European tapestries, and quilting from the American south, Brackens creates cosmographic abstractions and figurative narratives that lyrically merge lived experience, commemoration, and allegory. 
blantonmuseum.org
Through 1/31/21
"Fortlandia"
Lady Bird Johnson Wildflower Center
Explore custom-designed, interactive forts, created by local architects, designers and artists at the Lady Bird Johnson Wildflower Center. Explore with the kids, or release your inner child at this limited, outdoor exhibition.
wildflower.org/fortlandia
Through 1/3/21
"A Rockin' Holiday Concert"
ZACH Theatre
A socially distanced, live outdoor holiday concerts on the People's Plaza, featuring the the stellar singers from ZACH's A Christmas Carol.
tickets.zachtheatre.org
1/8/21
"Ragtime Kings"
Virtual Performance
Austin Symphony Orchestra's Butler Pops Series presents "RAGTIME KINGS"! Enjoy your Ragtime-era favorites virtually with iconic music by Scott Joplin and Jelly Roll Morton including The Entertainer, Maple Leaf Rag, and King Porter Stomp.
austinsymphony.org
1/6/21 - 5/30/21
"Not Alone: Working Together in the Fight Against Human Trafficking"
Bullock Museum
Not Alone educates visitors about human trafficking and gives them a sense of hope and empowerment in combating the issue. 
The exhibit centers on a series of questions that guide visitors to understand what human trafficking is and explore the human stories and current landscape of sex and labor trafficking.
thestoryoftexas.com
1/29/21 - 1/31/21
"Live from the Draylen Mason"
KMFA 89.5, Austin's listener-supported classical music station, invites the public to enjoy a variety of uplifting programs and to virtually experience an "inside" look at their new state of-the-art facilities, the Draylen Mason Music Studio. The weekend will include three days of streaming programming by locally and nationally acclaimed artists.
kmfa.org/live
1/30/21 - 1/31/21
An All Star Concert 
The Long Center & Streaming
Austin Opera opens its season at the Long Center with An All-Star Concert, bringing the beauty of live opera back to Austin while focusing on the safety of the artists and the audience. Sarah and Ernest Butler Principal Conductor and Artistic Advisor Timothy Myers returns to conduct this star-studded concert to help ring in the new year and to celebrate the uplifting and joyous power of live opera.
austinopera.org
TBA
Ice Skating On The Plaza at Whole Foods
Whole Foods Lamar
Spend an afternoon on the rink at the Whole Foods flagship store on North Lamar. Then head inside for a cup of cocoa or cider and live, local music on the weekends! Daily: 10 a.m. - 10:00 p.m.
wholefoodsmarket.com
TBA
Free Week
Around Austin
The first week of January might be the best time for a music fan to visit Austin. Why? Hundreds of Austin bands participate in this annual event that encompasses multiple venues all over Austin.
do512.com/freeweekaustin
1/23/2022
3M Half Marathon
Downtown Austin
3M Half boasts one of the fastest half marathon courses in the country. Enjoy a mostly downhill course that takes you past some of Austin's finest locations and finishes downtown near the Texas State Capitol.
3mhalfmarathon.com
TBA 2022
FronteraFest
Hyde Park Theatre
Produced by the Hyde Park Theatre, FronteraFest is a four-week, fringe theater festival featuring hundreds of local and national artists.
hydeparktheatre.org
TBA 2022
Martin Luther King March and Festival
Huston-Tillotson University
Join the march from the MLK statue at the University of Texas campus to historic Huston-Tillotson University to celebrate Dr. Martin Luther King, Jr.'s legacy for Austin and the world.
mlkcelebration.com
For more events, exhibitions and happenings, visit our Event Calendar.