Headed to Austin this January? Get your fill of live music, outdoor activities, cultural events and exhibits you won't find anywhere else! Here are our top events and exhibits this month: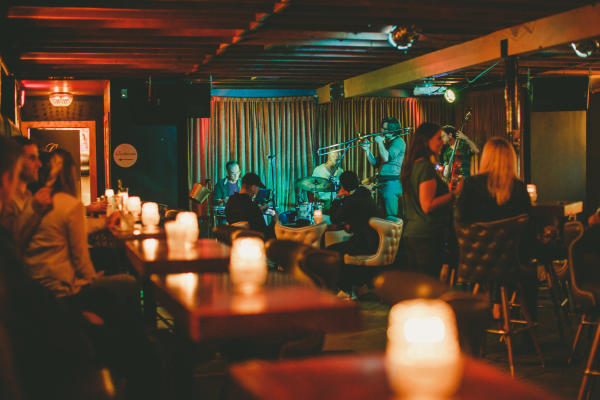 Credit Geoff Duncan.
Through 1/7/18
"The Open Road: Photography and the American Road Trip"
Blanton Museum
This unique exhibit explores the photographic road trip as a genre and America as an imaginative resource, presenting the stories of photographers for whom the American road was muse.
blantonmuseum.org
Through 1/15/18
Ice Skating On The Plaza at Whole Foods
Whole Foods Lamar
Spend an afternoon on the rink at the Whole Foods flagship store on North Lamar. Then head inside for a cup of cocoa or cider and live, local music on the weekends! Daily: 10 a.m. - 9:00 p.m.
wholefoodsmarket.com
1/1/18 - 1/7/18
Free Week
Around Austin
The first week of January might be the best time for a music fan to visit Austin. Why? Hundreds of Austin bands participate in this annual event that encompasses multiple venues all over Austin.
do512.com/freeweekaustin
1/9/18 - 4/6/18
"Juntos/Together: Black & Brown"
George Washington Carver Museum
Visit the George Washington Carver Museum & Cultural Center to explore the new exhibit on activism in Austin from 1970 - 1983. The Carver Museum will host community and visitor-friendly events throughout the month in conjunction with the exhibit.
austintexas.gov/carvermuseum
1/15/18
Martin Luther King March and Festival
Huston-Tillotson University
Join the march from the MLK statue at the University of Texas campus to historic Huston-Tillotson University to celebrate Dr. Martin Luther King, Jr.'s legacy for Austin and the world. The festival will include local vendors and musicians.
mlkcelebration.com
1/16/18 - 1/21/18
"Finding Neverland"
Bass Concert Hall
Broadway comes to Austin, with "Finding Neverland" live on stage at the Bass Concert Hall. Adults and children alike will be awed by the tale of "Peter Pan" author J.M. Barrie's life and inspiration.
texasperformingarts.com
1/17/18
Wood & Wire
The Long Center 
Experience Austin's own Wood & Wire live at the Long Center this January. Enjoy the unique personality of this bluegrass band at one of the most respected venues in the city,
thelongcenter.org​
1/26/18 - 5/27/18
"Fotografía y Nuevos Medios from the Permanent Collection"
Mexic-Arte Museum
Visit downtown Austin's Mexic-Arte Museum to explore this exhibit which displays a selection from the museum's photography and new media collection. The collection includes works ranging from traditional photography to experimental forms.
mexic-artemuseum.org
1/27/18 - 2/4/18
"Ariadne auf Naxos"
The Long Center
Austin Opera's second production of the 2017/18 season is a re-imagined production of Strauss's "Ariadne auf Naxos," one of the most celebrated comedic operas in the world.
austinopera.org
For more events, exhibitions and happenings, visit our Event Calendar.