Headed to Austin this January? Get your fill of live music, outdoor activities, cultural events and exhibits you won't find anywhere else! Here are our top events and exhibits this month: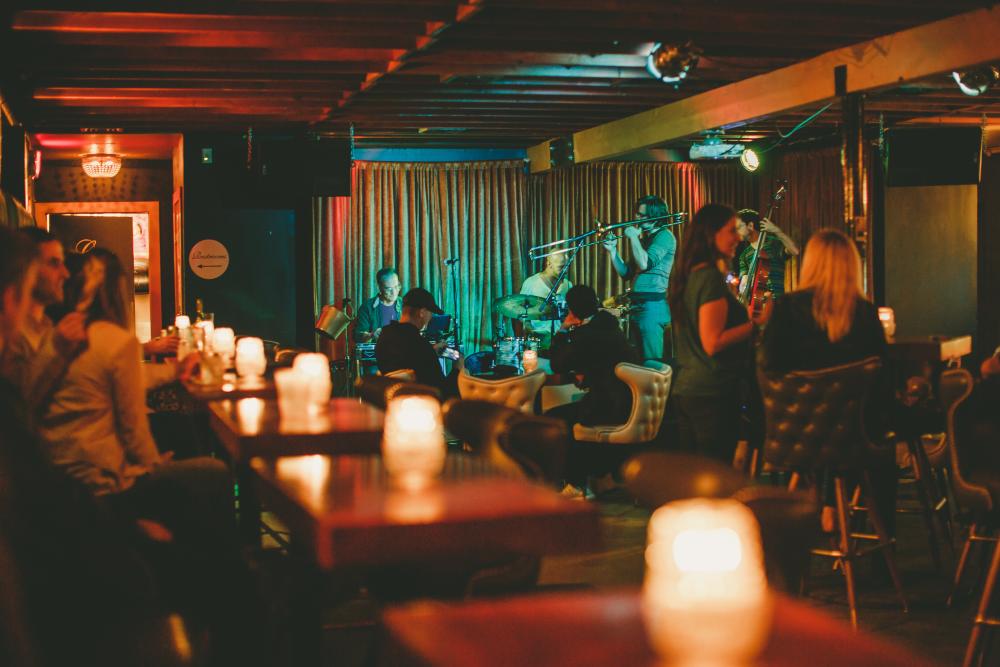 Credit Geoff Duncan.
Through 1/20/20
Ice Skating On The Plaza at Whole Foods
Whole Foods Lamar
Spend an afternoon on the rink at the Whole Foods flagship store on North Lamar. Then head inside for a cup of cocoa or cider and live, local music on the weekends! Daily: 10 a.m. - 10:00 p.m.
wholefoodsmarket.com
1/2/20 - 1/12/20
Free Week
Around Austin
The first week of January might be the best time for a music fan to visit Austin. Why? Hundreds of Austin bands participate in this annual event that encompasses multiple venues all over Austin.
do512.com/freeweekaustin
1/10/20 - 1/11/20
"Rach Star"
Long Center
Join Austin Symphony Orchestra around the musical universe as pianist Orion Weiss takes us on a ride through Rachmaninoff's Piano Concerto No. 3 and the Piano Quartet in G Minor, composed by Brahms.
austinsymphony.org
Through 1/12/20
"Arte Sin Fronteras: Prints from the Self Help Graphics Studio"
Blanton Museum of Art
This exhibition highlights the radical, inventive, and formally rigorous work that Chicanx printmakers produced at the famous printmaking studio and cultural hub in East L.A. 
blantonmuseum.org
1/14/20 - 2/15/20
FronteraFest
Hyde Park Theatre
Produced by the Hyde Park Theatre, FronteraFest is a four-week, fringe theater festival featuring hundreds of local and national artists.
hydeparktheatre.org
1/19/20
3M Half Marathon
Downtown Austin
3M Half boasts one of the fastest half marathon courses in the country. Enjoy a mostly downhill course that takes you past some of Austin's finest locations and finishes downtown near the Texas State Capitol.
3mhalfmarathon.com
1/20/20
Martin Luther King March and Festival
Huston-Tillotson University
Join the march from the MLK statue at the University of Texas campus to historic Huston-Tillotson University to celebrate Dr. Martin Luther King, Jr.'s legacy for Austin and the world.
mlkcelebration.com
1/21/20 - 1/26/20
"Hello, Dolly!"
Bass Concert Hall
Broadway comes to Austin, with "Hello, Dolly!" live on stage at the Bass Concert Hall. Winner of four Tony Awards including Best Musical Revival, "Hello, Dolly!" is the universally acclaimed smash that NPR calls "the best show of the year!" 
texasperformingarts.com
1/22/20
Hi, How Are You Day 2020
ACL Live at the Moody Theater
Celebrate artist Daniel Johnston and his contributions to the city with a benefit concert for the Hi, How Are You Project. Featuring performances by Cage the Elephant, White Denim, Jason Falkner, Tunde Adebimpe (TV on the Radio), Katie Schecter and more at ACL Live at the Moody Theater.
acl-live.com
1/23/20 - 1/26/20
"Everest"
The Long Center
Performed by the Austin Opera, this piece tells the tale of one of the deadliest years in recorded history at Mount Everest, the 1996 climbing season.
austinopera.org
Through 1/26/20
"Fortlandia"
Lady Bird Johnson Wildflower Center
Explore 10 custom-designed forts, created by local architects, designers and artists at the Lady Bird Johnson Wildflower Center. Explore with the kids, or release your inner child at this limited exhibition.
wildflower.org/fortlandia
Through 1/26/20
"Motown: The Sound of Young America"
LBJ Presidential Library
In celebration of the 60th anniversary of Motown Records, Motown: The Sound of Young America embraces the music, culture and politics of the 1960s' biggest sounds in soul.
lbjlibrary.org
1/29/20 - 3/8/20
"A Night With Janis Joplin"
ZACH Theatre
The legendary queen of rock-n-roll, Janis Joplin, explodes onto the stage in a concert experience that celebrates the Texas musical marvel, and shines a spotlight on the trailblazing female blues and soul vocalists who influenced her.
tickets.zachtheatre.org
For more events, exhibitions and happenings, visit our Event Calendar.