May means making the most of what Austin has to offer - live music, film, arts, food, beer and, of course, the great outdoors. No matter where your interests lie, there's always something to do in ATX. Here are some of our favorite things to do around town this spring:
Latino Music Month
Various Venues
The many Latino music genres are showcased during Latino Music Month in Austin. Musicians and venues across the city jump on board with this annual tradition to celebrate the vibrant and diverse culture of Latino Music. Check out our Events Calendar for shows throughout May.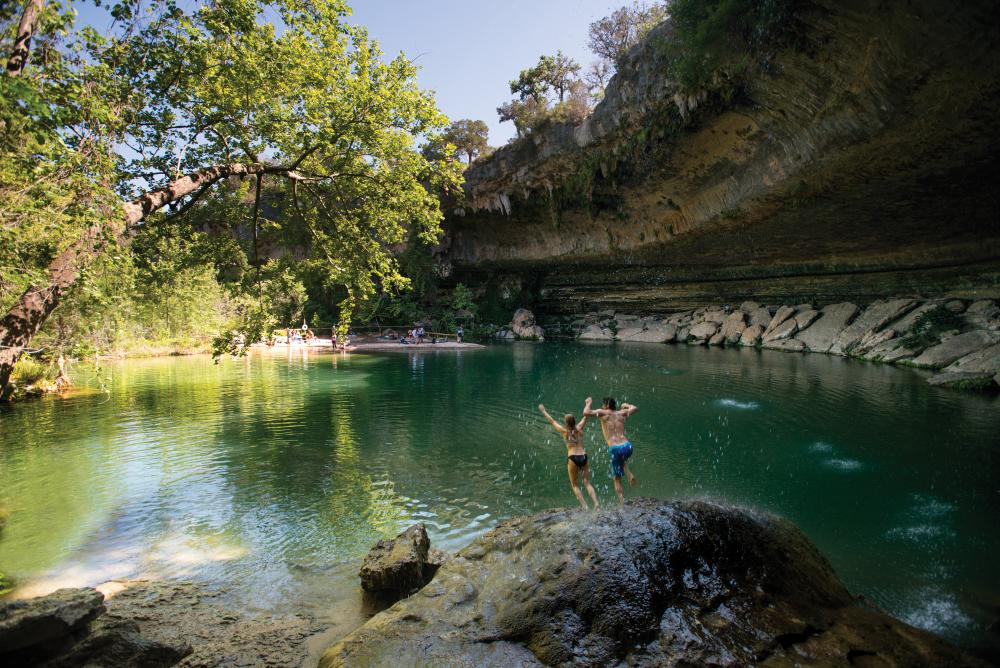 Hamilton Pool Preserve.
5/1/19
Taste of Mexico
Mexic-Arte Museum
Taste of Mexico returns to celebrate the artistry and culinary arts of Austin and Mexico. This culturally conscious and historical celebration of Cinco de Mayo invites guests to generously sample creative cuisines from more than 50 of Austin's most eclectic and exciting restaurants, food trucks, and beverage purveyors.
www.mexic-artemuseumevents.org
5/1/19 - 5/5/19
Cine Las Americas International Film Festival
Various Locations
The festival showcases contemporary films and videos from Latin America (North, Central, South America, and the Caribbean) and the Iberian Peninsula. Films and videos made by or about Latinos in the U.S. or the rest of the world, as well as films and videos by or about indigenous groups of the Americas,  are also invited to participate.
www.cinelasamericas.org
5/4/19
JMBLYA
Circuit of The Americas
This is a two-day, two-city traveling festival makes its stop in Austin this May. The festival showcases some of the most sought-after talent in hip-hop music, including Travis Scott, Lil Wayne, Kevin Gates, Gunna and more.
www.jmblya.com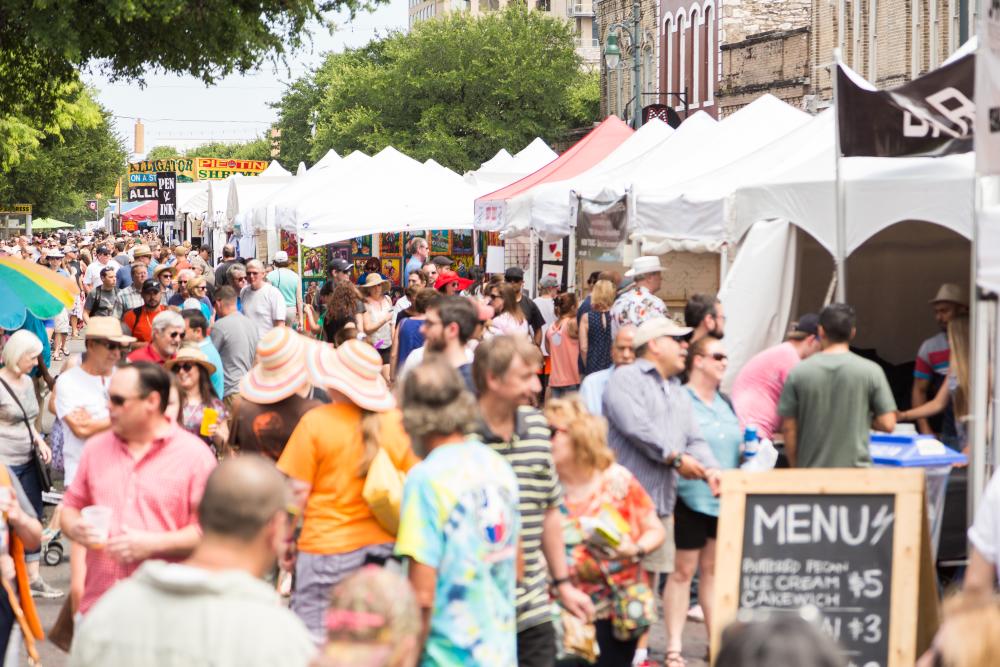 Pecan Street Festival. Credit Manya Pandya Photography.
5/4/19 - 5/5/19
Pecan Street Spring Arts Festival 
East Sixth Street
A free, family event, the Pecan Street Festival is the oldest and largest art festival in Central Texas. Musicians, food vendors, artists, and craftspeople turn Sixth Street - historically called Pecan Street - into a lively street fair where there is something for people of all ages. 
www.pecanstreetfestival.org
5/5/19
The Rookie Tri
Walter E. Long Metropolitan Park
For true rookie triathletes and veterans alike. The Rookie Triathlon course is a 300-meter swim, 11.2-mile bike, and 2-mile run. And don't miss the finish line party complete with food and drink (including beer!) needed to refuel.
www.therookietri.com
5/11/19
Maifest
Austin Saengerrunde and Scholz Garten
The Austin Saengerrunde hosts this annual family-friendly festival celebrating German heritage (and food) in Texas. Enjoy a community cookout with traditional German foods and plenty of fun. Live music, dancing, and local vendors will round out the event.
www.saengerrunde.org
5/11/19
O. Henry Pun-Off World Championships
Brush Square Park
For more than 40 years, the O. Henry Museum's annual Pun-Off has been Austin's punniest event by far. 32 punsters go head-to-head in this humorous wordplay competition, taking place in the backyard of Austin author William Sydney Porter's (also known as O. Henry) historic home.
www.punoff.com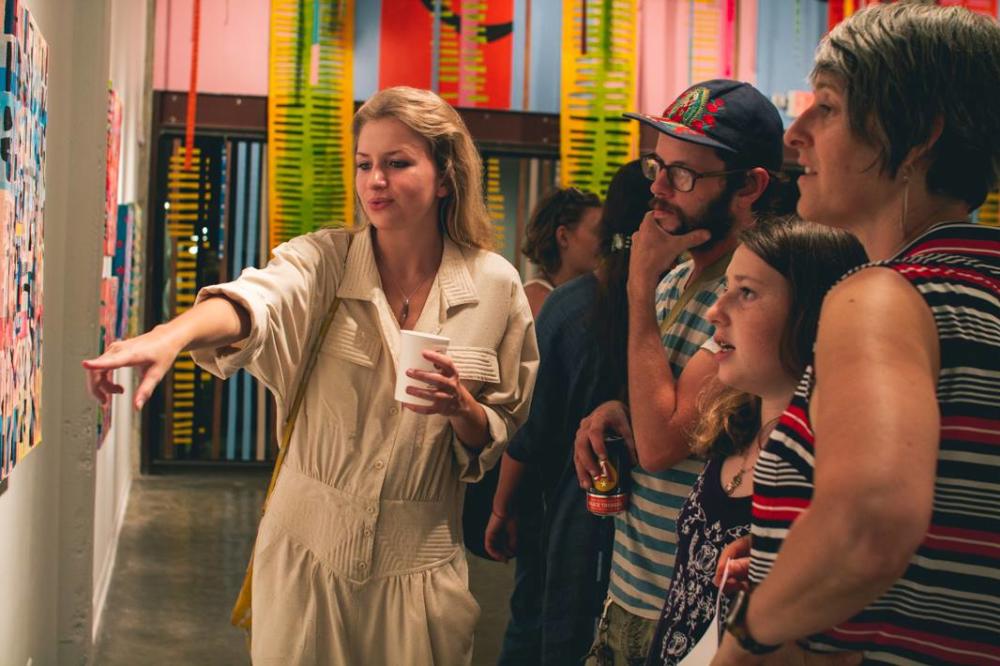 Courtesy of Big Medium.
5/11/19 - 5/12/19 & 5/18/19 - 5/19/19
West Austin Studio Tour 
Across West Austin 
The West Austin Studio Tour is a free, self-guided tour that celebrates Austin's talented and wildly diverse creative community. The public is invited to discover new artistic talent, see working studios, learn about artists' tools, techniques, and inspirations, explore galleries and a variety of exhibitions, and immerse themselves in the arts and local business communities.
www.west.bigmedium.org
5/18/18 - 5/19/18
Renegade Craft Fair
Fair Market
Celebrate Austin's creative spirit at this annual market and craft fair. Shop independent makers and local vendors, enjoy food truck fare and craft libations, and rock to hand-picked local DJ sets.
www.renegadecraft.com
5/22/19
Blues on the Green
Zilker Park
Pack a blanket and the family and make your way to Zilker Park for this summertime tradition. Held monthly from May to August, Austin's largest free concert series will welcome performances by top local bands.
www.acl-radio.com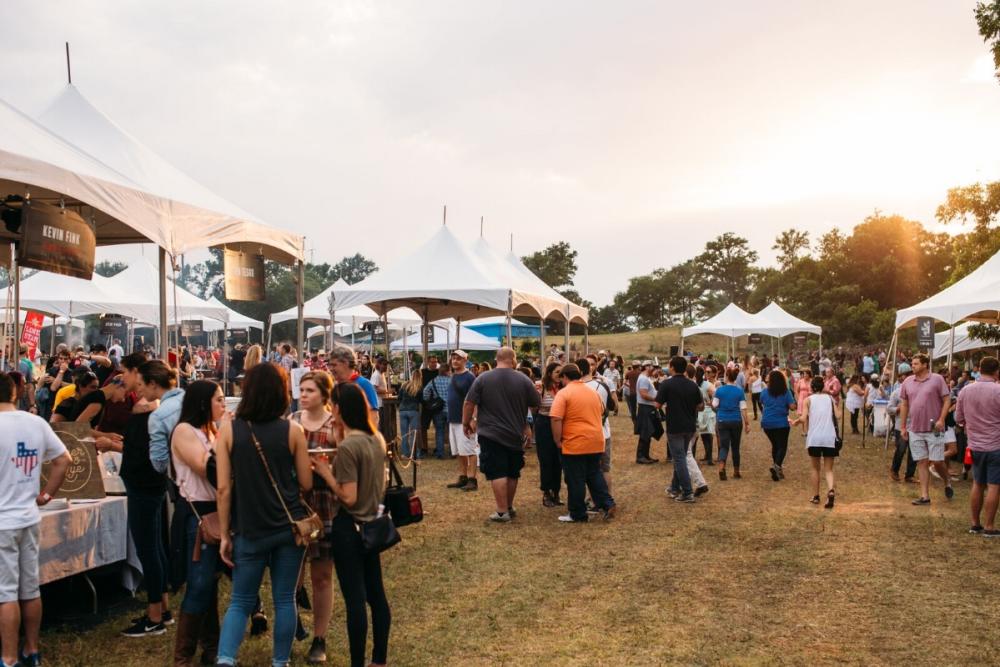 Hot Luck Festival. Credit Alison Narro.
5/23/19 - 5/26/19
Hot Luck Festival
Around Town
The Hot Luck: Live Food & Music festival returns to honor the soul, sweat and DIY diversity of the food and music world. The festival is an eat-with-your-fingers picnic and party experience that highlights open-pit feats of culinary know how, and music in your ears that is as thoughtfully created as the food on your plate. Come hungry, thirsty, and bring your dancin' boots.
www.hotluckfest.com
5/23/18 - 5/26/18
Summer Classic Film Series Opening Weekend
Paramount & Stateside Theatres
Love classic movies? The Paramount Theatre has been running the Summer Classic Film Series for more than 40 years. Visit their website for the full schedule of 100 beloved cinematic treasures that are gracing the theater's big screens.
www.austintheatre.org
5/27/19
Life Time Tri CapTex 
Lady Bird Lake, Downtown Austin
The Life Time triathlon attracts all levels of athletes from top-ranked professionals to first-time triathletes. The event includes the USA Paratriathlon National Championship, sprint and international distances, First Tri distance and sprint and international distance relays. 
www.captextri.com
5/27/19
Memorial Day
Around town
Camp, hike, barbecue, tube-and-chill – whatever you do, get out and make the most of this long holiday weekend in Austin. Check out our Memorial Day itinerary at the Austin Insider Blog.