Torchy's Tacos is an Austin, Texas institution. Loyal patrons line up throughout the day to grab tacos ranging from the Dirty Sanchez to the Trailer Park. Dishing up tacos with delicious toppings spilling over the tortillas edge, there's no wonder Torchy's has earned the tag line, Damn Good Tacos.
With so many tacos to choose from, I truly struggled during my first visit to Torchy's Tacos. The Democrat with beef barbacoa, fresh avocado and queso fresco sounded mighty fine. But then there was the infamous breakfast taco selection. The Wrangler was calling my name with scrambled eggs and potatoes topped with beef brisket and jack cheese. How would I ever decide?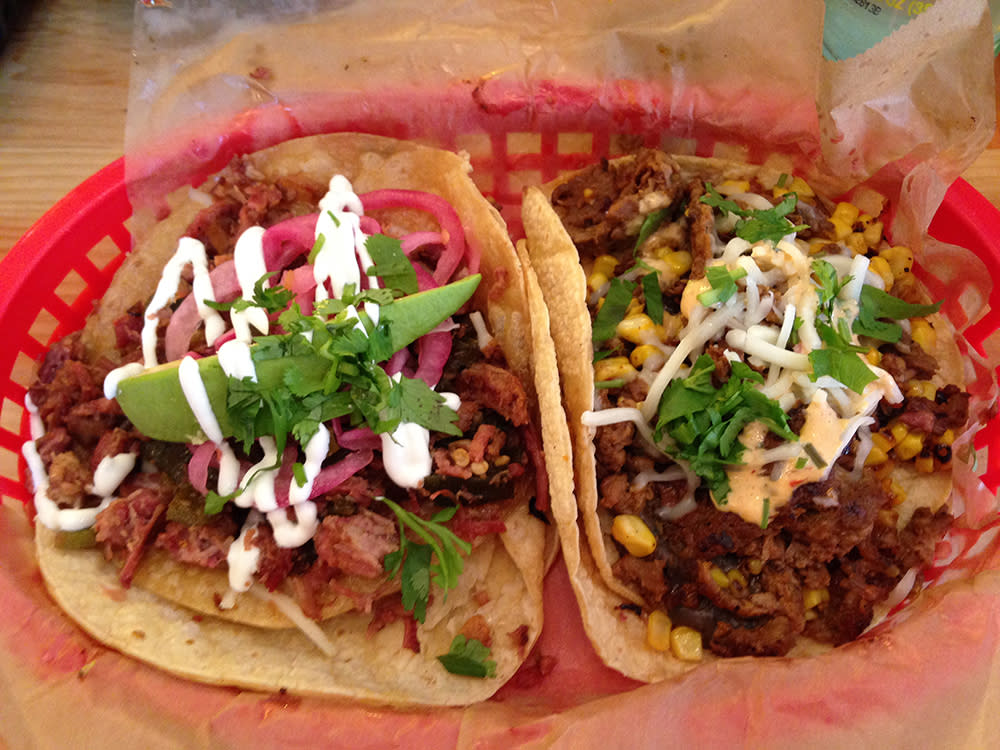 The delicious Torchy's tacos. Photo courtesy of Kristen Baughman.
Biting my nails, as I was one step closer to the cashier, a local from Austin standing directly behind me tapped me on the shoulder. He had been eavesdropping on my conversation and sensed my taco distress. With a smile on his face he calmly said, "You should order something from Torchy's secret menu."
What? Secret menu! My taco anxiety had now gone through the roof as I furiously began searching for the secret menu on my phone. Thankfully, I located the secret menu as I stepped up to place my order.
I ordered three tacos from the secret menu without really having time to think. As I waited on the magical tacos to appear, a bowl of green chili queso arrived with Torchy's homemade chips. The queso was outstanding and topped with fresh guacamole, cilantro and diablo hot sauce. I had a feeling that the queso was just a precursor to how amazing the tacos were going to be.
Then, the tacos arrived. Slightly larger in circumference than my head, the Ace of Spades taco included a jalapeo sausage link and grilled brisket. This meaty taco was topped off with a fried egg, green chile queso, cotija cheese, sour cream, more cheese and diablo sauce.
The Mad Cow taco included skirt steak with black beans and corn. The corn was grilled and tasted delicious topped along with the jack cheese, cilantro and ranch. My favorite was the Matador, an ode to Texas brisket with the perfect flavor medley. Chopped brisket was topped with grilled jalapeo, pickled onions, jack cheese, avocado, sour cream and cilantro. All of these goodies were topped with tomatillo sauce and piled high on a fried corn tortilla for a great crunch factor.
After using nine napkins, not a trace could be found of my secret menu tacos. If you're looking for something damn good in Austin, pay a visit to Torchy's Tacos. You won't be disappointed and you won't leave hungry.
What's your favorite Torchy's Taco? Let us know in the comments below, or send us a pic @VisitAustinTX!
Contributed by Kristen Baughman, Social Media & Public Relations Consultant at Gadabout Food.